Precious Moments Whale Baby Collection @preciousmoment
If you're looking for a few special baby gifts, I think the Precious Moments Whale Baby Collection will be a great addition to add to your baby gift list.
Precious Moments Whale Baby Collection consist of many cute, unique, keepsakes that both mom and baby will love. First we have the Precious Moments Mightier Than The Waves Ceramic Whale Bank.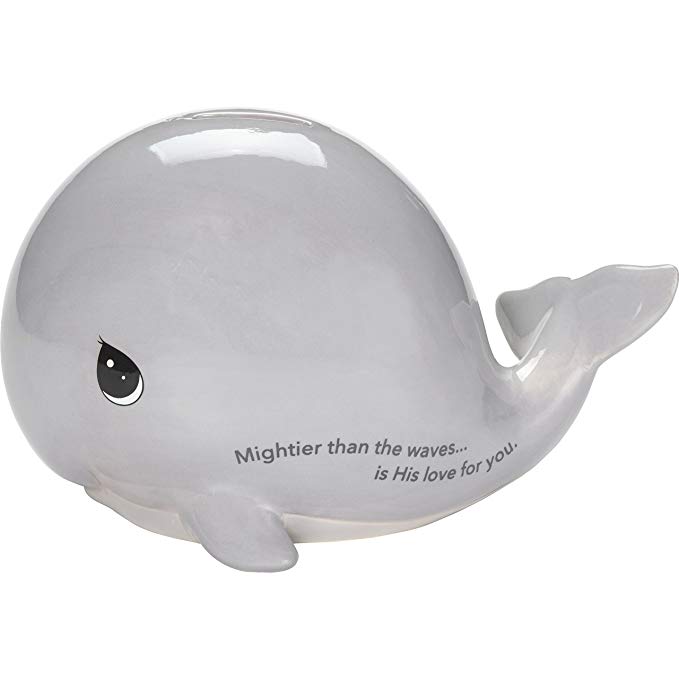 OMGoodness, this cute Whaley fellow is inspired by an encouraging message about god's love, this adorable whale bank is sure to be treasured as a place for little ones to start lifelong good habits with money and saving. It's sure to accent any nursery or kid's rooms with a heartwarming touch of adorable underwater magic and reassuring faith. There is a removable rubber stopper on the bottom that will keep your little one's money safe inside. It's carefully crafted of glazed ceramic and engraved with a beautiful message "Mightier than the waves…is His love for you"!
Next we have Precious Moments® "Mightier Than the Waves" Musical Snow Globe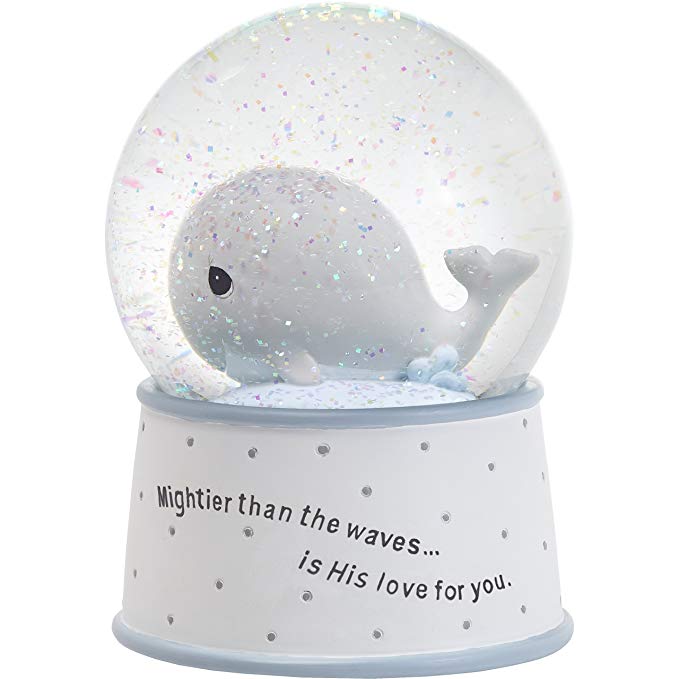 I don't know anyone that's not fascinated with Snow Globes. As a child I can remember my mom buying Snow Globes for each of her children especially during Christmas time! To me it was one of the gifts I looked forward to every year. So, when I saw this one I couldn't help but smile. Adorably designed, this musical snowy globe shares a message of endless heavenly love for a sweet baby. Winds up to play "brahms' lullaby".
Our last Precious Moment Baby Gift idea is the Whale 4-Inch x 6-Inch Ceramic Picture Frame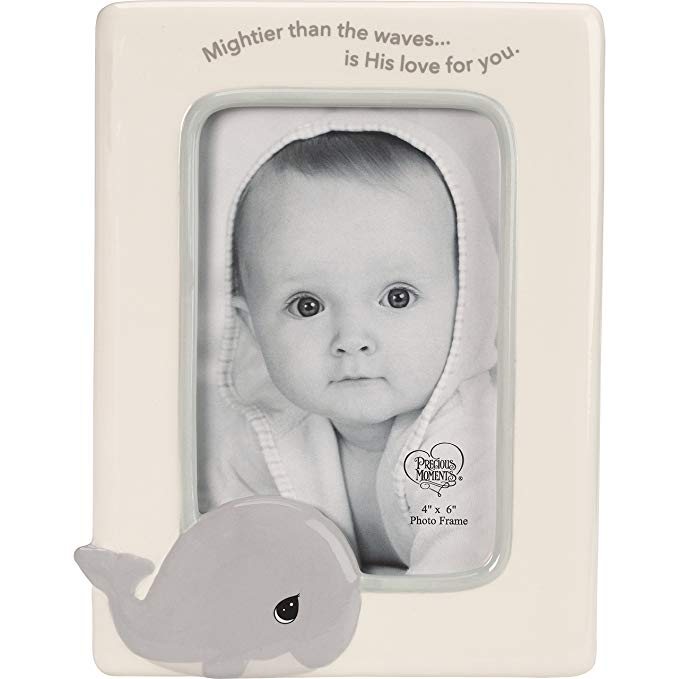 Get ready to fill this beautiful frame with one of your favorite baby pictures. Carefully crafted like all the Precious Moment Whale Collection, this adorable baby photo frame features a mighty whale and shares a truly inspirational message also. It holds a 4" x 6" photo of a precious little boy or girl.
Each one of these adorable Precious Moment Whale Collections can be found on BedBathandBeyond.com.  Again, they will make great gifts for that expecting mom and her new baby. They're great for not only accenting any nursey but also great to display in any area of your home. With such a heartwarming message engraved on each collection, mom can recite this message daily to her little one.
So, if you're looking for that special baby gift, look no more because Precious Moment has just what you need . Just visit  BedBathandBeyond.com to grab each one!
Don't forget to connect with Precious Moments via Instagram: @Preciousmomentsofficial  |Facebook: @OfficialPreciousMoments|Twitter: @preciousmoment
Disclosure: I was not compensated for this post. However, I did receive product samples from the company(Precious Moments) and the opinions expressed in this post are 100% my own. I am disclosing this in accordance with the FTC guidelines.