Finest Saudi Arabian Romantic Getaways
If an unforgettable romantic getaway is what you are looking for to experience with someone special in your life, we have covered you with a wealth of destinations in Saudi Arabia, which prove to be perfect romantic getaways.
Getting to Jeddah, Riyadh, or Dammam in Saudi Arabia for ideal romantic getaways will be memorable after you book tickets with Saudi Airlines, which offers a la carte dining, in-flight entertainment, children's kits, and more. 
Whether shopping at a famous shopping mall in Jeddah, losing yourself in the quaint luxury of a plush hotel, having quality time together in a restaurant, indulging in aquatic sports, and enjoying the stunning man-made wonders, you have them to make the ultimate romantic getaways.
     1. Shopping Frenzy at the Red Sea Mall in Jeddah
Experience shopping at the Red Sea Mall in Jeddah with your loved one. Saudi Arabia is known for some of the best shopping malls, where you can spend the best time of your life buying a perfect gift for your special person. One of the largest shopping centers, the Red Sea Mall is situated in the northern suburbs of Jeddah on King Abdulaziz Al Saud Street.
The mall is home to numerous shops, restaurants, cafes, and a cinema complex. You can find shops selling international and local brands of clothing, health and beauty products, precious jewelry, perfumes, and more. After shopping, you can have a gourmet day filled with romantic moments enjoying your favorite food from any restaurant serving cuisines with multiple identities. You can also get the adrenaline going with a good movie or adventure sports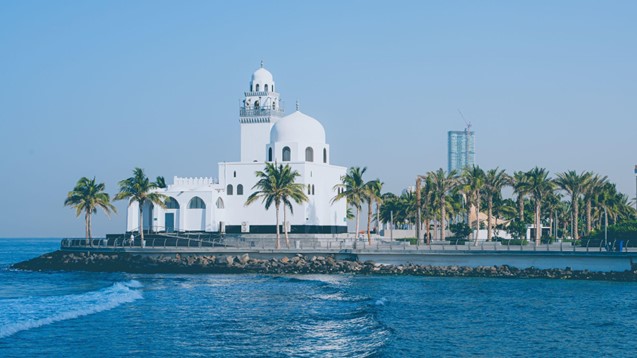 (unsplash.com)
     2. Rosewood Jeddah: A Romantic Escape
Here's a chance to delight in the magical charm of staying in Rosewood Jeddah, a luxurious hotel on the shores of the Red Sea, and take back memories of your romantic moments. Located on Corniche Street, overlooking the Red Sea, you can choose to stay in a spacious suite or room offering stunning views of the sea and city and world-class amenities. And enjoy a memorable romantic occasion at the dramatic Al Malaki Lounge Terrace having delicious dishes from the Middle East and other countries. 
     3. A candlelit dinner with stunning views of Riyadh
If you want to experience the mesmerizing beauty of Riyadh with your special person, be at the Globe in the breathtaking golden sphere on Al Faisaliah Tower. The restaurant in the three-story dome offers an ultimate setting for an unforgettable dining experience savoring every romantic moment. You can choose from an a la carte menu of your favorite European dishes, which comes with world-class service for dinner. You need to reserve a table in advance to not get disappointed.
     4. The Red Sea's Warm Waters Are Perfect for Scuba Diving
Great shopping, luxurious stay, memorable dining, and some adventure to add excitement to your romantic trip to Saudi Arabia – could you ask for anything more? If you are those couples who love adventure, you can hardly miss scuba diving at the Red Sea. Most adventure enthusiasts visit the Red Sea for its natural wonders under the water. The ideal time to visit is during summer, between March and May. 
Being one of the warmest seas, the Red Sea is a divers' paradise, for it has over 1000 species of invertebrates, 200 species of corals, and 1100 species of fish. Jeddah is world renowned as the best scuba diving destination for all types of divers. Some diving sites include Sharm Obhur, Shipwreck Island, and Abu Faramish. You can have majestic views of marine creatures, coral reefs, shipwrecks, and virgin desert islands under the water.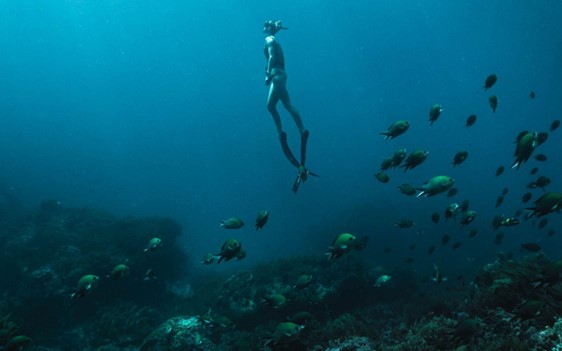 (unsplash.com)
     5. Take a Tour of One of the World's Tallest Fountains
You can have quality time together watching one of the world's tallest fountains, King Fahd Fountain in Jeddah, Saudi Arabia. The fountain, which is 30 years old, stands 312 meters high in the middle of the Red Sea. You can plan your marriage proposal here at night, enjoying the captivating view of the fountain illuminated using over 500 colorful spotlights.
There are some best spots to watch the grandiosity of the fountain. You can find a place in any of them. If you so desire, you can have a sunset stroll hand-in-hand on the pathways enjoying panoramic coastal views, local snacks, and Turkish coffee.
The romantic getaways we have picked for you are the few best ones, you have opportunities to explore Saudi Arabia for more idyllic places. You can book your tickets with Saudi Airlines in advance to fly to Jeddah, Riyadh, or Dammam. Refer to the airfare calendar for information on the airfare three months in advance. It will help you buy the cheapest air ticket and save money.