Welcome To Our Annual Holiday Gift Guide,
Disclosure:  We were provided some items free of charge and some compensated for this Holiday Gift Guide post.  We are disclosing this in accordance with the FTC guidelines.
Welcome to our annual Holiday Gift Guide! Below you will see many products for everyone on your Holiday list. Below you will also see each brand link, please feel free to check out their website to see all their unique products.
Now with further ado let's get started: Petite Revery Knit Cardigan by Nest Design – Cocoa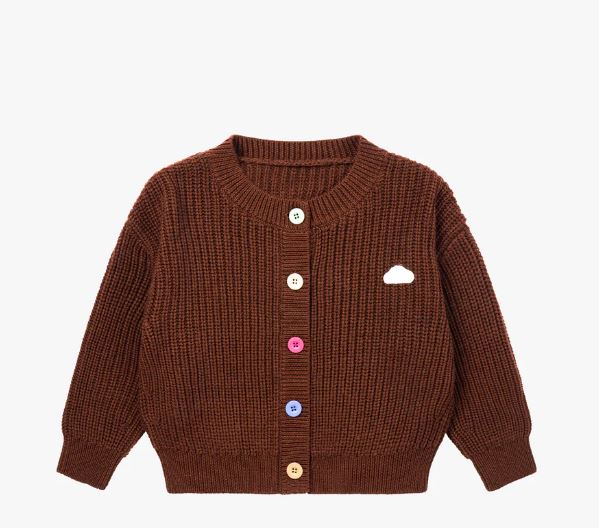 This cute cocoa cardigan sweater will be a great gift, it's cute, stylish, and warm. Designed with comfort in mind, this Knit Cardigan in Cocoa will help your little one stay cozy this Fall/Winter. Made from 100% merino wool, a natural and eco-friendly material, this lightweight cardigan is soft, hypoallergenic, and will keep your child warm while they're out on their adventures. This cardigan has a crew neck cut with an adorable cloud motif in the front, a tribute to your little daydreamer. Made with a relaxed fit, this chunky knit cardigan It has textured finish and ribbed detailing on the sleeves. The colorful buttons that adorn this cardigan playfully brightens it. Let's not forget the buttons are made of recycle plastic. Available in Cocoa & Turmeric and sizes 18M-10y. You can check out this cute sweater here.
Here we have something for your little one from Petite Revery Quilted Removable Sleeve Sleep Bag by Nest Design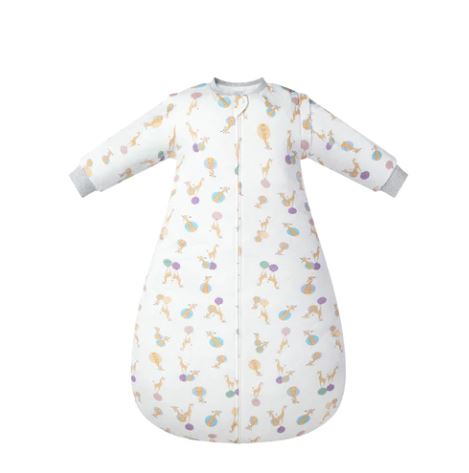 This cute, quilted sleep bag is sure to keep your bundle of joy warm this holiday Season. You see, designed for ultimate coziness, your sweet bub will enjoy an uninterrupted slumber snuggled in this quilted sleep bag. Made with their breathable and soft blend of bamboo and cotton, it's also insulated with Sorona filling for plushy softness and warmth. As seasons and temperatures change, their removable sleeves will ensure your little one stays comfortable at any time of year.
Bamboo Jersey is buttery soft, hypoallergenic, and thermal regulating. 1.0 TOG rating for rooms 20-24 degrees Celsius (69-74 degrees Fahrenheit). Two-way zipper makes diaper changes a breeze. Protective zipper flap with snaps keeps bub's skin from getting pinched as you zip. It's also designed with cute Giraffe Shape prints. You can check out this cute sweater here.
Next, we have another awesome gift idea from Petite Revery, Basics Bamboo Cotton Long Sleeve Drop Bottom Romper by Nest Design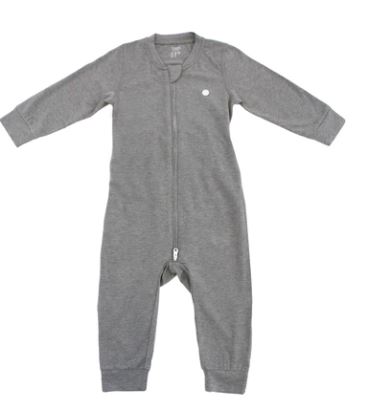 This is the perfect romper for your little one. Little ones in rompers are just the cutest. We love these long sleeve rompers because they're not only adorable but functional too. These bamboo cotton blend rompers open at the back for easy potty training, so when your little one has to go, it takes no time to get ready. The front features a two-way zipper with a flap at the neck to protect your little one's skin from any irritation. There's also an open back for easier potty training and two-way zipper with zipper flap.
Available in Charcoal, Grey Dawn and Taupe. Pick up a drop bottom romper in sizes from 12 months to size 6 here.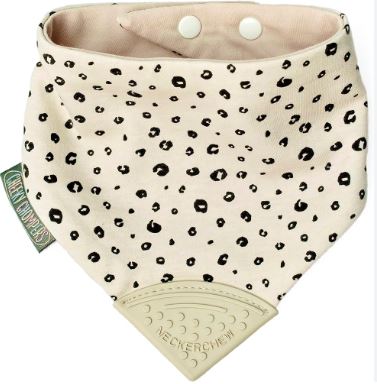 These cute UTLIMATE 2-IN-1 BIB & TEETHER are designed in the UK to keep baby clean and give hard-working parents an easier life, the Neckerchew offers the ultimate 2-in-1 bib and teether for your baby! Made from super soft jersey cotton that won't irritate baby's skin.
100% SAFE & HYGIENIC – The teether on this chewable dribble bib is made from food grade silicone, so it won't flake or peel. Totally BPA-free, phthalate-free, and attached to the bib – no more picking up dropped teethers from a dirty floor again!
IDEAL FOR BABIES FROM 2 MONTHS+ – The double adjustable popper design lets your little one snugly wear their Neckerchew from the age of 2 months to becoming a toddler. The are available on Amazon and come in a few different styles.
 Instagram| Facebook |   Twitter |
Here we have a cool gift for the kids, it's the Ninja Kidz Mystery Giant Ninja Ball
Now kids can be ninjas too with As Seen on YouTube, Ninja Kidz TV action figures and wearable battle gear! SO MANY COOL SURPRISES: Series 3 includes 25+ surprises, including 5 Ninja Kidz Action Figures with articulation, 1 ninja mask and belt, 2 pieces ninja battle gear, 6 ninja throwing stars, 2 sticky stars with 6 sticky star targets, 2 mission cards, 1 sticker sheet and 1 collector card. All Giant Mystery Balls include an exclusive DR. DISASTER(TM) figure.
DOUBLES AS A STORAGE CONTAINER & TOY SHIELD: This action-packed ninja toy container doubles as an easy-to-carry storage container and includes a detachable shield for ultimate ninja play! Available here
 Shop NINJA KIDZ TV Giant Mystery Ball on Amazon.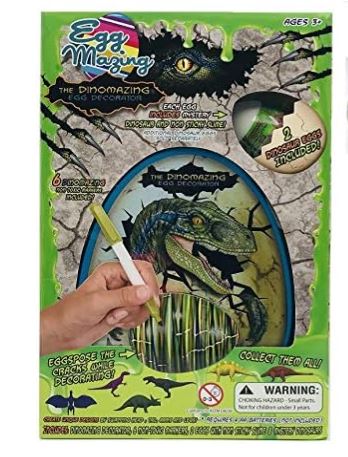 The DinoMazing Egg Decorator can make anyone into a paleontologist! Put one of the two mystery eggs into the machine and the unique spinning action will help create colorful designs while eggsposing the cracks. Crack open the eggs to reveal slime and a mystery dinosaur! Swap the dinosaurs' head and limbs to create your own breed!
Includes 2 Mystery Dino Eggs and 6 colorful non-toxic markers. Collect all mystery dinosaurs. Sold Separately. Can also decorate real eggs just like the Eggmazing Egg Decorator and Eggmazing Bunny Spinner. Available here
 Shop DinoMazing Egg Decorator on Amazon.
TreeMendous (Hey Buddy Hey Pal):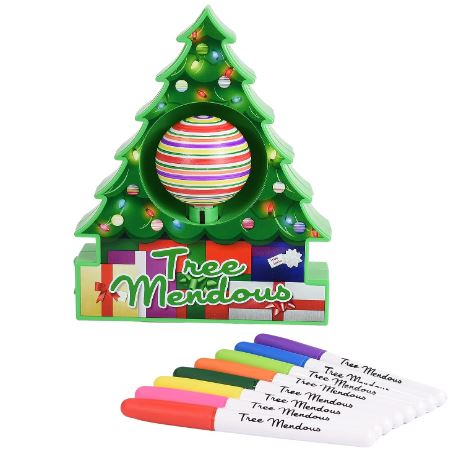 CREATE YOUR OWN PERSONAL ORNAMENT: TreeMendous uses a patented design to let children ages 3 and up to personalize their own ornament in a fun, exciting way!
THE PERFECT PRESENT: Treemendous is a perfect gift as it's an ideal holiday craft activity to do with grandparents, friends, siblings and parents alike.
MAKE CUSTOMIZED, COLORFUL CREATIONS: Treemendous comes with three ornaments and a set of 8 nontoxic colorful markers, allowing for many options to create colorful unique ornaments! CRAFTING MADE SIMPLE: Boys and Girls alike will embrace the holidays season by making their very own handmade ornament. Sure, to become a family treasure for years to come.
Available here, 3 AA batteries are required (Not Included).
 Shop TreeMendous Christmas Tree Ornament Decorating Kit on Amazon.
Next, Far Out Toys: Squadz Place dolls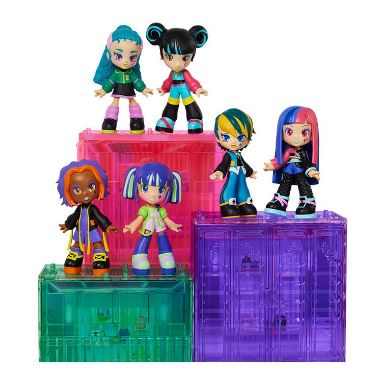 Squadz Place is a small collectible doll line with 6 unique dolls that are inspired by Tokyo streetwear.  Each doll comes in its own tiny home crate with one fashionable outfit, two surprise fashion accessories, and one crate accessory. The crates connect to one another – the more you collect the more you build out your Squadz Place!
Styling inspiration is based on Tokyo streetwear fashion.
They are available at Target
Shop Squadz Place Surprise Reveal Fantasy Character Doll at Target.
 Cloud-B CloudBox™ My first dream box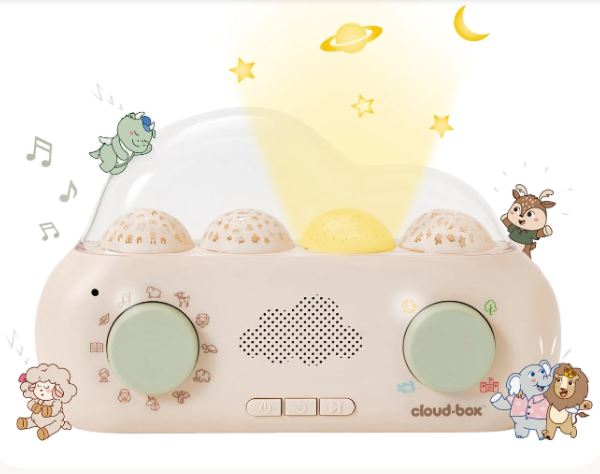 CloudBox™  includes immersive stories combining sounds and light projections! Immersive storytelling with 36 original stories featuring 9 different characters.
Synchronized light projections create a visual experience like no other product on the market. Soothing melodies and white noises create a peaceful and relaxed atmosphere for babies and children. Recording function adds a personal touch to the storytelling experience.
Headphone plug for a totally immersive audio experience (headphones not included). Stories in 2 languages (French /English ) Available here
 Facebook | Twitter | Instagram |
Disney Star Wars AHSOKA Tano Electronic Mask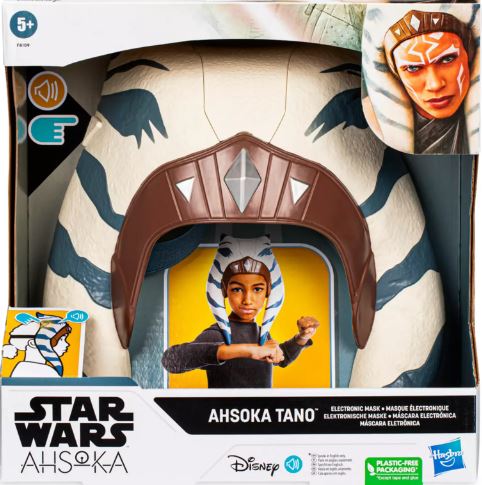 Press the button on the side of the headpiece to activate sound effects and phrases like, "Surrender or face the consequences," "May the Force be with you," and "I sense much fear in you." *
Features adjustable strap to insure a perfect fit
Tips of head tails can be detached
Inspired by Star Wars: Ahsoka, streaming on Disney+
*Please note: Speaks in English only
Ages 5+ Requires 2 x AAA batteries, included. Available here
Facebook | Twitter | Instagram |
Last for this page we have Snoozimals, Barry the Dinosaur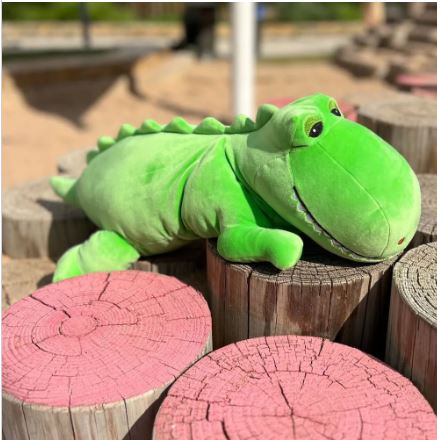 There are nearly 20 in the collection, and they're about 20-inches long, which means a kid can give them a really big hug. You have the Barry Dinosaur, Toby the Turtle, Gigi the Kitty, Flash the Sloth and so many other cute Snoozimals.
Whether sitting and feeling the comfort, traveling or as the perfect take-to-bed pal, these big best friends will charm and delight kids!
Surface Wash Only w/ Clean Cloth,
High quality for many years of love
Multiple styles available, So soft, you can't put it down! Huggable, extremely soft animals
For Ages 3+ , SRP $19.99, Available at Target.com and in many Target stores nationwide.
 Shop Snoozimals at Target.
Well, there you have it, our first Holiday Gift Guide. Each brand can be viewed by clicking their link.
A BIG THANK YOU TO ALL THE BRANDS THAT ALLOWED US TO FEATURE THEIR AWESOME PRODUCTS!!
Disclosure:  We were provided some items free of charge and some compensated for this Holiday Gift Guide post.  We are disclosing this in accordance with the FTC guidelines.
Pages: 1 2 3
4 5

6 7 8 9 10