The Aventon Next-Gen Pace 500.2 E-bike is the perfect holiday gift, so come ride with me!
Disclaimer: The Night Helper Blog LLC had the chance to review the AVENTON Pace 500.2 E-Bike thanks to AVENTON; we are revealing this in accordance with FTC standards and guidelines.
If you're looking for an e-bike that will impress you, look no more because Aventon's electric bikes are very impressive and built with incredible details and great functionality!! This e-bike will make the perfect gift for that biker lover!!
Now, I'll admit that when I pulled my Aventon Next-Gen Pace 500.2 out of the box, I felt a little scared because I assumed the assembly procedure would be a little beyond my capabilities.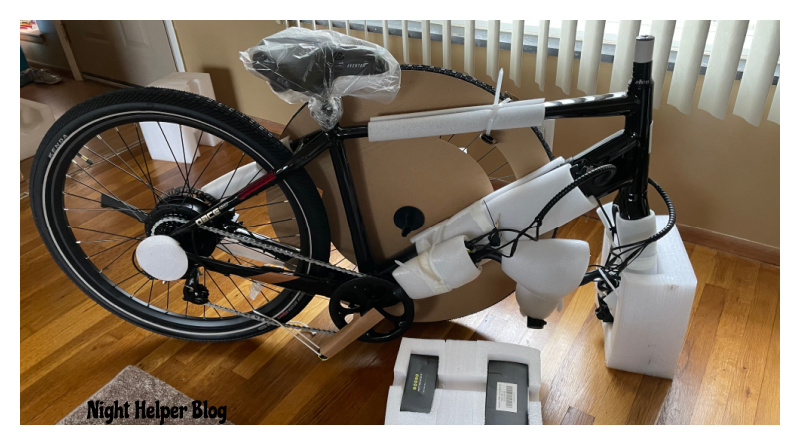 Well, thanks to Aventon Step-by-Step Video, it wasn't, it only took us about an hour or so to get it up and ready. Everything you need to get this Aventon Next-Gen Pace 500.2 e-bike assembled is right at your fingertips (charging battery pack, keys to turn on your e-bike, reflectors, bike paddles, screws, allen bolt wrench, Avant Sports bike grease are included), and more!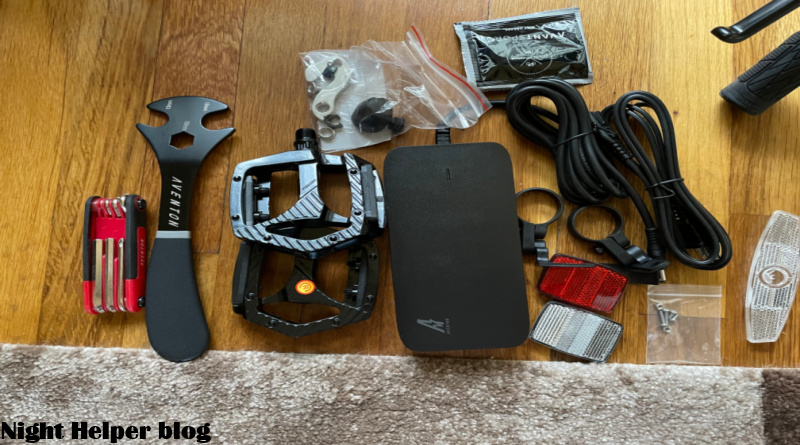 Just lay out everything, turn on video, and follow the instructions.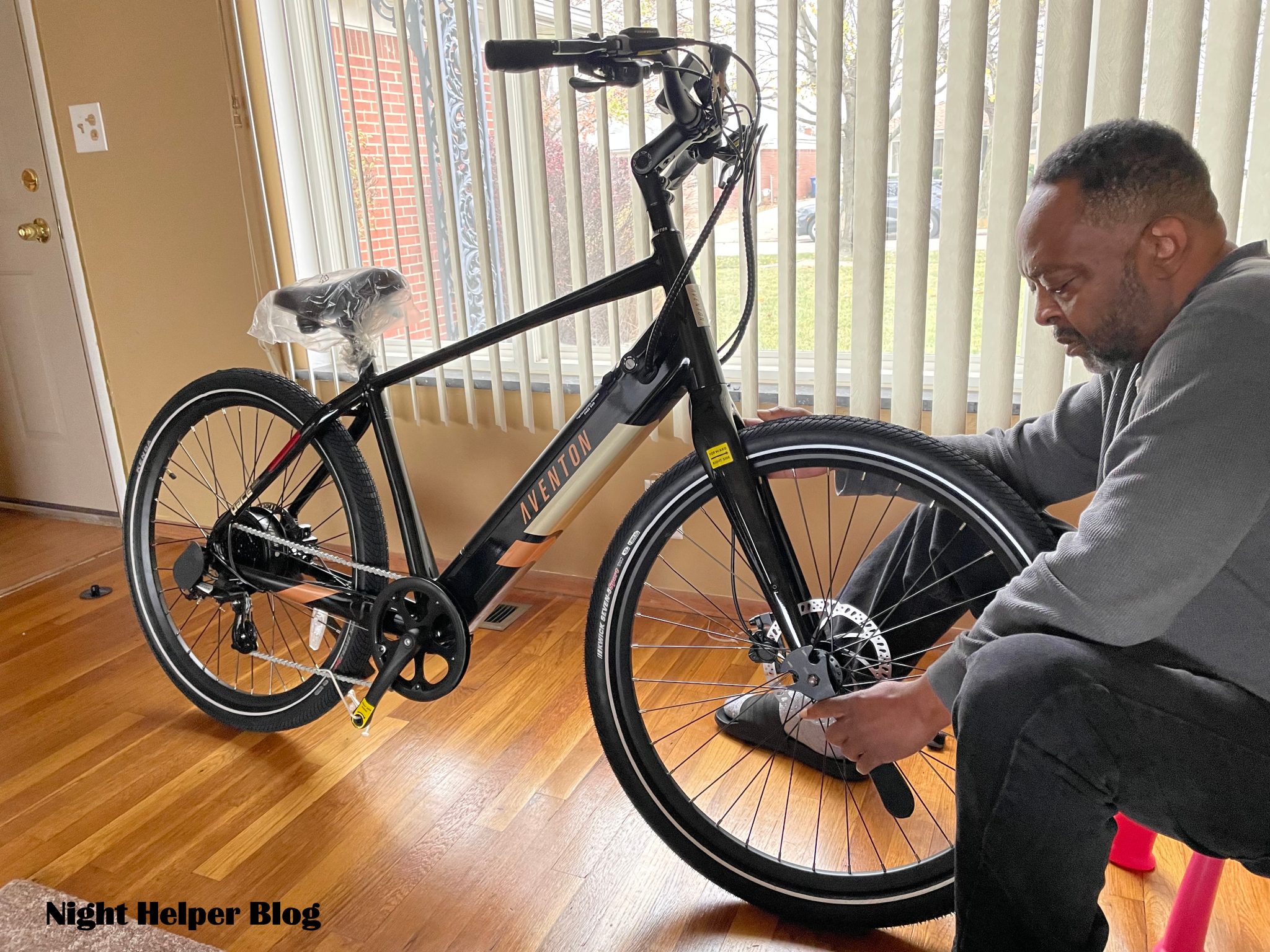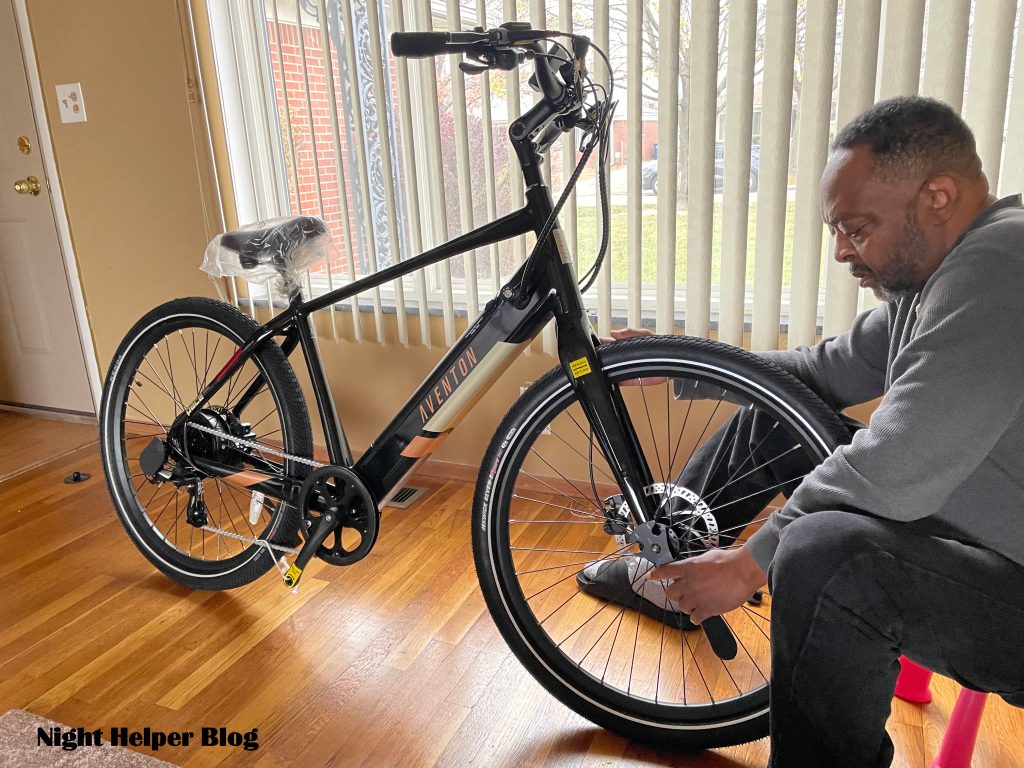 Before long the Aventon Next-Gen Pace 500.2 e-bike was assembled with the help from my husband and me!
There are two keys that are fastened to your handlebar, make sure to check that the codes on the keys match the key slot on the bike. The lock helps keep the battery from being stolen if you have the bike locked up and can't bring the battery along with you…pretty cool ha!!
Place one of the keys into the e-bike key slot and turn counterclockwise, this will allow you to remove the battery Internal Lithium-ion 48V, 12.8Ah(614Wh) with LG Cells pack out as needed.
It is advised that you charge your e-bike power pack right away, and this will provide you with an 48V 3 Amp Fast Charger that last between 4-5 hours! To do this, open the port on your battery and plug in the charger! Your battery is fully charged when the battery pack turns green.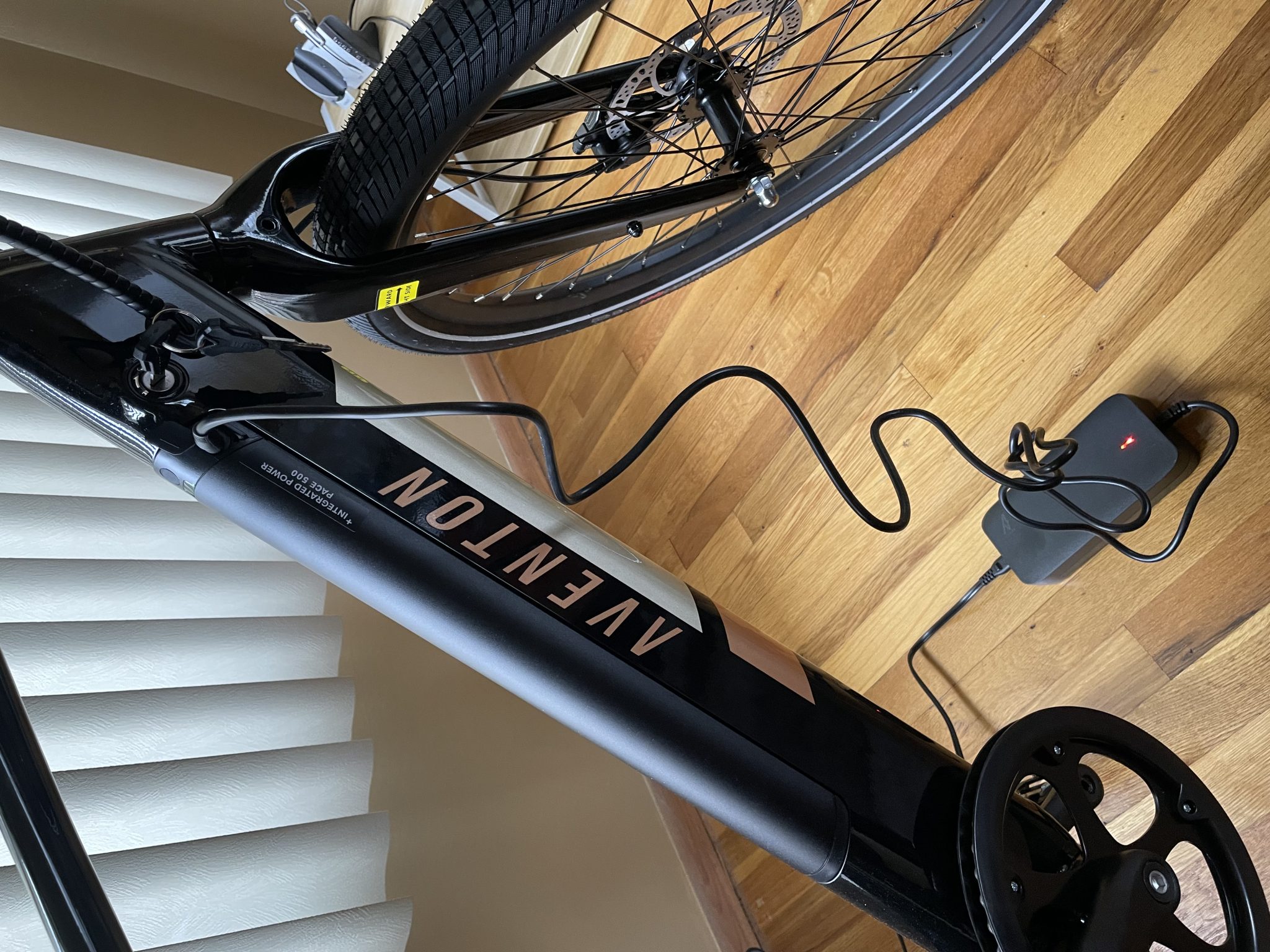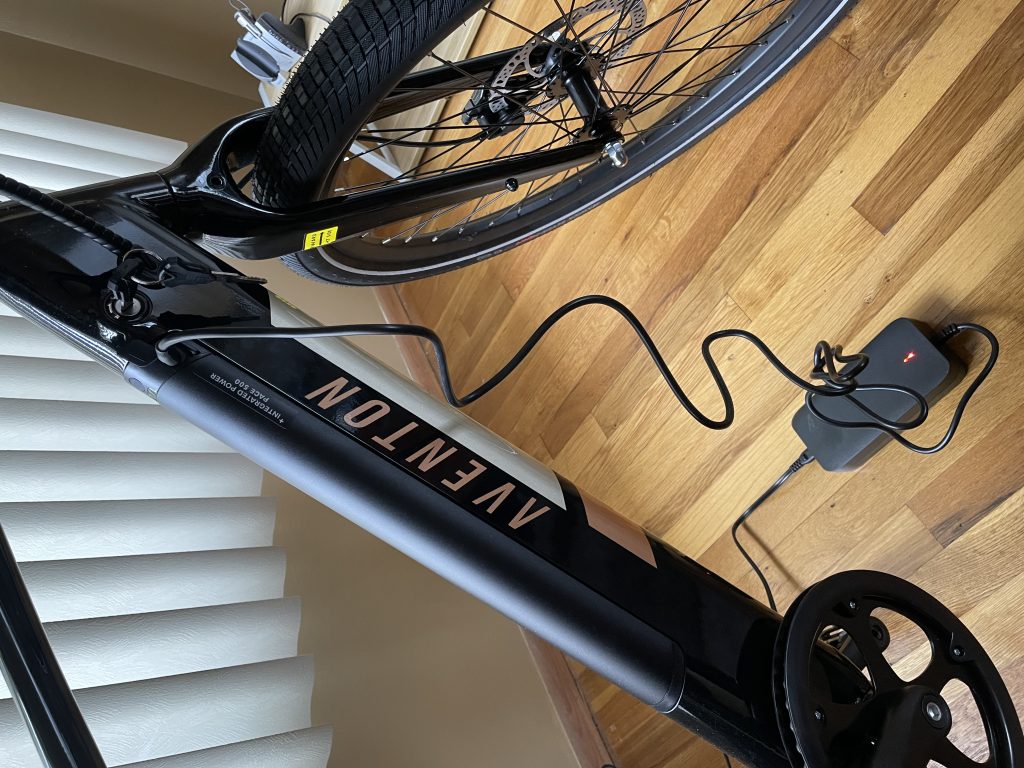 I will also say this is about the coolest, sleekest, power pack I have ever seen on a bike!!
Before long we were ready to test out the Aventon Next Generation Pace 500.2 e-bike.  Of course, my husband had to be the first to test it out and I was Okay with that! :0) He seemed to be having a great time riding around the neighborhood, and I couldn't help but smile! Let me add that he mentioned that the Aventon Next-Gen Pace 500.2 e-bike offered a smooth ride, and he would have continued riding it all day if it weren't for the fact that snow started to fall and the chilly weather. LOL!
Check out our video:
Since becoming an Aventon Next-Gen Pace 500.2 e-bike rider, he has seen firsthand how the Aventon Pace 500.2 e-bike can help you cruise around town in style and stress-free.
No matter where you're headed, your ride will be comfortable! This Pace 500.2 e-bike has a unique style, a powerful motor, frame-integrated lights, a hidden battery, and hydraulic disc brakes and more.
When you think about the Pace 500.2 e-bike you will see that the Aventon brand took this e-bike to a new level of bike riding.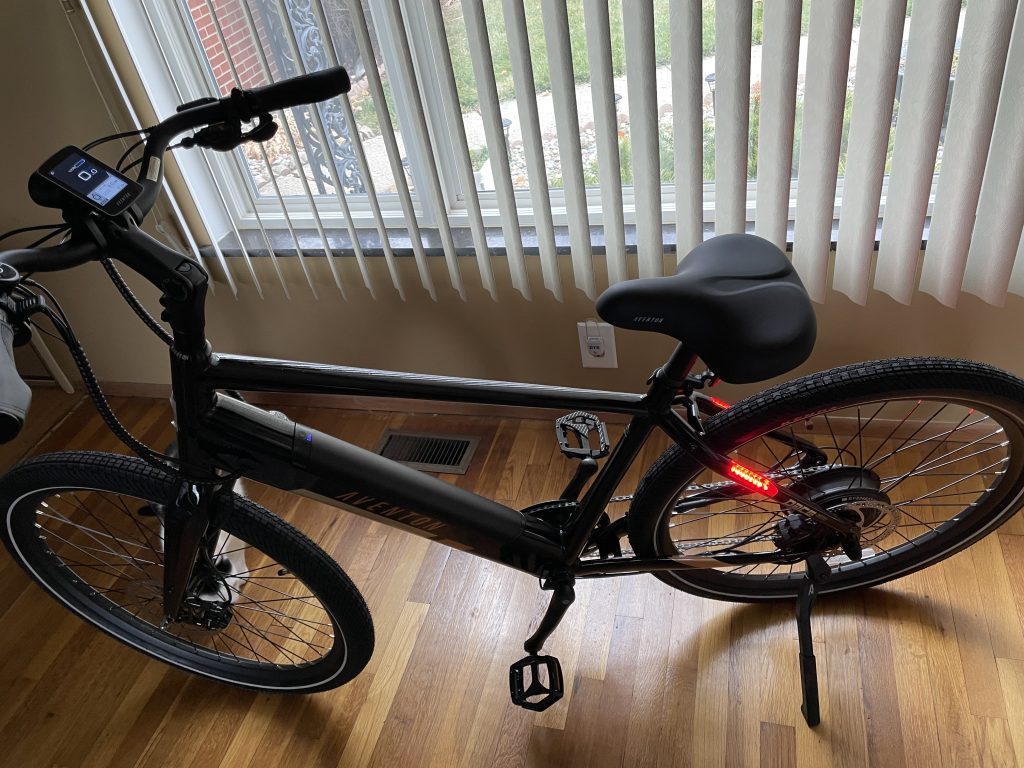 The comfortable touch areas on the bars and saddle make the bike a pleasure to ride. He stated he found himself not hunched over, unlike a few other bikes he has ridden before but more so, riding in an upright, comfortable position that didn't even irritate his back. The adjustable bars made that position perfect for him; they allowed him to find the ideal comforting position before he started riding.
The easy-to-read LCD screen and the integrated lighting, which includes a strong headlight and impressive frame-integrated taillights incorporated right into the seat, were other outstanding features. Make sure to sync your smart phone to the e-bike Aventon mobile app so you can keep up with your ride metrics and connect to the Aventon community! By the way those tires are strong and puncture resistant, can't beat that right!!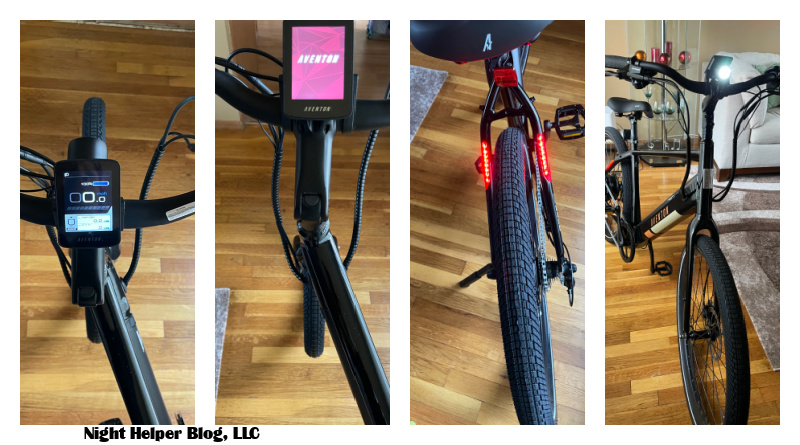 Additionally, the Pace 500.2 e-bike has easy-to-see brake lights and taillights on both sides, so even at night, when it could get a little dark, people will still be able to see you riding along!
Those lights are especially advantageous because the Aventon lights on the Pace 500.2 e-bike are built into the 6061 Single-Butted Aluminum Alloy frame. Thanks to this protection measure, there is no need to worry about damaging your taillights or brake lights! Boy, I have broken many taillights on our other bikes so many times that I can't even count.
Now the speed of the Pace 500.2 will play a big part in your daily commute, cruising around the neighborhood, or strolling around with your friends just became more exciting! That's because this beauty can hit speeds of up to 28 mph with a bit of pedal help (there are 5 pedal assist levels) and a range of 25-48 miles all due to the remarkable amount of power is produced by the 500-watt motor. The 8-speed shifter helps you get up to those higher speeds without spinning your feet too terribly fast.
Even though it feels good cursing along, I still enjoy working my legs with pedaling from time to time.  When you pedal more quickly, Aventon's motor offers you greater thrust. It's, like when starting from a standstill or moving slowly, the motor assistance is significant. He did find that switching from the lower gear to a higher gear gave him a jarred feel but that didn't last too long, before long he was able to shift with ease!
You can see the road or path ahead clearly per my husband, and without strain thanks to its comfortable, upright stance. Its wide, soft Selle Royal saddle further contributes to the comfortable, relaxed atmosphere. We also noticed the awesome supported wide kickstand that provides this e-bike the support it needs when it's not in use!
I'm interested in how the Aventon Next-Gen Pace 500.2 e-bike will handle on surfaces with more difficulty, such as mountain roads. Just a random thought, but I wonder if riding on uneven pavement will cause the batteries to deplete more quickly.
We also noticed that e-bikes have become popular bikes this year after doing much research. I must say the prices come with a hefty price tag, ranging from a few thousand dollars to 10k, depending on the model. Still, with the AVENTON Pace 500.2 E-Bike you're definitely paying for quality, features, style, and functionality, and hey, you can't beat that!!
The colors of the AVENTON Pace 500.2 E-Bike are Black and SoCal Sand which are both really nice colors, and both bikes are sold via Aventon website and through bike shops.
Here are more details about this Awesome AVENTON Pace 500.2 E-Bike:
The AVENTON Pace 500.2 E-Bike model come in standard double-diamond and step-through frames and two frame sizes—regular and large for the standard frame and S/M and M/L for the step-through.
The WEIGHT LIMIT
Maximum Payload Capacity: 300 lbs,
you get 48V 3 Amp Fast Charger, 4-5 Hour Charging,
BATTERY
Removable Internal Lithium-ion 48V, 12.8Ah(614Wh) with LG Cells,
SENSORS
Cadence Sensor, Speed Sensor,
MOTOR
48V, 500w Brushless Rear Hub Motor
SPEED
Up to 28 MPH on Pedal Assist
FRAME
6061 Single-Butted Aluminum Alloy with Internal Battery
PEDAL ASSIST
5 Levels
DISPLAY
LCD Smart Easy Read Display with Backlight, Colorful screen with app
THROTTLE
Thumb Throttle on Handlebars
SADDLE
Aventon by SelleRoyal
HEADSET
VP Sealed Bearing Headset
HANDLEBARS
Aluminum 31.8 15 Degree Sweptback
CHAIN
8 Speed, BRAKES Hydraulic Disc Brakes, and so much more. Check more details here
Overall, the AVENTON Pace 500.2 E-Bike is, all things considered, unquestionably one of the BEST E-Bikes we have ever seen and will make an awesome gift this holiday season!
Remember to connect with AVENTON via Facebook | Twitter| & Instagram| to keep up with the lastest news and updates.
Disclaimer: The Night Helper Blog LLC had the chance to review the AVENTON Pace 500.2 E-Bike thanks to AVENTON; we are revealing this in accordance with FTC standards and guidelines.