SOLITAIRE.ORG PROVIDES FREE AND ENJOYABLE ONLINE GAMES!!
WOW, playing solitaire brings back so many memories for me now! I used to play this game with my father all the time, and he used to make fun of me because it took me so long to figure this game out, and I must have asked every question about the game a hundred times or more… LOL!
When we had the whole family around, we played a lot of card games for hours, and I loved every minute of it. It was a terrific way to pass the time and keep my mind occupied.
Just the other day, while browsing the internet, I can across this site called Solitaire.org, and I immediately began playing.
The navigation on the Solitaire.org site is so straightforward and easy to use. They offered the classic form of solitaire, as well as many additional versions, and a few other amusing games, such as Online Hidden Object Puzzle Games, Logic Puzzles, Cross Word, BattleShips, Card games, Gin Rummy, Hearts, Blackjack, Mahjong games, Cooking, Solitaire, Match 3 games, Candy Fiesta, Zumba Ball, Mind Video Games and a whole slew of other fun games that will keep everyone entertained!
I decided I wanted to try Online Hidden Object Puzzle Games since I love these types of games.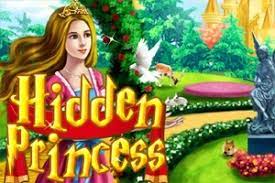 The game is very easy to play and navigate. Many objects are hard to see unless you zoom in so, you will need to double tap on the image to zoom in or out.
The concept of the game is to find all the hidden objects… one group at a time!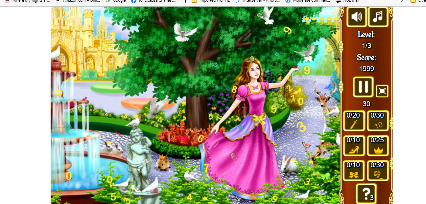 In the bottom right corner of the screen, you have a limited number of turns. You will receive new turns for each completed category of objects. First, try to locate all things in one category. You will run out of turns before completing any category if you use up some of your turns across all of the categories.
Levels contain 10 shoes, 10 ribbons, 20 swords, 25 crowns, 30 numbers, and 30 roses. You start the level with 30 moves, so it makes sense to try to find the shoes and ribbons first then work your way up to larger categories.
You would not want to start on number or roses as a single misclick or a single item hidden behind another item type would end the game!
I save the numbers for last as they tend to be the easiest to find. Hint: The fact that you can only click on 1 or 2 objects at a time adds to the irritation since once you've found the majority of an item class, there are fewer of them left, and you keep seeing the other stuff you can't click on.
I kept playing this game for a long time because every time I thought I had found everything; I ran out of time and the system said leveled failed… LOL! I did, however, pass Level 1, but no father…lol
Now, I wanted to give pyramid solitaire a try! This was another one of my favorite games to play but boy you can tell I haven't played this game in a very long time!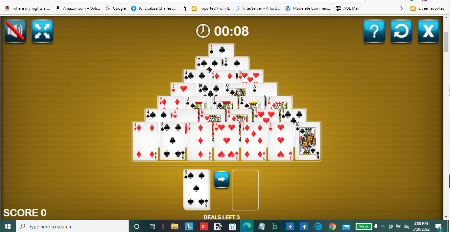 The goal of the game is to empty the card pyramid by matching two cards with a total of 13 points. You can clear a card by just clicking on it, and if no cards match, deal from the stockpile cards.
I had forgotten how to play this, I haven't played this game since I was a kid, I'm delighted to say that after my second effort, I was able to win this game, I was so happy to see my score go up!
Finding and rediscovering these fantastic games is fantastic. And I'm relieved that I can still win a game or two and that I was successful in a few other games I played.
Now, my older kids are into the Solitaire.org site too, it's a great way to entertain them with so many cool, fun, safe online FREE GAMES!
If solitaire isn't your thing, don't worry. There are also amazing match three games, word searches, crossword puzzles, and sudoku on Solitaire.org. As previously stated, and the hidden object game is also an option.
It's wonderful to know that there's something for everyone. This is a great way to pass the time, and it's also safe; whether you play for a few minutes or an hour, you'll have a lot of fun and no pop-ups or ads to get in your way!
On the Solitaire.org website, there's always something fresh and fascinating to discover every time you visit!!
So, the next time you have some free time and want to play some solitaire games, go to Solitaire.org and check out their selection of free online games!!