Wraptastic, the super smart dispenser for your food Review!
Wraptastic is truly the fast and easy way to dispense kitchen wraps. I use plastic wraps for just about all my foods because they help to preserve the freshness. The problem I have with using many plastic wraps is once I use them they sometimes become crinkled or tangled before I can cover my food.
 So when I was given the opportunity to try out the Wraptastic, I really wanted to see if it worked or not.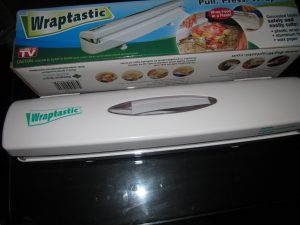 Wraptastic was created to help consumers avoid all the headaches when wrapping their food.
I tried the Wraptastic and within a few minutes my food was wrapped and ready to store all without the agonizing frustration of tears and tangled plastic.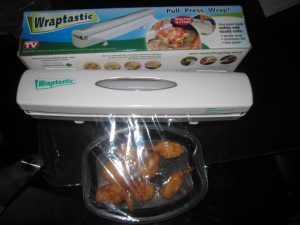 It was a one , two, three step…Pull it, Press it, Wrap it and your on your way to preserving your food. No nicking fingers from all those box sharp edges, the Wraptastic cutter is within the compartment so you don't come into contact with that area plus it is dishwasher safe!
Your fingers are safe, it is fast, reliable, easy to assemble and the Wraptastic works great with plastic wrap, aluminum foil, and wax paper.
Wraptastic Features:
Use with any wrap – Works with wax paper, plastic wrap, aluminum foil and more!
Spring loaded – Easily pop wrap rolls in and out
Safe – Stainless steel blade is recessed to protect fingers
Steady – Rubber feet hold in place on counters, tables, etc
Easy to Store – Fits in most kitchen drawers
To learn more check out their video below
Disclaimer Statement
I was not compensated for this post, however I did receive a product sample from Wraptastic. The opinions expressed in this post are 100%  my own and any product claim, quote or other representation about a product or service should be verified by the above mentioned store, PR or product designer.