Blue's Clues and You! Let's Learn With Blue Available on DVD May 24, 2022!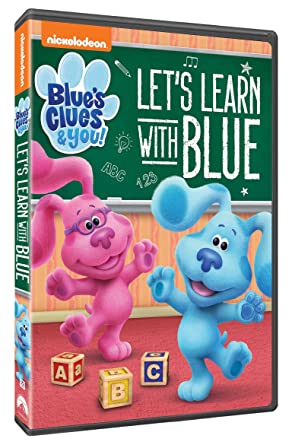 LOS ANGELES– April 25, 2021– Clue into lots of play-along learning with Blue and Josh in the brand-new DVD release, Blue's Clues & You! Let's Learn With Blue. Available on May 24, 2022, kids will search for Blue's Clues while playing active skill-building games along the way to help them learn their ABCs, 123s, colors, and science in four play-to-learn episodes.
Blue's Clues & You! Let's Learn With Blue will be available on DVD from Paramount Home Entertainment and Nickelodeon Home Entertainment on May 24, 2022, for the suggested retail price of $10.99.
Blue's Clues & You! Let's Learn With Blue episodes:
ABCs with Blue
123s with Blue
Science with Blue
Colors Everywhere with Blue
Blue's Clues & You! Let's Learn With Blue synopsis:
Join Blue, Josh, and their friends for clue-filled learning games! First, Blue will help kids learn their ABCs … and practice letter recognition and sound too. Next up, Josh is COUNTING on preschoolers to help him with his 123s as he counts Blue Dollars and figures out what Blue wants to buy at the store. By asking kids direct questions like he always does, Josh invites them to learn about science: examining the world through a magnifying glass, meeting the Sun, and learning the Planets Song too. And preschoolers will learn clue into colors and even color mixing as they help Josh and Blue paint a picture of their friends. Kids will love to learn and play the Blue's Clues & You! way!
Blue's Clues & You! Blue's Big Baking Show fast facts:
Street Date: May 24, 2022
Catalog: 19132922048 (US), 191329220498 (CN)
Running Time: 1 hr 30 min
Audio: Dolby Digital English 5.1, French Stereo, Spanish Stereo
US Rating: Not Rated
CN Rating: G
US M.S.R.P.: $10.99
CN M.S.R.P.: $12.99
About Nickelodeon
Nickelodeon, now in its 42nd year, is the number-one entertainment brand for kids. It has built a diverse, global business by putting kids first in everything it does. The brand includes television programming and production in the United States and around the world, plus consumer products, digital, location-based experiences, publishing and feature films. For more information or artwork, visit http://www.nickpress.com. Nickelodeon is a part of Paramount's (Nasdaq: PARA, PARAA) global portfolio of multimedia entertainment brands.
About Paramount Home Entertainment
Paramount Home Entertainment (PHE) is part of Paramount Pictures Corporation (PPC), a global producer and distributor of filmed entertainment.  PPC is a unit of ViacomCBS (NASDAQ: VIAC; VIACA), a leading content company with prominent and respected film, television and digital entertainment brands.  The PHE division oversees PPC's home entertainment and transactional digital distribution activities worldwide. The division is responsible for the sales, marketing and distribution of home entertainment content on behalf of Paramount Pictures, Paramount Animation, Paramount Television Studios, Paramount Players, MTV, Nickelodeon, Comedy Central and CBS and applicable licensing and servicing of certain DreamWorks Animation titles.  PHE additionally manages global licensing of studio content and transactional distribution across worldwide digital distribution platforms including online, mobile and portable devices and emerging technologies.