Razer Gaming Chair Review
Razer gaming computer chairs are all the rage in the gamer world, and with good reason. Razer is known for its highly ergonomic designs, attractive designs, and impeccable adjustable lumbar support systems/ But does the Razer Iskur chair fit the bill? In this post, we review this gaming chair, focusing on its design, ergonomic quality, comfort levels, and key features.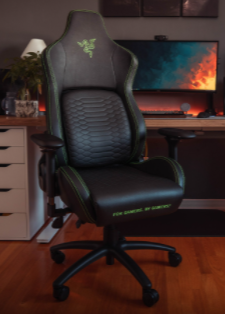 Razer Iskur Features
Here is a list of the top features of the Razer Iskur gaming chair:
139-degree recline

PVC faux leather upholstery

Weight 30.30kg

134.62cm total height, including base

Backrest width 48.26cm (at shoulder)

Backrest height 82.55cm

53.34cm wide sitting area (total)

43.18cm wide sitting area (point of contact)

Ideal user weight

Ideal user height 170-190cm

3-year warranty
Design
The Razer gaming computer chairs unit comes in the classic black and green color palette that Razer is known for, with the green stitching and Razer logo providing a great luminous contrast to the black leather. If you want to enjoy the full effect, you should place the chair in a low-light gaming room. If you prefer more muted colors, you can also opt for the all-black version at the same price.
In terms of build, the Iskur has a very solid and sturdy plywood and metal frame, complete with caster wheels. The tall headrest and recessed backrest give it the appearance of a stately throne. The neck pillow boats of the Razer logo and the seat base is classily emblazoned with the tagline 'For Gamers by Gamers' in green. Additionally, the lumbar support cushion has a subtle snake scale pattern.
Comfort
Beyond its design, the Razer Iskur is a very comfortable gaming chair. It is designed to help you maintain a good posture during extended gameplay, and the support is solid without feeling stiff or cagy. Additionally, the chair is designed to conform to your body rather than swallow you. The leather is textured, and the neck pillow is filled with memory foam and covered in a soft, gentle fabric.
If you are tall, you will love the long backrest and neck cushion clasps positioned at the top of the chair. Gamers will also enjoy the firm but comfortable armrests that can be adjusted through three buttons placed on either side or the front of each armrest.
Lumbar Support
While many gaming chair producers provide lumbar support through pillows, the Razer Iskur stands out through its adjustable lumbar support. The support is a padded section of the backrest that you can adjust to conform to the curvature of your spine. This makes for more comfort and support.
Pros
Flexible, adjustable armrests

Firm, comfortable, supportive padding

Well-sculpted backrest

Lumbar support is versatile
Cons
Backrest lever is a little stiff.

Shorter gamers may find it difficult to reach the levers

Lumbar support is sensitive to screw tension

Not ideal for gamers with wider body types
Verdict
Like other Razer gaming computer chairs before it, the Razer Iskur is an excellent option for any gamer looking for maximum comfort. It is masterfully designed, well built, easy to assemble, and attractive. That said, gamers with wider body types may want to consider other options. Still, the Razer Iskur lives up to expectations, and if you meet the height and weight requirements, it is a great investment.
Disclosure: Some of the links in this post are 'affiliate links.' This means if you click on the link and purchase the item, I will receive an affiliate commission.