NewAir Countertop Nugget Ice Maker in Stainless Steel, 40 lbs. You'll Never Have To Worry About Ice Again!
Disclosure: I was not compensated for this post. However, I did receive a product from the company and the opinions expressed in this post are 100% my own. I am disclosing this in accordance with the FTC guidelines.
I have to start this review by stating this: This is the BEST thing I've owned…EVER. Listen, there are so many things about the NewAir Countertop Nugget Ice Maker that I want to include in this review, but I can't stop thinking about all of the cool drinks I'm going to make and how convenient it is in so many ways. I hope I don't miss anything!
Let's start with how my family met with a severe deficit in our home – an ice deficit. Since the pandemic hit, I've had very minimal space in the freezer for anything; we literally stuff and stack to stay stocked up on items to decrease the time we spend in stores and crowded spaces. Yes – I do have an icemaker in the freezer, but I don't care for it for several reasons; it's loud, the ice is too chunky, and I'm not too keen on using appliances that I can't regularly clean myself. I went from using it now and then to watching bags of ice from Sonic melt in the kitchen sink since I no longer trusted the built-in icemaker was up to my standards of being sanitary.
Then I saw the NewAir ice maker online browsing through Amazon, beaming and shining, matching the rest of my kitchen appliances, and making my favorite pellet ice. I knew I had to have it! Not only did it make my favorite type of ice, but by the measurements, it would fit right on my countertop! The New Air ice maker arrived and was easy to unpack. It was slightly heavier than I expected, but it was manageable enough for one average-sized person to lift and get situated.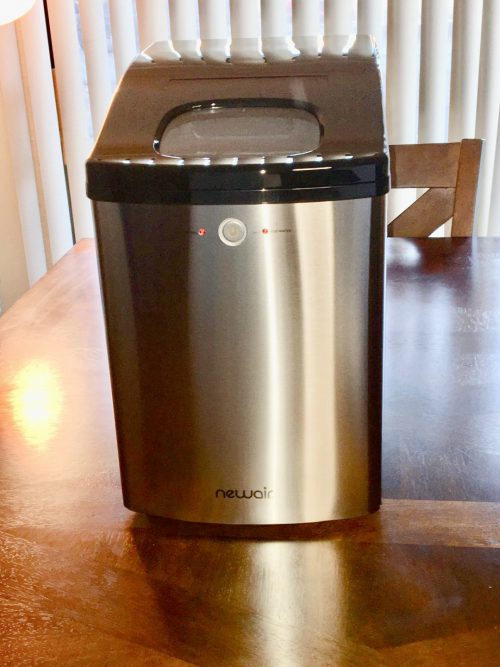 The instructions stated to clean the hoses with soapy water. Those two small hoses are attached in the back at the bottom and top of the machine, totally invisible and out of sight once the ice maker is ready for use. I cleaned those hoses and ran a cycle to internally clean the ice-maker with citric acid and water. NewAir recommended this process before the initial use because another incredible perk is that the New Air has a self-cleaning setting!
The instructions are self-explanatory, stating to leave the ice-maker on for 24 hours once plugged in for the first time. I made three small ice batches (VERY EASY TO LOAD) with water and tossed those out to clear the hoses of any of my remaining citrus acid water mix.
More importantly, the NewAir Countertop Nugget Ice Maker does not make a lot of noise – no louder than my dishwasher (which barely hums). The ice pellets will fill the basket within about 30 to 40 minutes, probably less if less water is added. The pellets are amazing!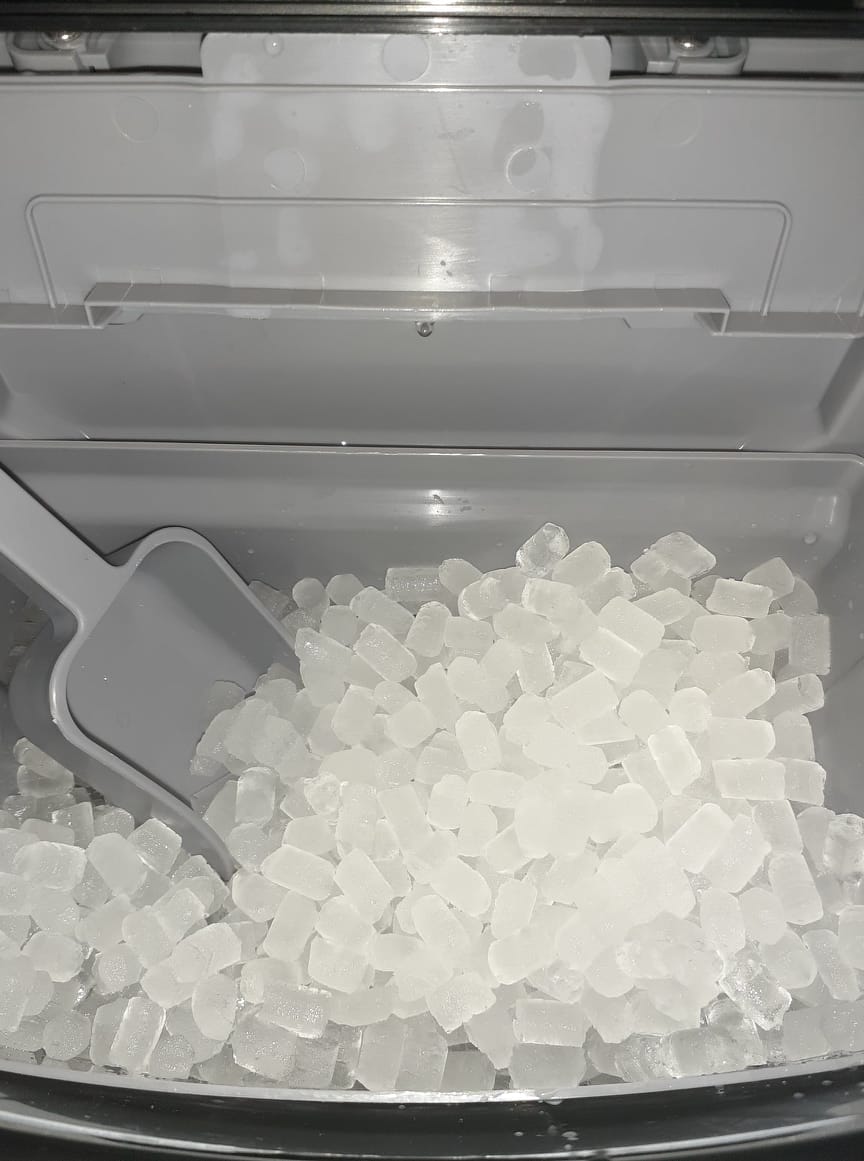 Not too hard, not too soft, but sturdy enough to make the best cool drinks without melting away quickly. This is one of the best decisions I've made and my favorite appliance thus far. I would highly recommend this unit to anyone with a bar, a business with a need for ice (it comes in various sizes), or even just for people like me with limited freezer space and a love for pellet ice.
The NewAir Countertop Nugget Ice Maker sleek design is that of Stainless Steel and will produce up to 40 lbs. of Ice a Day with Melt-Resistant Interior and BPA-Free Parts. The unit is again straightforward with instructions on how to use, with water and just a push of a button on the top; it also has an extra-thick wall which keeps the crunchy NewAir ice colder-for-longer for unmatched ice retention. The NewAir Nugget Ice Maker with a high-power cooling process to make it more efficient and faster.
Another factor I want to mention, which is very important, is to make sure the unit is plugged in a wall socket where no other appliances are being used; I read that in the manual and thought it would be essential to share. Make sure the unit is also free from anything blocking the back or sides. It has to breathe freely and make sure all hoses are connected to the ice-maker unit properly!
We decided that once we created the Nugget Ice, we wanted to create a nice drink to sip while we read more about this awesome NewAir Countertop Nugget Ice Maker.  Look at our fruit drink filled with NewAir Nugget Ice.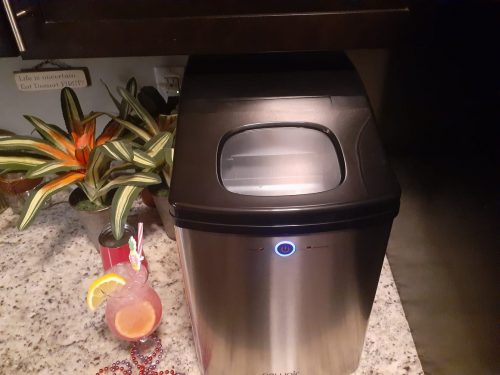 Not only was the drink refreshing, but it was so cold, and yes, I crunched every ice nugget I consumed…LOL! I also love how the NewAir Countertop Nugget Ice Maker matches my other stainless steel appliances; it just looks so nice on my counter! I can't wait to show my family and friends how incredible this NewAir Countertop Nugget Ice Maker is!.
You can visit NewAir online here and don't forget to connect with them via social media: Facebook| Twitter| Instagram| and Pinterest to keep up with the latest about all products.
Disclosure: I was not compensated for this post. However, I did receive a product from the company and the opinions expressed in this post are 100% my own. I am disclosing this in accordance with the FTC guidelines.