Newair 48 Qt. Portable 12v Electric Cooler with LG Compressor and more. Model: NPR048GA00
If you're looking for an electric cooler with wheels, various options are available on the market. When I was searching out electric coolers with wheels, I wanted to make sure it had everything I needed to make my life easier when it came down to getting the perfect cooler.
Well, I found the one I felt best to meet all my cooler needs when I'm ready to go on a picnic or traveling and need to keep all my food and drinks cold.
It's called the Newair (Model: NPR048GA00 ) 48 Qt. Portable 12v Electric Cooler with LG Compressor, Fridge and Freezer, Rugged Wheels, and Solar Power Input/Plug-In Cooler for Camping, Trucks, Travel, Car, and Home.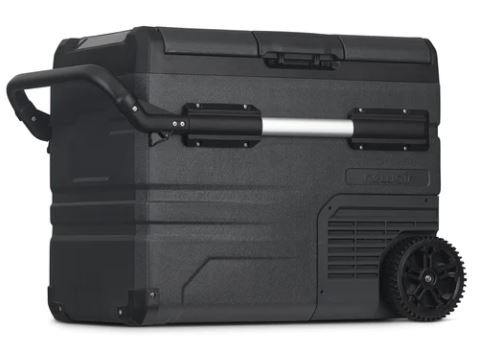 We decided on an electric cooler beside a regular cooler because a portable one can keep food and drinks chilled and even frozen without the need for ice. They are extremely handy for road trips, car camping, hunting trips, and more. 
These portable refrigerators can plug into your car battery or run on mobile power packs, solar panels, and more. You can pack your iceless cooler to the top with food and drinks and maintain a consistent temperature indefinitely. Some electric coolers even have dual zones, allowing you to store drinks and frozen treats separately at their proper temperatures.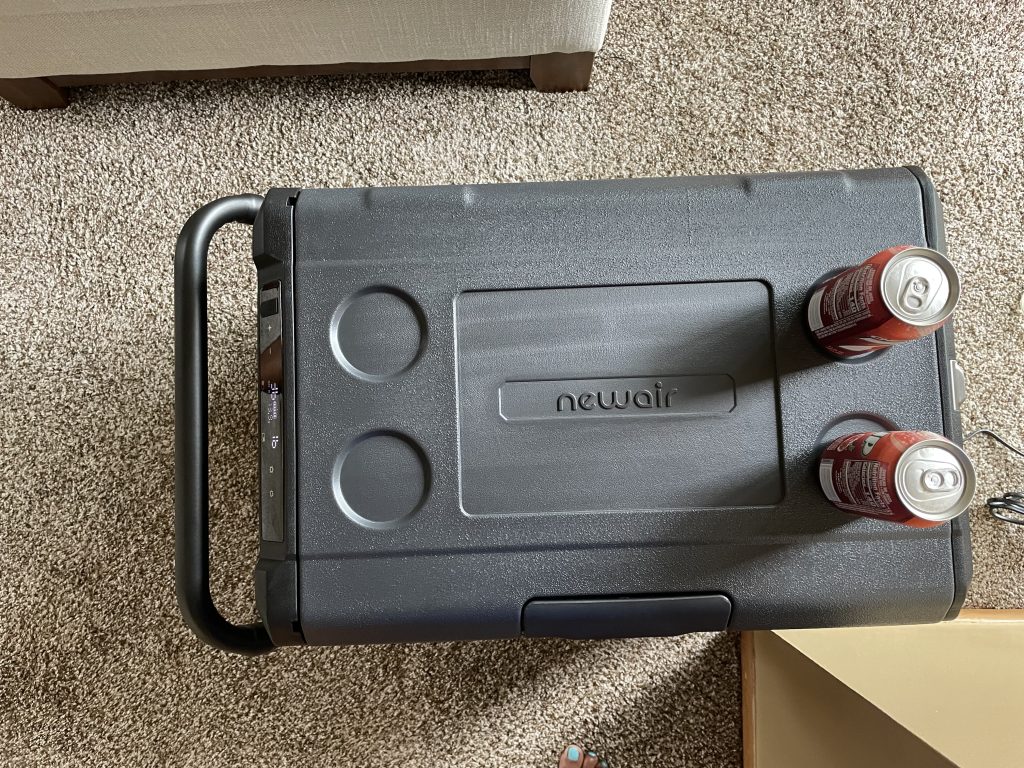 When using this compact, portable camping fridge and freezer, you can bring all the food you need for a trip into the wilderness or on a family picnic. We were headed to the park the other day so started filling our cooler up with lunch meat, pop, water, fruit, freeze pops and a few other things and guess what, we didn't even have to buy ice!!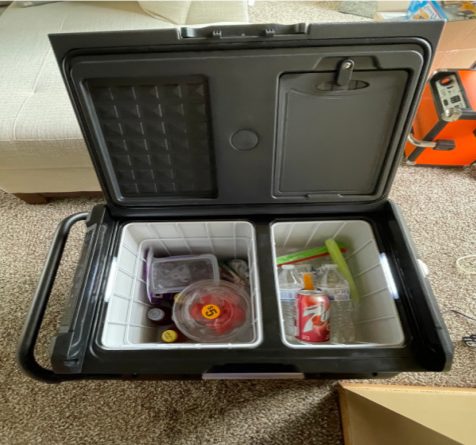 I purchased a bag just in case, but we later found out that we didn't need it because everything stayed cold and when we got home all we had to do was clean it out and store away until next use.
It's so cool knowing you can transport this Newair cooler anywhere with its weather-sealed reversible doors, retractable handle, and adventure-grade wheels, and its 48-quart capacity, guarantees you'll have all you need for a long weekend away too. The dependable LG Compressor keeps your food fresh for any outdoor adventure—plug it in and go.
The KEY FEATURES:
The retractable handle and off-road wheels make it easy to use this 12v/24v car fridge anywhere.

Durable LG Compressor works silently to power your cooler in the backcountry.

Reversible doors with weather stripping let you access your provisions in a snap.

80-quart capacity holds everything you need for an extended road trip.

The 3 battery protection modes and eco mode keep the cooler from draining your car battery.
With its sturdy design and retractable handle, this electric cooler with off-road wheels will suit any outdoor activity.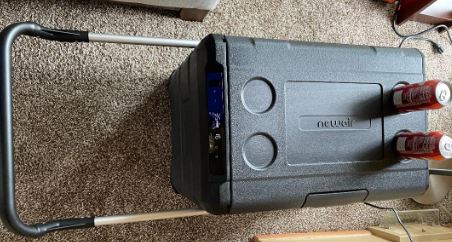 It can contain everything and has enough room to keep any food, frozen or not! Thanks to its spacious space capacity, you can have it all with this compact vehicle and camping cooler. This electric cooler is quite impressive in terms of both features and style.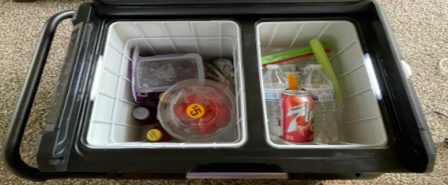 No flashlight is necessary because the door-activated LED light makes finding what you need simple day or night. Additionally, there are two wire baskets for organization, an integrated bottle opener, a cutting board, and doors that can be reversed to accommodate your car, van, or truck.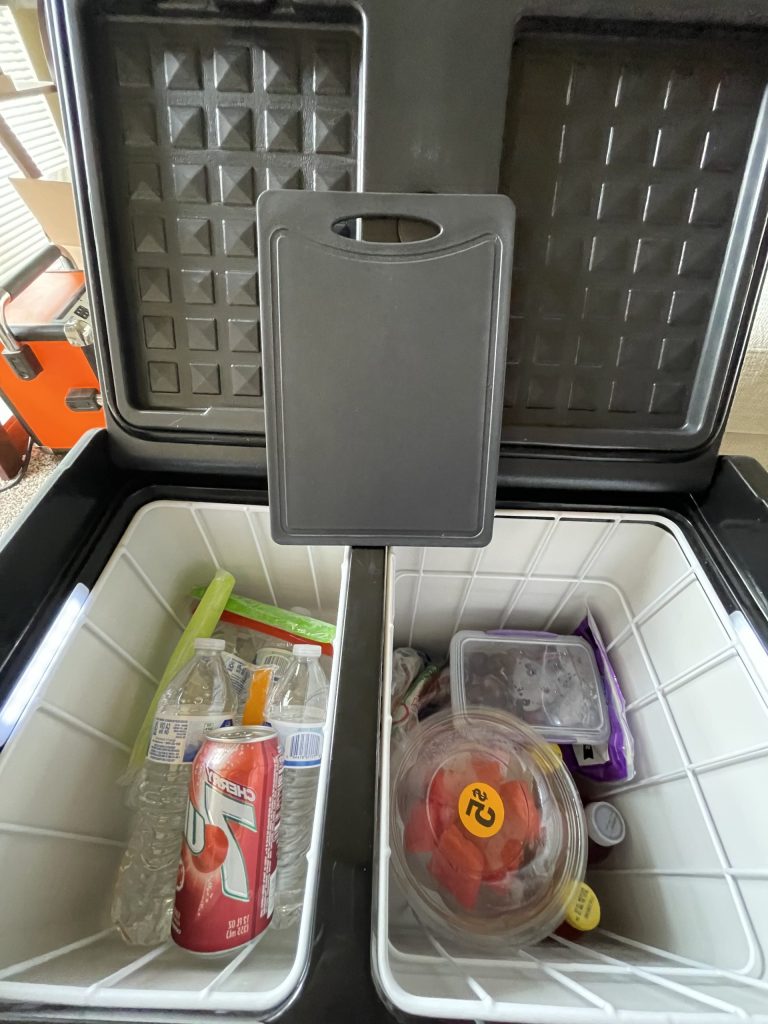 But wait, there's more! For complete peace of mind, this Newair 48 Qt. Portable 12v Electric Cooler includes three battery protection modes and is equipped with a car charger & home charger. It uses a solar panel and batteries for completely off-the-grid camping or plug into your car.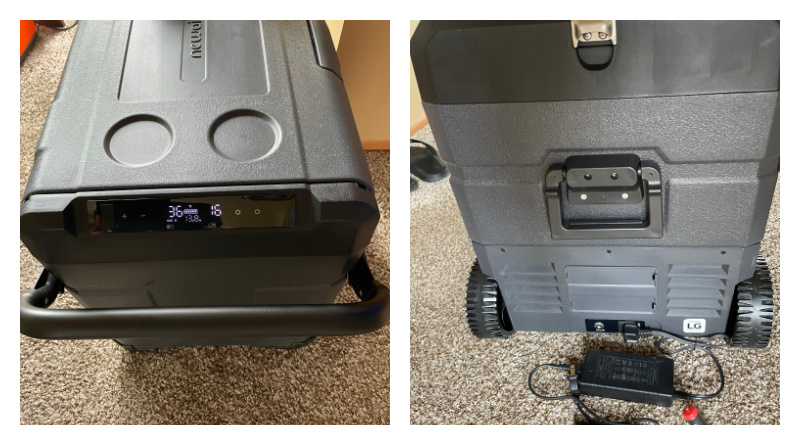 You can't help but get this Newair 48 Qt. Portable 12v Electric Cooler Model: NPR048GA00 due to the features and the pricing. We have been using it in place of our regular, ice-filled cooler. Even when fully loaded, it is simple to move because it includes wheels and an internal-baskets. Pulling out the baskets with food and beverages allows you to go where you can't roll it, such as up/downstairs or the back of a truck, without hoisting the bulky cooler. Complete with refreshments for everyone… we kept the freezer side at 20 degrees and the refrigerator side at 33 degrees by using a car battery.
Additionally, I observed that the food near the bottom of the freezer maintained a freezing temperature. Still, the top was not as cold, but keep in mind if you or the kids are going in and out constantly, that is to be expected.
My husband made a good point; he stated this Newair 48 Qt. Portable 12v Electric Cooler should hold everything the adults need, and we should grab our old cooler just for the kids, so they won't keep going in and out of the Newair cooler….Great idea, honey!!
The Dimensions of this Newair 48 Qt. Portable 12v Electric Cooler : 18″D x 28″W x 20″H, its compressor is quiet, it weighs 41.0 lbs, it has a USB port, two drain plugs to remove all the water once you're done using it, and two adapters for use at home and use in your car, temperature setting right outside front panel of this Newair 48 Qt. Portable 12v Electric Cooler, On/Off display, Temperature Ranges: -4°F – 68°F, Voltage DC: 12/24 volts, it has a door alarm, and no battery is included, and it has sooo much more.
So, if you're ready to head to the park, camping, or travel long distances via a truck like we will be doing soon, this Newair 48 Qt. Portable 12v Electric Cooler(Model: NPR048GA00 ) is for you.
Newair has also created a 10% discount code: NIGHT10
Don't forget to connect with them via social media: Facebook| Twitter| Instagram| and Pinterest to keep up with the latest about all products.
Disclosure: We were not compensated for this post. However, we did receive a product from the company, and I am disclosing this in accordance with the FTC guidelines.