Newair New 15" FlipShelf Wine and Beverage Refrigerator Model: NWB060BS00
Since I can remember, I had wanted a wine fridge but never really had the room for one until we moved to our new house. You see, we do a lot of entertaining, and our guests really appreciate a good glass of wine. Therefore, when NewAir delivered us their new 15″ FlipShelf Wine and Beverage Refrigerator Model: NWB060BS00, I knew we would have one of the best wine/beverage fridges available.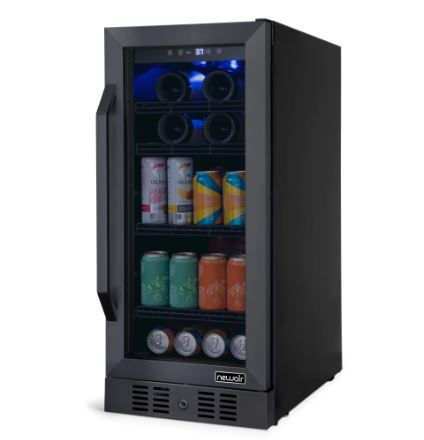 NewAir offers a wide range of fantastic items, including wine and beverage refrigerators, outdoor fans, indoor air conditioners, ice makers, heating appliances, car coolers, cigar humidors, and much more.
The Freestanding Fridge by Newair 15″ FlipShelfTM Wine and Beverage Refrigerator was created to be adaptable.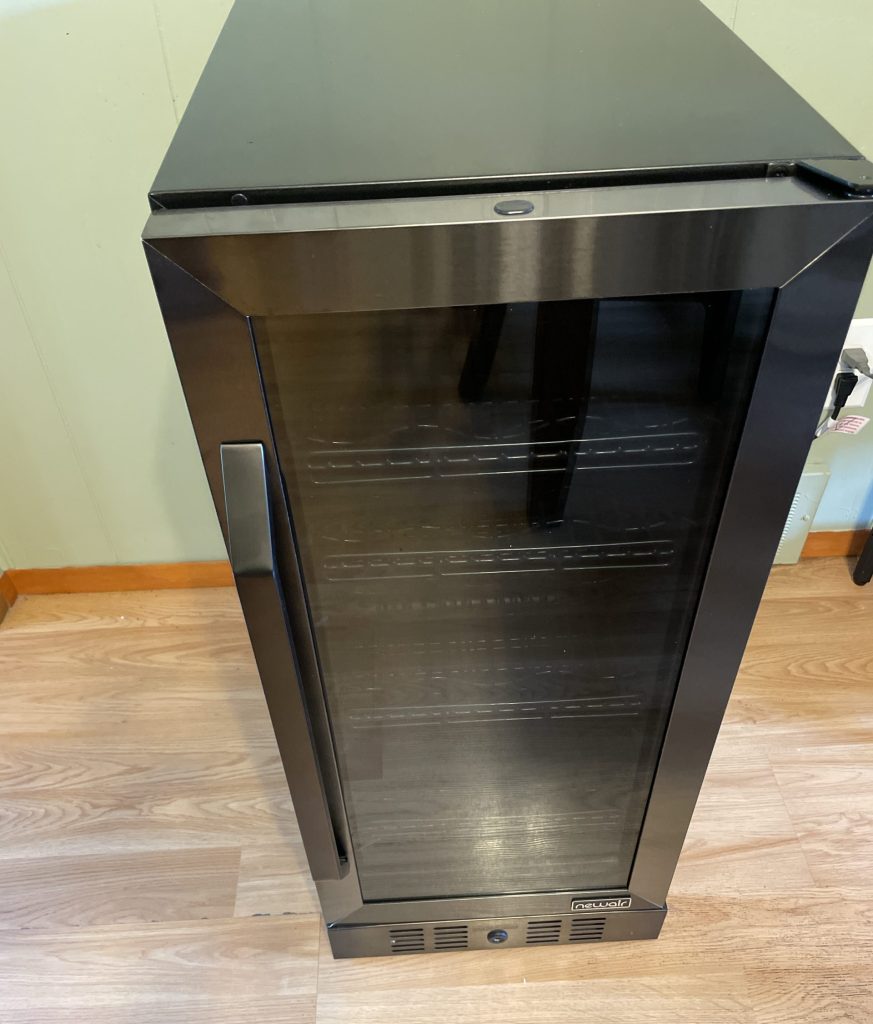 The good thing about this awesome fridge is, it may be utilized freestanding in any part of the house and can slide effortlessly under any standard kitchen cabinet thanks to its product dimensions of 27″D x 18.7″W x 37. 4″H and Front-venting compressor. In my case, I made the decision to temporarily store it in a kitchen corner. But since we are having our garage modified, it will go in our garage once its completed. That way we can entertain out guest outside with either a nice cold beer or a chilled tasty glass of wine, or just a cold soda if they like!!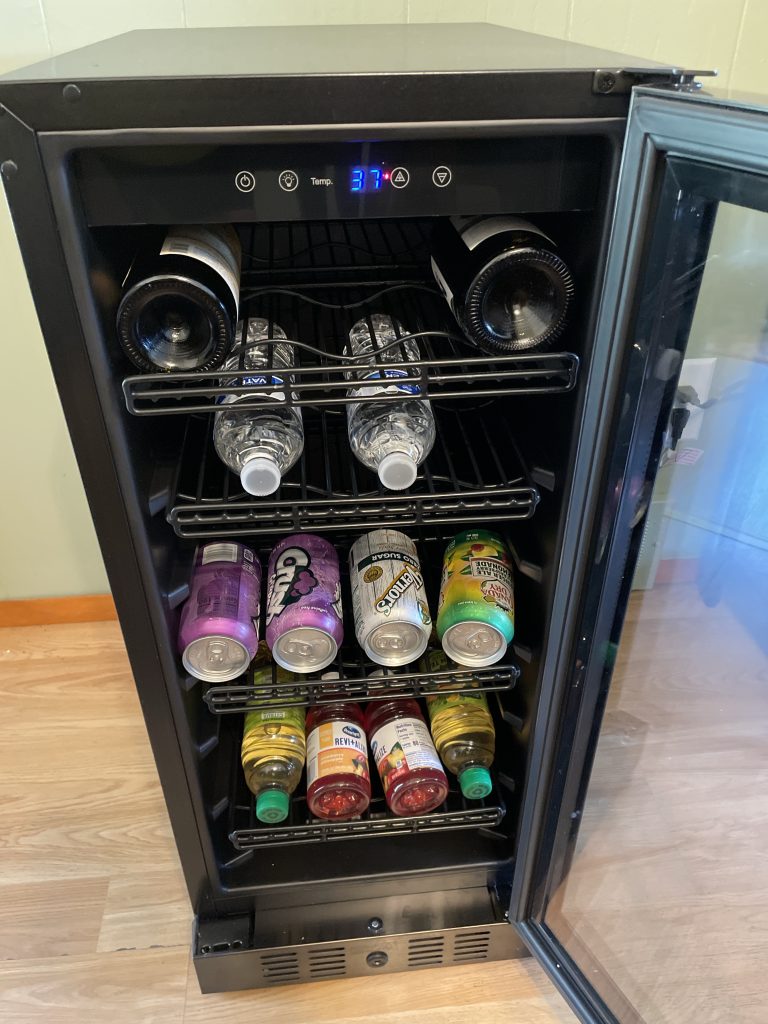 When I first got my NewAir FlipShelfTM Beverage Fridge, I assumed I would eventually fill it with wine since my guest always ask if we have wine on hand. I soon realized I wanted to use their distinctive design to add more than wine. I added sodas, waters, juice, wine, tea and I'm going to add cans of beer for the men to have when they want a cold brew. I even thought about adding some Gatorades, you see it can hold 80 Cans or 33 bottles. I can keep up to 33 bottles of wine, whew that's a lot or I can flip the shelves and mix it up with a little bit of different drinks for everyone…now that's some space to storage your favorite drinks.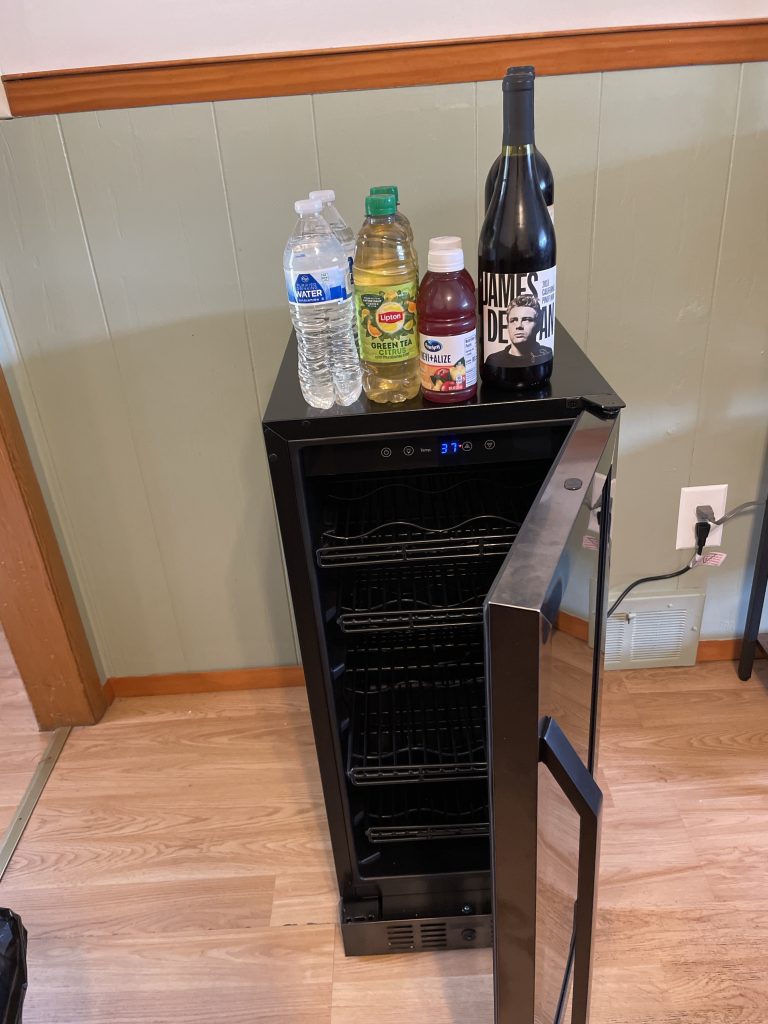 One thing about this NewAir FlipShelfTM Beverage Fridge ( Model: NWB060BS00)is you will surely have Precision Digital Thermostat. No matter what beverages you intend to store in your fridge—wine, ice-cold beers, or a range of other beverages—NewAir makes it simple to adjust the temperature to meet your demands. You can have it all because the temperature fluctuates from 37°F-65°F degrees Fahrenheit. I chose 40°F so that I could efficiently store any kind of beverage. Beverages i heard are best served at a temperature of about 37°F, whereas wine tastes better at temps between 45-65 degrees. As you can see the temperature display is visible and very easy to adjust.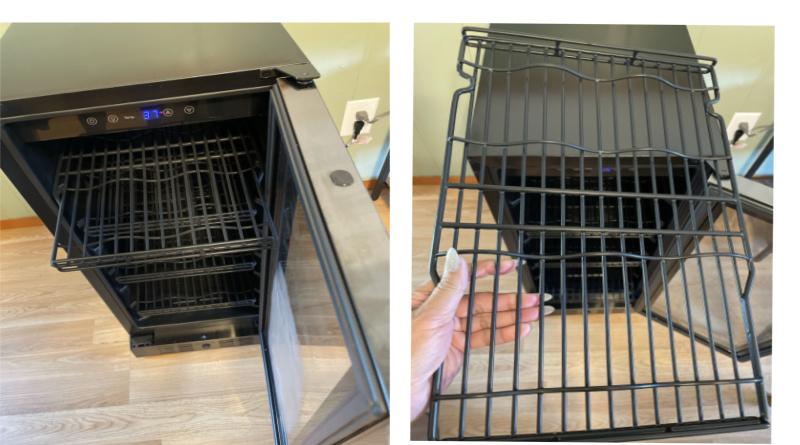 It was also easy to flip the shelf so I could add the wine. Just push in the shelf you wish to flip and you can see the difference of how the ridges are on the racks to store your beverage or wine.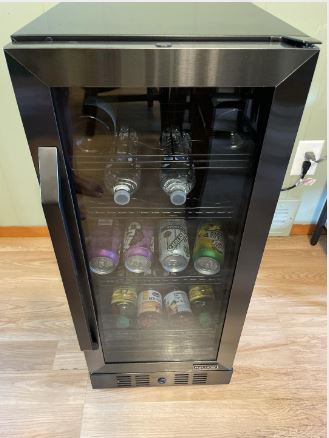 This wine/beverage cooler has a double-pane insulated glass door that protects and preserves your wine collection, plus there are two keys that can lock your wine/beverage cooler.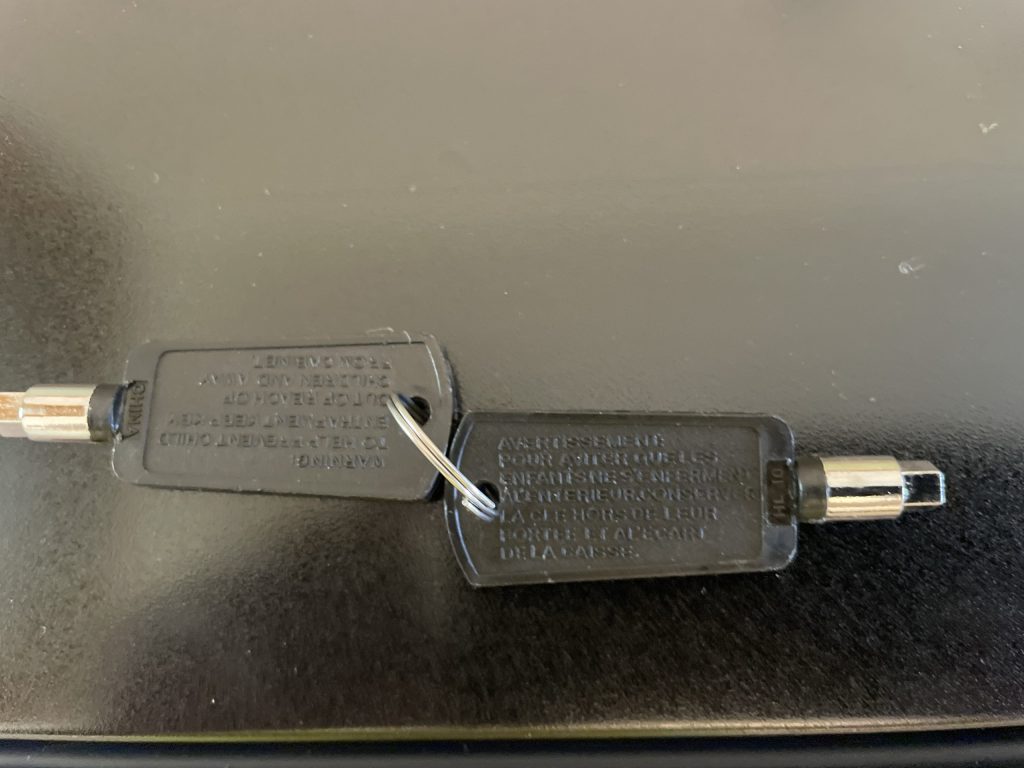 No matter where you place this unit, it is sure to accent any room because it just looks GOOD! It surely has a modern appeal to me with a ton of functionality. It has stainless steel embellishments all over and fits in my kitchen wonderfully. The triple-paned glass door allows you display your wine and beer selection while effectively keeping the cool air inside.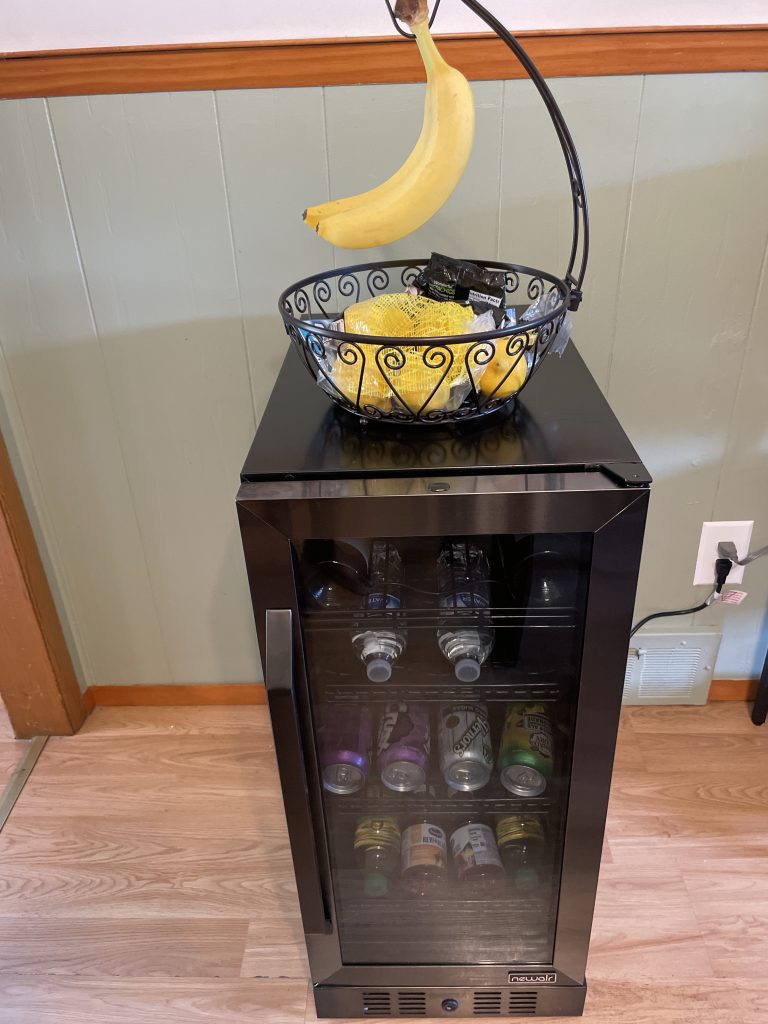 If you ask me, this is the market's most adaptable refrigerator. Simply put, the Newair FlipShelfTM Beverage Fridge is the ideal wine and beverage refrigerator for consumers with a wide range of tastes. In order to fit both cans and bottles, four robust racks slip out of the bespoke liners with ease. Each of the four FlipShelfTM racks offers options for keeping your collection of craft beers, special occasion wines, kid-friendly sodas, and more. Each rack has a flat side and a rounded side.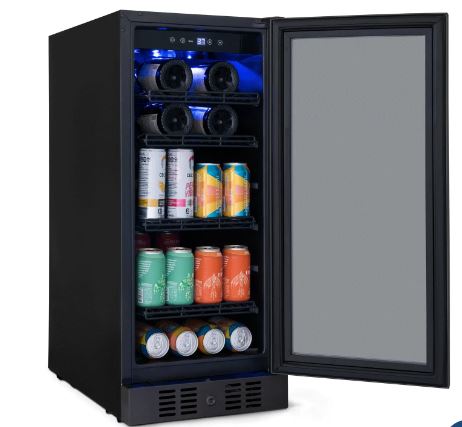 As you can see you can fill this Newair New 15" FlipShelf Wine and Beverage Refrigerator Model: NWB060BS00 unit with so many wine and beverage drinks. I didn't have a lot of drinks on hand, but this weekend I'll go shopping to stock up. You should wait to utilize the beverage refrigerator until you have your drinks prepared to store in my opinion. This way you won't be wasting energy, also make sure not to over stock the fridge because you must have space to circulate the air properly.
The fact that all Newair beverage refrigerators are energy efficient is a benefit in and of itself.
Conclusion
Would I advise someone seeking to buy their first beverage/wine fridge to get the Newair New 15″ FlipShelf Wine and Beverage Refrigerator Model: NWB060BS00? I sure would! I would even go so far as to strongly advise the entire Newair line of products. Even though the FlipShelf is completely my first pick, after browsing their website, I found a couple more wine refrigerators and beverage fridges that I would buy in a heartbeat. If you're in the market for something unique, modern, classy, functional, game changing, the Newair 15" FlipShelf™ Wine and Beverage Refrigerator is worth looking today!!
Thanks again to NewAir for sending out this beverage/wine flipshelf fridge for review. Can't wait to fill it up and showcase it in my remodeled garage.
Newair has also created a 10% Discount Code: NIGHT_10 for the Newair New 15″ FlipShelf Wine and Beverage Refrigerator Model: NWB060BS00
Don't forget to connect with them via social media: Facebook| Twitter| Instagram| and Pinterest to keep up with the latest about all products.