Groovy Glow Candy Lab & Yummy Rainbow Lip Balm Lab, Toys That Make Learning Fun!
Toys That Make Learning Fun!
There are lots of toys that make learning fun, to encourage the kids to play and learn. Kids everywhere have been through so much this year, and with them headed back to school soon, I'm sure the shift from summer to a full-time schedule will be a little stressful for lots of families.
To help prepare them for a successful school year, we put together two fantastic hands-on learning kits we think would be beneficial to helping your children relax and enjoy some fun time with family.
This brand will bring your family together for some fun engagement ranging from science kits, construction sets, and slime putty; no matter what, your kids are sure to experience lots of fun!
Here we have the Yummy Rainbow Lip Balm Lab from Thames & Kosmos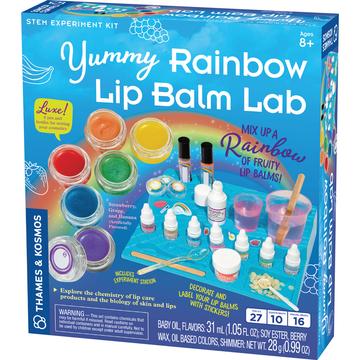 The girls will go crazy over this set. Make it a girls sleepover and watch them have enjoy creating their own lip balm. Mix up a rainbow of mouth-wateringly delicious lip balms and lip glosses. Experiment with a vibrant spectrum of colors and flavors to create your own personalized lip products. This cosmetics laboratory includes a special workstation and all the ingredients, containers, and tools you need to make up to six lip balms in clear plastic jars and two lip glosses in glass rollerball-applicator bottles. A full-color manual guides you through the process of making lip balms and glosses and provides detailed information about the science behind these products. Thoroughly tested to the highest standards for cosmetic and toy safety. For ages 8+ and available on Amazon | MSRP $29.95 
Next we have the Groovy Glowing Candy Lab from Thames & Kosmos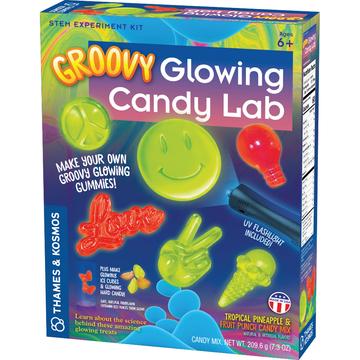 This candy lab kit is sure to bring the entire family together for some fun candy making. Set the world aglow with peace, happiness, and good times! Make yummy candies that actually glow in the dark. Mold fun, glowing gummies and sweet, glowing ice cubes in groovy shapes. Then make a batch of hard candy and watch it glow. A small amount of a safe, natural ingredient — riboflavin, or vitamin B2 — causes these candies to glow under the included blacklight flashlight. Learn about the chemistry of glowing materials and pigments, the physics of light and electromagnetic waves, and more science behind these delicious treats. This kit includes all the food ingredients needed for a groovy good time! Made in the USA. For ages 6+  also available on Amazon| MSRP $19.95 
Andor: The Family Fantasy Game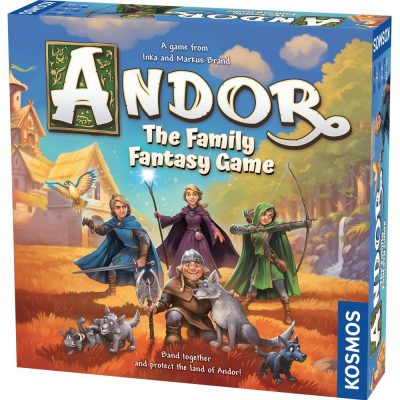 Another game that I like from Thames & Kosmos is the Andor: The Family Fantasy Game. Venture into a land of fantasy and legend! In this cooperative family role-playing game, each player chooses one of four powerful heroes: the magician, the warrior, the archer, or the dwarf. Your heroic journey begins with a mission to rescue some wolf cubs that are lost in a dangerous mine.
But, before embarking on your search, your party must get past Mart, the bridge guard, by completing all of his tasks. Only then will he let your party cross his bridge and enter the mine. However, danger still lurks on the horizon, as a dragon encroaches on the castle Rietburg just as you approach the mine. Should he arrive at the castle before your heroes rescue the wolf cubs, your party will lose the mission — and the game. If your party rescues the cubs first, you win!
Last we have the Smarty PAD from Flycatcher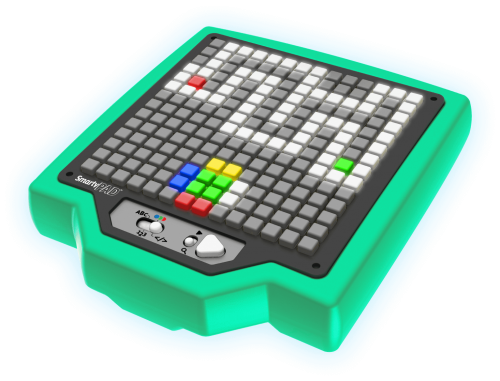 The new Smarty PAD™ interactive LED tablet gives preschoolers new ways to play and learn with 12 smart games and age-appropriate, educator-vetted curriculum. Motion sensors give the lightweight tablet an innovative spin, encouraging unique sensory play along with small motor development and critical thinking. Colorful visuals complement activities including colors, coding, ABCs, and numbers up to 25. Positive reinforcement, helpful encouragement, and over 100 different responses keep kids engaged every time they play. Smarty PAD™ is bi-lingual, empowering kids to play and learn in English and Spanish. Ideal for kids 3 to 5 years old. MSRP: $34.99.
So you see, these awesome games will allow your children to enjoy the luxuries of play while learning at home!
Visit Thames & Kosmos  website today to see their variety of products and don't forget to connect via Facebook | Twitter | Instagram| to keep up with the latest information
Affiliate Disclosure: We work with a variety of different affiliate companies. This means that we will receive a small compensation if you purchase from one of our affiliate links. This will not affect the price of your item(s). As an Amazon Associate, I earn from qualifying purchases. If you would like more information please check out our Disclosure Policy.