Litter Spinner Cat Litter Box, my cat love's it!
I was not compensated for this post, however I did receive a product sample from Litter Spinner, all opinions expressed in this post are 100% my own.
Litter Spinner, you make  my cat  "HAPPY"! I don't know about you but when I find a product that me and my cat like we both jump for joy.*smiling* I received the Litter Spinner last week and all I can say is, it's pretty cool!
Litter Spinner was kind enough to send me a Litter Spinner for our little Sparkles. They sent us a pink one and it represents Sparkles to the tee, because everyone knows she's the Diva in our house. We opened the box and placed all the parts aside while we read the instructions. The Litter Spinner only had (6) parts so I knew this was going to be a breeze.
As you see Sparkles was already excited, the moment I put the two drums down she jumped right into one and just laid there until I had to make her move..LOL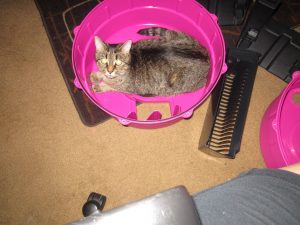 The Spinner only took a few seconds to put together, it came with two drums, a base stand, drain plug for drum area, a drawer to insert into the drum to remove the waste, few screws  and a clump stick to help dislodge the litter.
Within minutes my husband put it together and here is what it looks like when it is all completed.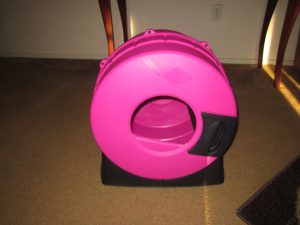 The drums are aligned together and sits evenly on the base. The dimensions are 18″ wide by 20″ high by 14.5″ deep and a 7 1/4″ opening. I was a little worried at first thinking maybe Sparkles maybe a little to big. Once we set it up she wouldn't even come close to it like she did before. She walked passed it and just looked.
Her old liter pan was something like the one shown on the side.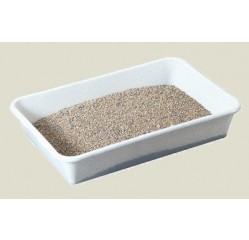 It is recommended to transfer some of your cats old litter into the spinner in which we did and the results of Sparkles using it turned out well. You can thoroughly clean your Litter Spinner with ease just by simply removing all the litter by releasing the black plug in the back, pour litter out from hole and wash and let dry. Replace plug refill and its ready again for your cat.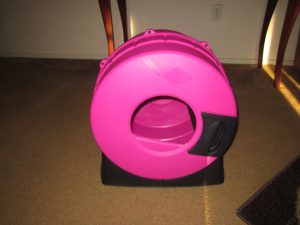 To remove your cat waste rotate the drum with a full turn then make sure drawer is at the 1 o'clock position, once drawer is at that position tap on the drawer to release any loose litter. Inside the Litter Spinner is a level gauge to make sure you don't over fill with litter, I did that the first time I filled the Spinner. I put way to much inside but now it is at the right level.
Overall I like the Litter Spinner and so does Sparkles. Once I removed her old litter pan she has been using the Litter Spinner every since without any problems. I like how private it is for her, it helps to keep odor down, less litter sprayed everywhere, its safe and cleans easily. Litter Spinner has so many cool colors to chose from like the pink shown above and this cute blue one.
They retail for $89.00 and ships Free!
Visit their website today to find the right color for your cat and don't forget to connect with them on Facebook & Twitter.
Thanks Litter Spinner for allowing us to showcase your product!