LUGZ Men's Diablo Hi Boot, CHARCOAL/ALLOY/BLACK, a boot made especially for him!
It goes without saying that Lugz shoes are durable and ready to meet your walking needs. Not only are they durable and rugged there also fashionable!
You see, Lugz has a large section of footwear like sneakers and boots for men, women, kids, and work footwear, and they have been in business since 1993. Lugz has established itself as a household name that represents unwavering dependability and honesty over the last 20 years.
Each person will receive quality, style, and comfort from Lugz footwear, which is designed for seasonal and everyday wear.
Lugz footwear is sure to accent any fashion outfit you're wearing that's for sure! Now keep in mind that while Lugz may weigh a little more than some other sneakers, this added weight contributes to their longevity in my opinion.
My husband received a pair of Lugz Men's Diablo Hi Boots to try out, and we both agreed that they were not only stylish but also tough, sturdy, and comfortable. They also have a slip-resistant outsole for good traction and are water-resistant, so he can wear them in rain or snow, and they will keep his feet dry.
They are available in three colors: CHARCOAL/ALLOY/BLACK, BLACK/FORGED IRON, CHOCOLATE/CARIBOU/BLACK and sizes range from:6.5-13
They also have a slip-resistant outsole for good traction and are water-resistant, so he can wear them in rain or snow, and they will keep his feet dry.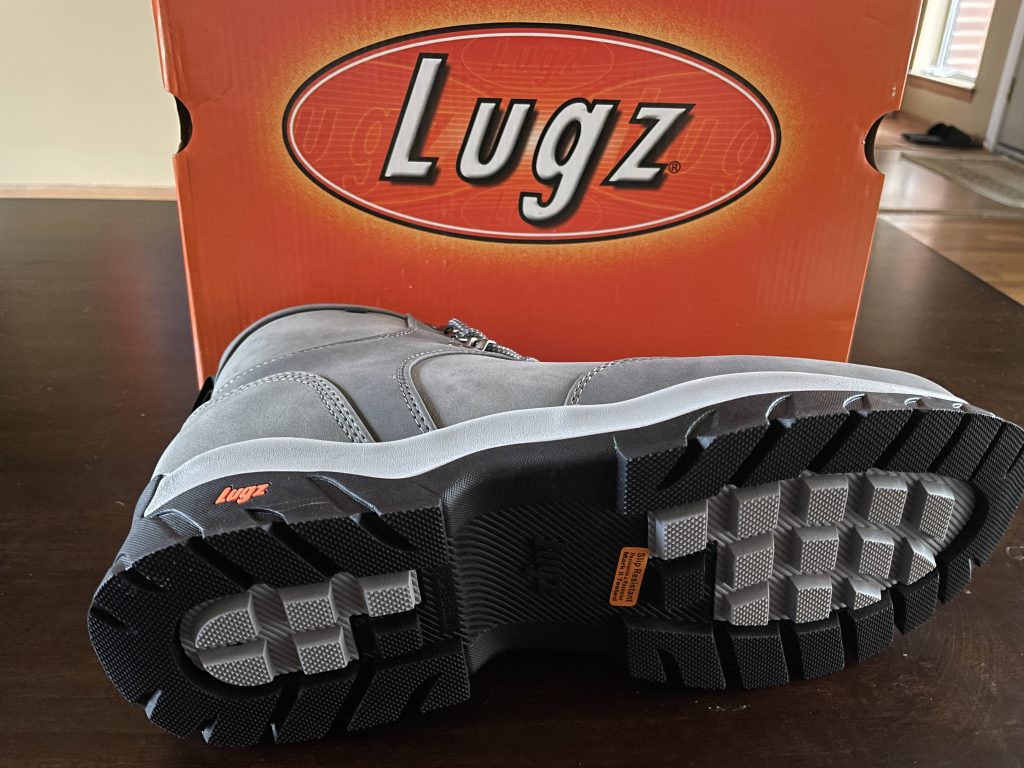 He can hike any trail with these awesome Lugz Men's Diablo Hi Boots, and he can wear them with any outfit especially a with pair of rugged jeans. The Lugz Men's Diablo Hi Boots are made of Suede and nylon and are easy to maintain: Clean with a damp cloth using a solution of water and mild soap to keep your Lugz looking great and performing as intended, or you can use scotch guard leather protector. I would be very careful if you are using any other solution to clean these books, I only say that because if the wrong solution is used it will damage the suede….trust me I know!
This weekend as we get ready to go out with the kids and, of course, into some rainy weather, I can't wait for my husband to give these fantastic boots a try. I believe these boots will be ideal for his feet; he said they were comfortable when he was trying them on! I'm sure they'll keep his feet dry, and they have excellent traction, as you can see from the photo of the soles. In addition, they are slip-resistant, which is important for any guy at least for my husband. Every element of these boots plays a part in keeping his feet comfortable and from experiencing any aches after a long day at work or while he's out on the town.
Lugz footwear offer a great selection of stylish and comfortable shoes that come in a variety of materials. You can choose from timeless leather boots to light canvas shoes, whatever your preference may be. Their famous footwear has thick rubber soles that offer the best traction, some lace up some don't, soft insole for comfort and support, and they offer sizes for men, women, kids, and even babies!
With such a wide selection of styles to choose from it's no wonder, so many people have become loyal Lugz fans like us!  The Lugz line-up also offers stylish high-top shoes with eye-catching designs and vibrant colors if you're searching for something more fashionable.
Check out these cute Women's Habitat Lx Sneaker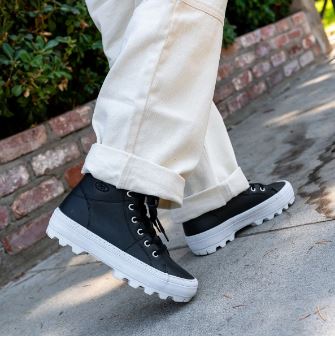 These sneakers are soooo cute and I love how they have the thick sole.  This fashionable ankle boot, complete with a vulcanized rubber sole in a chunky tread, will be your new go-to essential boot. I bet these boots are so comfortable and of course with them being Black/White in color I could match them up with many outfits!
Last, I wanted to share a pair for the kids as well. These are the Toddler Convoy 6-Inch Boots.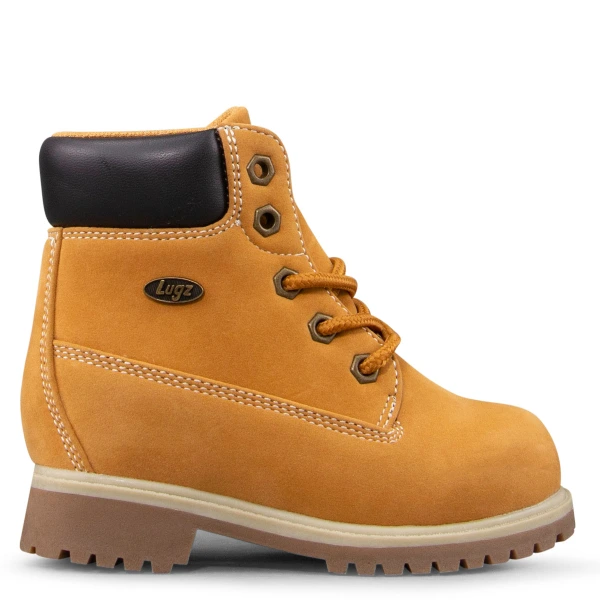 Lugz best-selling fashion boot is now available in kids' sizing – introducing the Lugz Toddler Convoy. A classic 6-inch look that will pair well with any kid style. Cute right!
As I previously indicated, Lugz has everything, and the cost is very reasonable, so you won't have to spend a fortune on high-quality shoes! All things considered, Lugz boots and sneakers offer excellent value for the money, especially if you're searching for a long-lasting pair of shoes.
Whether you're looking for casual sneakers or dressy boots, Lugz has something for everyone! So go ahead and check out their latest collection today – and see why people love these shoes!
Here's your chance to win a pair of LUGZ Men's Diablo Hi Boots, Lugz has been kind enough to allow one reader a chance to win these boots for their guy! Click here
Don't forget to follow Lugz via website | Facebook | Twitter |, and Pinterest.
Disclosure:  I was not compensated for this post. However, I did receive a product from the company above and the opinions expressed in this post are 100% my own. I am disclosing this in accordance with the FTC guidelines.