Chill Your Drinks With Newair 44lb. Nugget Countertop Ice Maker. Product Model: (NIM044BS00)
Any ice enthusiast will tell you that not all ice is made equally. Since it comes in little, chewable chunks, nugget ice, also known as pebble ice and Sonic ice, is widely believed to be the best ice and I can concur to that! According to what I've heard, this ice is created by compacting ice flakes using an auger mechanism, which results in a soft, porous cube that absorbs the flavor of your beverage and (presumably) won't break your teeth when you chew it. This ice melts more uniformly than regular cubes and is nothing like our everyday ice that comes out of our refrigerator.
Nugget ice machines are less prevalent than regular ice makers, as you might imagine. But a quality nugget machine is a necessity if you're anything like me and enjoy chewing ice cubes all day. There are numerous top-notch nugget ice machines available today that you may install on your kitchen counter, but this one (Newair 44lb. Nugget Countertop Ice Maker with Self-Cleaning Function Product Model: NIM044BS00) from Newair seems to be by far the best!!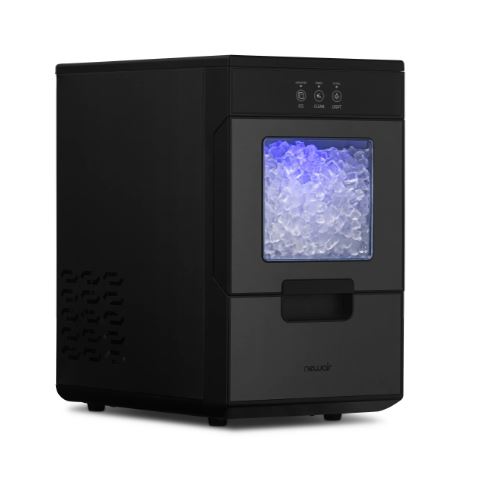 These days, Nugget ice makers are available as countertop models, which are primarily made for personal use, and commercial units, which are made for usage in restaurants and by caterers. But this Newair 44lb. Nugget Countertop Ice Maker with Self-Cleaning Function Product Model: (NIM044BS00) is perfect for your home, office, mancave, kitchen, home bar, basement, apartment, and many other areas since it is made just for your countertop personal use! Most of all the design of this Newair 44lb. Nugget Countertop Ice Maker with Self-Cleaning Function Product Model: (NIM044BS00) is unique and sure to compliment any area. I loveee how you will be able see your ice displayed right in the front of this unit.
I placed the box on my kitchen table and removed everything first. Next, we had no trouble setting up our unit, but one thing is for sure: you need to have adequate counter space for your Newair ice maker device to function properly. The directions are easy to understand and very clear plus, when you open the door to your Newair ice maker Product Model: (NIM044BS00) you will see your ice scooper inside.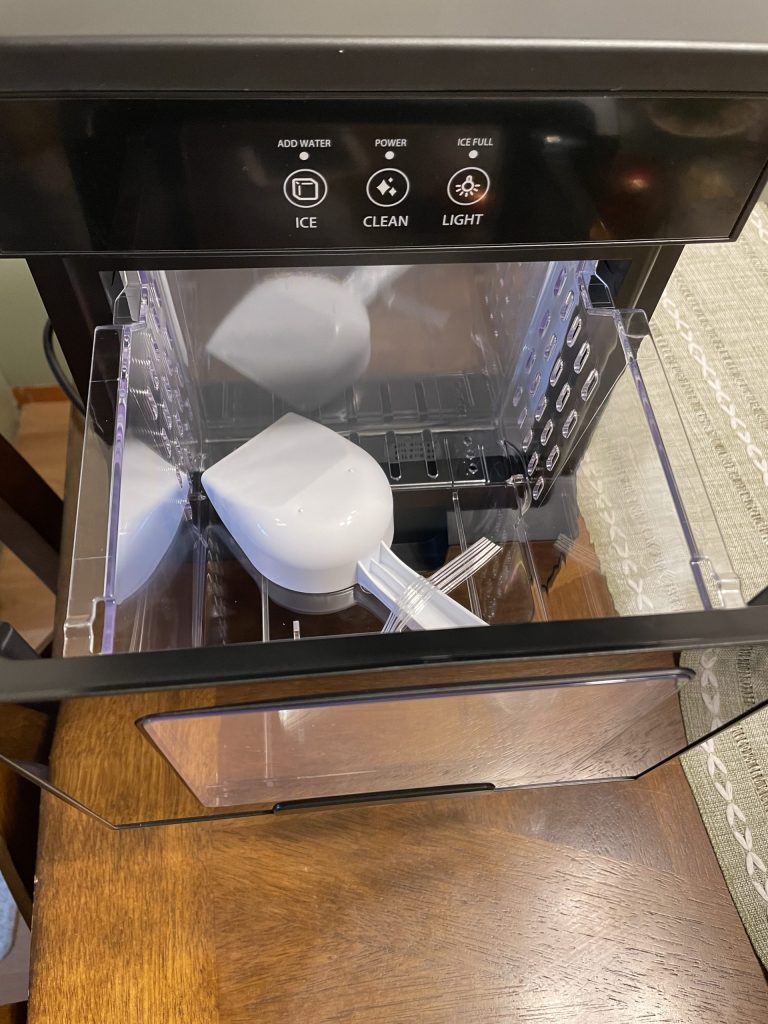 To make sure your next batch of ice is clean, I do advise, as the instructions suggests, wiping the machine down with a warm cloth, then run the self-clean cycle first before first use. I cleaned mine with water and lemon juice to make sure my lines were clean. Once that first cycle was done, we were ready to make our next batch and it came out so clean and pure!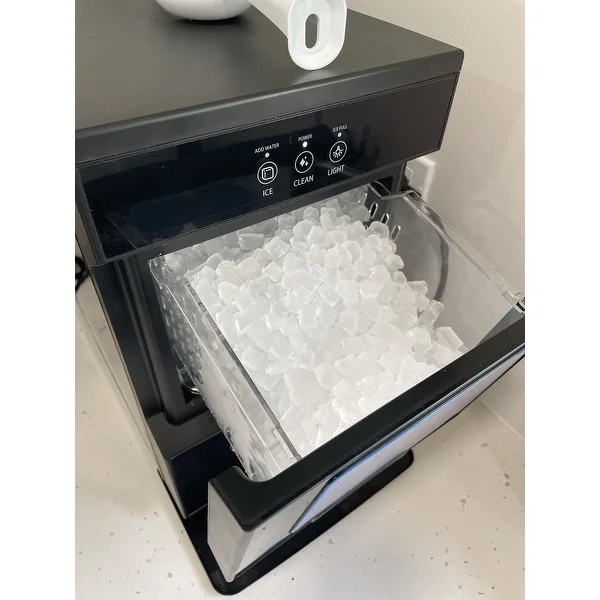 To get started  make sure to check your drainpipe behind the unit and make sure the water drain cap has been inserted into the drainpipe, otherwise the ice machine will not work properly. Press the "Ice" button and the power light will turn on for 5 seconds and then begin to flash. The ice maker will begin to start producing your ice. Press the "Ice" button again and the ice maker will stop making your ice. Don't forget to check the ice maker periodically to see if any more water is needed per the add water indicator light. If the water level reaches below the sensor the ice maker will automatically shut off and the "add water" indicator will turn on. Just make sure to pour water into the water reservoir until you've reached the max line. Another function I like about this unit is the led light display inside, you can switch it off and on to view your ice. Now, I did notice the ice machine only gets loud when and if you're not keeping the water level very full so, make sure to check your water levels, it appears to function much quite if it's not struggling. It can produce up to 44 pounds of nugget ice daily….which is a lottttttt of ice!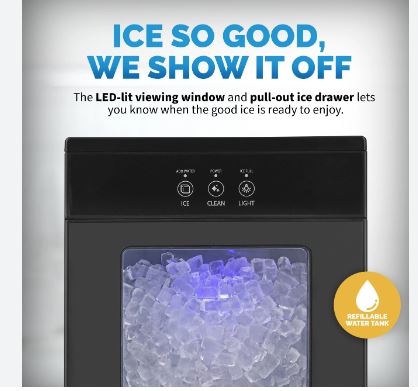 The best part about this Nugget ice maker is that it will provide you an endless supply of pure, precisely shaped, chewable ice that you can use to crunch on after your drink has run out. After a good refreshing drink, who wouldn't love to nibble on some pure, fresh, clean ice?
We love this so much! The ice was incredibly simple to generate with distilled water, simple to clean because of the unit's self-cleaning feature, it also provides a nice size for crunching, and best of all, it's available whenever you want some ice, day or night!
Once more, this stylish NewAir nugget ice maker has an all-black body with purple LED Lights that really are easy to see at night.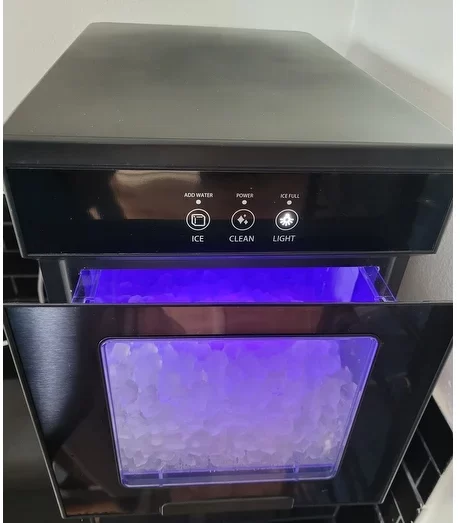 Considering that it makes an amazing 44 pounds of ice per day, it has a rather small footprint. Since the storage capacity is lower than rivals at 1.5 pounds, you might not be able to use all that ice but then again, who knows if you're entertaining this ice maker would be PERFECT!
Here are some of the KEY FEATURES:
Enjoy restaurant-quality, addictively chewable nugget ice in your own home.
Large capacity ice maker churns out up to 44 pounds of nugget ice daily.
LED-lit viewing window provides upscale, attention-grabbing design.
Compact but spacious ice machine fits perfectly on kitchen countertops.
Self-cleaning function makes for fresh-tasting ice every time.
So, if you're seeking to try out a nugget ice maker machine I would definitely recommend the Newair 44lb. Nugget Countertop Ice Maker with Self-Cleaning Function Product Model: (NIM044BS00). It can accommodate all your ice needs with ease.
Newair has also created a 10% Discount Code: NIGHT_10 for the Newair 44lb. Nugget Countertop Ice Maker with Self-Cleaning Function Product Model: (NIM044BS00)
Don't forget to connect with them via social media: Facebook| Twitter| Instagram| and Pinterest to keep up with the latest about all products.
Disclosure: I was not compensated for this post. However, I did receive a product from the company, and I am disclosing this in accordance with the FTC guidelines.