Last Minute Gift Ideas from National Geographic Kids Books #HolidayGiveaway
Disclaimer: Thanks to National Geographic Kids Books for providing this awesome giveaway.
This holiday season National Geographic Kids Books — the gold standard in "edu-tainment" — has great gift ideas for every curious kid, from big, beautiful and WOW-worthy titles to stocking stuffers that are, well, STUFFED with fun facts, silly jokes and photos galore.
The set of National Geographic Kids Books will consist of 7 great reads listed below:
This is a gift that kids can really sink their teeth into!  With more than 75 prehistoric creatures featured, the

National Geographic Kids Dinosaur Atlas

 ​(

Hardcover, ages 7-10, $24.99) takes readers on a tour of every dinosaur-inhabited continent, from Pangea to the modern day, revealing which creatures lived there, what their habitats were like and where dinosaur bones are being found today. Special sections introducing the dinosaur family tree, a prehistoric era
 timeline, the geography of the prehistoric globe, what happened to the dinosaurs, and a dinosaur dictionary (with phonetic pronunciations) are also included.  Readers will find inspiration from profiles of diverse paleontologists from around the world. The oversized hardcover format showcases stunning, full color dinosaur illustrations on every page and the custom-made, kid-friendly maps were created by National Geographic's legendary cartography and exploration experts. Vetted and curated by Dr. Steve Brusatte — a paleontologist on faculty at the School of Geosciences at the University of Edinburg, a PhD recipient from Columbia University, and the science consultant for the Jurassic World franchise — this atlas contains the most detailed and accurate information not only about dino "fan favorites" but also about the most recent dinosaur discoveries from less explored dig sites around the world.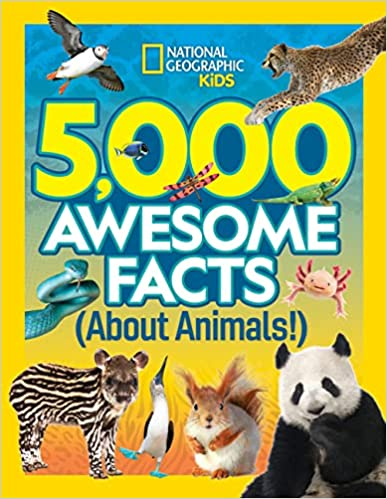 Ever wonder how smart a chicken is? Why a tiny island is home to thousands of venomous snakes? What sound a rhino makes when it's happy?5,000 Awesome Facts (About Animals) — a big, beautiful and gift worthy book for animal lovers and the fact-obsessed — leaves no habitat unexplored or unusual animal ability unmentioned.  

For Fans of Rick Riordan's Percy Jackson series: Zeus the Mighty: The Epic Escape from the Underworld
"Great characters, action, adventure, and lots of humor" – School Library Connection

"A treat for proto–Percy Jackson fans." — Kirkus Reviews
Attention greek mythology lovers! The highly anticipated next installment in the critically acclaimed fiction series Zeus the Mighty is here! In The Epic Escape from the Underworld(Hardcover, ages 8-,12, $12.99), join Zeus the overconfident hamster, Athena the wise cat, Ares the treat-loving pug, Poseidon the proud pufferfish, Demeter the loyal grasshopper, and Hermes the daring chicken at the Mount Olympus Pet Center in Athens, GA on another laugh-out-loud adventure through Greek mythology. Check out the Zeus the Mighty website for videos, printables, games, fun Greek facts and episodes of the award winning podcast "Greeking Out."
(Hardcover, ages 8-12, $19.99) Join the exploration experts at National Geographic Kids on a globe-trotting adventure through what's most spectacular in our universe. Embrace your inner adventurer as you explore the most incredible and inspiring wonders of our world. Roam through the breathtaking sand dunes in Namibia's Namib Desert. Marvel at Mexico's axolotl, an animal that can regrow almost any body part. Plunge into a mysterious underwater forest in Kazakhstan. As you race from one amazing wonder to the next, you'll take in gorgeous photography and mind-boggling facts that reveal the truth, history, and scientific explanation behind all that's cool and wow-worthy in our universe. It's an epic journey around the globe―and beyond!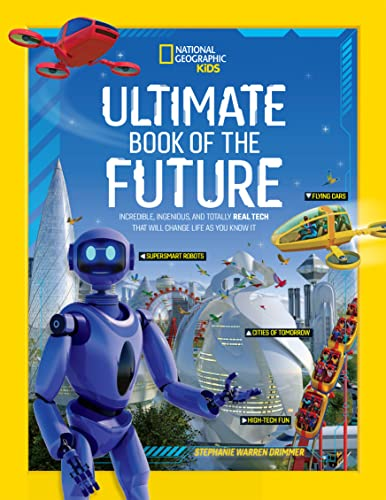 (Hardcover, ages 8-12, $19.99) Robot dogs! Jet packs! Cyborgs! Super-sleek space suits! It's not science fiction, it's science reality. And soon, it may be part of everyday life. This book is a jam-packed collection of the coolest tech and wildest ideas that are shaping the world of tomorrow.  With chapters on future cities, space travel, high-tech entertainment, and even saving the world, Ultimate Book of the Future is a thorough, fun compendium of high-tech gadgets being built today and the coolest stuff tomorrow has to offer, plus the amazing dreamers making it all happen. Special "Could It Happen?" features tackle kids" burning hypothetical questions, like whether Jurassic Park could really exist, or whether a robot could become president. Each chapter also includes a "Future Fail!" that profiles one thing we thought we'd have by now, but don't (like everything from The Jetsons.) And kids will see where they might fit into the picture through the "Jobs of Tomorrow" profiled in each chapter. (Job titles include mind reader, space pilot, and robot-human communicator. Seriously!)
For the Screen-Obsessed: Critter Chat
What if animals were on social media? 

Critter Chat 

(

Paperback, ages 8-12, $9.99)  is a fresh, funny and completely unique premise that presents facts, stats and jokes about the coolest animals on the planet in a way that tech-savvy kids like to consume information. Check out a funny (and informative!) group text thread between a tern and his friends — a narwhal, a musk ox and an arctic fox.  "Dolphinstagram" treats readers to fascinating images and spot-on hashtags. "Llamazon" is the "beast" place to shop and the animals aren't shy about posting their product reviews! 

Critter Chat

 is lighthearted fun packed with cool animal info.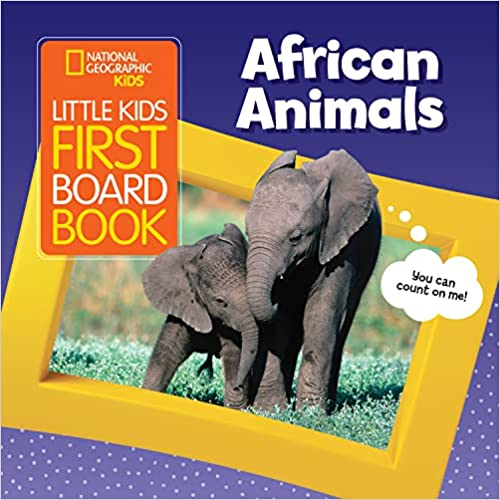 (Board Book, ages 0-2, $7.99)  Little learners are invited to start counting from 1 to 10 on this fun-packed tour through the savanna and jungles of Africa. Each spread introduces a new number and corresponding images of amazing African animals along with super-simple facts. Toddlers will be delighted by the variety of wild creatures featured, inlcuding lions, elephants, meerkats and more. With its square shape, bright and playful design, awesome photography, clear text, and cues to encourage interactive learning, the Little Kids First Board Book takes a fresh new approach to excite a baby's sense of wonder and make learning about nature and science fun.
Remember Christmas is right around the corner and these books would make a great stocking stuffer for that little reader in your home!!
You Can always keep up with National Geographic Kids via social media: Facebook | Twitter: |Nat Geo Kids website
Now you can win this awesome set of National Geographic Kids Books by entering below, Good Luck and Happy Holidays!!
All Disclosure:
We reserve the right to make revisions, to cancel, or suspend this contest for any reason. We are not associated with any of the companies named above. The odds of winning are based on the number of entries received Open to the US 18+ only. Confirmed Winner(s) (by Random.org) will be contacted by email. Winner(s) have 24 hours to respond before a new winner is chosen. No purchase necessary. Void where prohibited by law. The sponsor(s) will be responsible for product shipment to winner(s) of this giveaway. Night Helper Blog (and any other blog participating) is not responsible for product shipment/delivery. This event is in no way administered, sponsored, or endorsed by, or associated with, Facebook and/or Twitter, Google, Pinterest. This disclosure is done in accordance with the Federal Trade Commission 10 CFR, Part 255 Guides Concerning the Use of Endorsements. Entrants must only enter with either one email address, IP address and/or Facebook account, anyone found violating these rules will be disqualified. It is at the sole discretion of the admin of the giveaway if the winner has met the rules or not.