Best Music Production Software for Beginners
Music production can sometimes get a little daunting with its numerous terminologies and controls. That's not even mentioning the knowledge to know whether what you are making sounds good.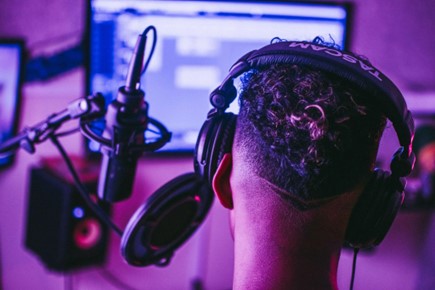 That's why there are beginner-friendly digital audio workstations (also known as DAWs) you can try to get a feel of how it all works. Check these out so you get started on your music production!
Garageband
Garageband is easily the most recognizable beginner-friendly DAW out there. This is the free version of the more advanced DAW Logic, and it is available on all Mac computers and laptops.
But just because it is limited in features compared to Logic doesn't make it any less useful.
With Garageband, you get over 200+ audio tracks, guitar and bass amps that come with pedalboard simulations, and a drummer that makes programming drum tracks easier.
You are also given many synth sounds and loops to choose from. For a free music software, this is definitely a great choice to start making music with.
It does not come with its very own mixing console, which can be a limitation if you want that in your workflow. However, mixing your tracks is still doable and made easy.
Ableton Live and Intro
Another staple in the music software scene is Ableton. Luckily, they put out a free version of their software known as Ableton Live Lite, and a cheaper starting point called Intro.
Live Lite is their most basic and free option. It helps give you a feel of what to expect from Ableton while being able to put out some basic demos and recordings.
The biggest drawback is its limiting track number. You are only given six audio tracks and four send tracks. Even for a beginner, this might be too little.
This is where Intro comes in. You get an upgrade from six audio tracks to sixteen. You are also given 5GB worth of sounds in the sound library.
The intent of this version is to give a more in-depth experience of how Ableton works, especially with its most unique feature, the session view.
FL Studio
Are you more focused on a specific genre? Maybe you're an aspiring music producer who wants to make hip-hop beats or EDM. If that is the case, FL studio's got you covered.
More well-known with PC users, FL Studio has garnered a well-known reputation when it comes to producing electronic-focused music. 
Producing drum beats is now made easier with the drum sequencer feature.
But just because it is known for these genres doesn't mean it is limited to those. You can easily record music for other genres and still get the same level of comfort for them.
With an affordable price tag to boot, it is a great consideration if you are looking into making the genres mentioned earlier.
Cubase
Steinberg's Cubase has become a household name for both MAC and PC users. It has a great reputation for whatever genre you want to create and a comprehensive user interface.
It offers different versions all for different producers at different levels. Its beginner-friendly line, Elements, offers over 1000 sounds, 16 Midi and 48 audio tracks. 
No need to worry about running out of tracks with that number. You can record, mix, and master your songs with this entry-level software.
You can also be at ease knowing that, like the other software mentioned, Elements does not require a USB dongle or e-licence for you to access the software.
Like the other versions of Cubase, you are also given a score editor if you want to create scores for your music.
Bandlab
A recent addition to the music production software line is Bandlab.
Apart from this software being free and accessible to all platforms, what else does this DAW have to offer?
Well, it's cloud-based.
That's right, you can work on your tracks without worrying about your computer's storage space. You can easily record and mix.
It is also collaborative. You can send over your project file to other people and have them work with you in real-time. This makes making music with others more accessible and convenient.
What's more, it has a free mastering tool. Mastering tracks is the last step in any production and also the hardest to understand and do well.
For any beginner who wants to make their tracks listenable in all speakers, this free mastering tool will get your tracks to such standards.
Reaper
Going back to DAWs with price tags, Reaper is another good alternative for starting out. 
Even though it isn't free, it doesn't have a hefty price tag. It only sits for around $65 minimum. And what you get for that price is more than enough compared to more expensive DAWs.
You are given a 3-month free trial. That is enough time for you to feel comfortable using the software.
Reaper is an industry-standard DAW with an accessible and beginner-friendly presentation. 
It also has no track type. This means that audio and midi tracks are on the same track, which can be convenient for you. 
Another convenient feature Reaper has is its quick and easy routing. You can just drag and drop tracks into sends and effects, and just like that, they are routed accordingly.
With its easy-to-use UI and industry-standard level quality, Reaper is definitely a great choice for more experienced beginners.
AKAI MPC Beats
While a bit restrictive compared to the other software in terms of what it can record, MPC beats is another DAW that does its niche well. 
Like FL, MPC beats are more well-known for making hip hop, trap, and other genres closely related to them. 
With a workflow designed to make beats more efficiently, you can be sure that working on your beats can be done well and effectively.
This usually comes with an Akai midi controller, but you can still utilize this software without one.
This software is great if making beats is the only thing you plan on doing.
Frequently Asked Questions
Is it easy to transfer projects from one software to another?
Most of these DAWs export their files to wav. files, except for Garageband. However, an aiff. file is still readable for other DAWs.
This makes it easier for you to consider switching DAWs without losing any significant progress in your tracks.
Is a mix console a necessity when starting out?
Many DAWs come with a mixing console, but you can still do your early mixes without them.
If you value a mixing console in your workflow, you might reconsider certain DAWs like Garageband.
Can I still use these entry-level DAWs for making full tracks?
The decision to upgrade to more advanced DAWs usually comes from the producers. 
They start noticing that the beginner-friendly presentation and features of the DAW are limiting and want to expand their sound library or qualities of the plug-ins.
But you can still make more advanced-sounding songs despite the entry-level DAW's limitations.
Conclusion
Music production shouldn't just be limited to complex features and expensive gear. 
These entry-level DAWs and many more offer a lower barrier of entry and an easy learning curve for you to learn and master the ins and outs of music production.