Jungle Cruise on Digital 8/31 and Blu-ray 11/16 @JungleCruise
Unlikely Heroes Sail The Amazon
The wild adventure of Jungle Cruise takes audiences aboard skipper Frank Wolff's boat as the mischievous duo Lily Houghton and her brother MacGregor bring him along their journey to find The Great Tree's Tears of The Moon flower. Legend tells of The Tears of The Moon's healing properties that could aid in stopping all ailments, but not without a great price.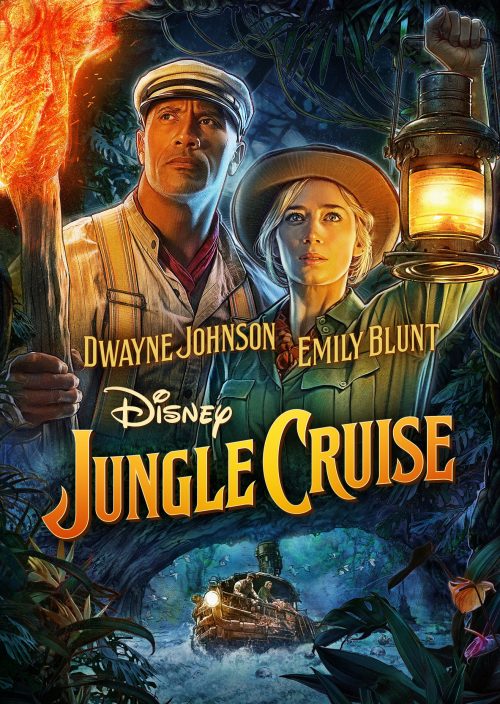 Protected by the Amazon and it's loyal guardians, the flowers will be unreachable to the most bright-eyed expeditioners. Many long this flower only to be met with danger at every turn! Skipper Frank and his new found crewmates, Lily and MacGregor, are on their way into dangerous territory, but will their fates differ from their past adventurers? 
Though Lily's spirited soul won't back down without a fight. She believes their journey will be different with the sacred arrow head now in their hands. The treacherous journey will test the group, and keep the audience guessing as the film dives into the escapade. Especially since they're not alone… 
The film is a lovely movie for the whole family. With bonus content (varies by product and retailer)  such as Expedition Mode, Creating The Amazon, Deleted Scenes, and more, the movie's rewatch value goes up!
Already invested?  Then check out the full film on all digital platforms August 31th, or Dock the 4K Ultra HD, Blu-ray, and DVD into players this November 16th! Go along for the ride in Jungle Cruise, and find out how far our explorers will go!
Film Synopsis
Seeking an ancient tree with healing abilities, Dr. Lily Houghton and wisecracking skipper Frank Wolff team up for the adventure-of-a lifetime on Disney's Jungle Cruise, a rollicking ride down the Amazon. Amidst danger and supernatural forces lurking in the jungle, secrets of the lost tree unfold as their fate—and mankind's—hangs in the balance.
Disney's Jungle Cruise Bonus Features*
Jungle Cruise Expedition Mode – Climb aboard a ramshackle tramp steamer (or your own couch) to learn fun facts, discover Easter eggs and catch some pop-up trivia throughout the movie.
It's A Jungle Out There: Making Jungle Cruise – Director Jaume Collet-Serra, the cast and crew discuss the importance of the film's elements, from casting to makeup to the use of an ancient indigenous language, in creating the world that honors one of Disneyland's most beloved rides.
Dwayne And Emily: Undoubtedly Funny – Go on-set with the two stars, whose new-found friendship helped them project a natural onscreen chemistry. Although their characters challenge each other throughout the film, the actors make each other laugh. A lot!
Creating The Amazon – Explore the cinematic artistry involved in creating the world of Jungle Cruise, including how Frank's boat coursed "dangerous" water in a tank in Atlanta, how a town was built in Kauai, and how a ferocious jaguar came to life, among other amazing effects.
Once A Skip, Always A Skip – Join a panel of "Skippers" at the Disneyland Resort as they reminisce about the rewards, challenges and surprises they've experienced while helming the world-famous Jungle Cruise attraction, and hear their advice to aspiring skippers everywhere!
Outtakes – Step behind the scenes of the production to catch the cast in a series of flubs, falls, foibles — and a whole lot of laughter.
Deleted Scenes

MacGregor Drives The Boat
MacGregor Water Skis
Joachim And Nilo On The Dock
Frank Talks To Proxima & Lily's Nightmares
Sub Gets Stuck
Proxima Surprises MacGregor
Frank Gets The Cold Shoulder
Trader Sam And Lily Walk In The Jungle
MacGregor And Trader Sam Say Goodbye
Frank Makes Tea For Lily
The Backside Of Water
*bonus features vary by product and retailer
Cast:
Dwayne Johnson as Frank Wolff
Emily Blunt as Lily Houghton
Edgar Ramírez as Aguirre
Jack Whitehall as MacGregor Houghton
Jesse Plemons as Prince Joachim
Paul Giamatti as Nilo
Veronica Falcón as Trader Sam
Disney's Jungle Cruise Product Specifications
Street Date:
Digital: August 31
Physical: November 16
Product SKUs:
Digital: 4K UHD, HD, SD
Physical: 4K Ultra HD Combo Pack (4K UHD + Blu-ray + Digital Code), Blu-ray Combo Pack (Blu-ray + DVD + Digital Code) & DVD
Feature Run Time:
Approx. 127 minutes
Rating:
U.S. Rated PG-13
Bonus material not rated
Aspect Ratio:
Digital: 2.39:1
Physical: 2.39:1
U.S. Audio:
4K Ultra HD:  English 7.1.4 Dolby Atmos, English AD 2.0 Dolby Digital, Spanish 7.1 Dolby Digital Plus, French-Canadian 5.1 Dolby Digital
Blu-ray: English 7.1 DTS-HDMA, English AD 2.0 Dolby Digital, Spanish 5.1 Dolby Digital, French-Canadian 5.1 Dolby Digital
DVD: English AD 2.0 Dolby, English 5.1 Dolby, Spanish 5.1 Dolby, French-Canadian 5.1 Dolby
Digital: English Dolby Atmos (UHD only, some platforms), English 5.1 & 2.0 Dolby Digital, Spanish 5.1 & 2.0 Dolby Digital, French 5.1 & 2.0 Dolby Digital, English Descriptive Audio 2.0 Dolby Digital (some platforms)
U.S. Subtitles:
4K Ultra HD: English SDH, Spanish, French-Canadian, Japanese
Blu-ray: English SDH, Spanish, French-Canadian
DVD: English SDH, Spanish, French-Canadian
Digital: English SDH, Spanish, French (some platforms)
Don't forget to connect with Jungle Cruise via Social Media
Twitter: @JungleCruise
Facebook: @JungleCruise
Instagram: @disneysjunglecruise
#JungleCruise
About Disney Media & Entertainment Distribution
Disney Media & Entertainment Distribution (DMED) manages The Walt Disney Company's vast content commercialization and distribution ecosystem that delivers the Company's unparalleled storytelling to audiences worldwide. This entails P&L management and operation of the Company's portfolio of streaming services including Disney+, Hulu, ESPN+ and the international general entertainment offering, Star; its linear television channels and the ABC-owned stations; theatrical film distribution; content licensing and distribution, including Disney Music Group; global advertising sales; and the technology that powers these groups. Using a wealth of consumer insights from across the Company, DMED makes content investment and distribution decisions to maximize audience engagement and commercial impact across platforms, collaborating with creative leaders in Disney's Studios, General Entertainment, and Sports organizations.
Disclosure: Howdy everyone, I wanted to inform you that I was not compensated for this post. However, I did receive a product from the company below. I am disclosing this in accordance with the FTC guidelines.
Disclosure: Some of the links in this post are 'affiliate links.' This means if you click on the link and purchase the item, I will receive an affiliate commission.