In The Words Of Britney Spears: Oops!!…They've Done It Again…Mazda That Is! Mazda 2017 CX-3 Touring AWD.  #DriveMazda  @MazdaUSA
I don't know about you, but when it comes down to Mazda vehicles they really do take the time to manufacture great vehicles. I have had the pleasure of reviewing many Mazda vehicles and I have yet to come across one I didn't like.
With that being said, a week back I had the pleasure of reviewing the 2017 Mazda CX-3 Touring AWD, and the first thing that came to my mind when experiencing this vehicle was Britney Spears song: Oops!!…They've Done It Again…Mazda That Is!
Let me tell you more about this awesome vehicle. The 2017 Mazda CX-3 Touring AWD has a creative bold style and is also equipped with the SKYACTIV Technology.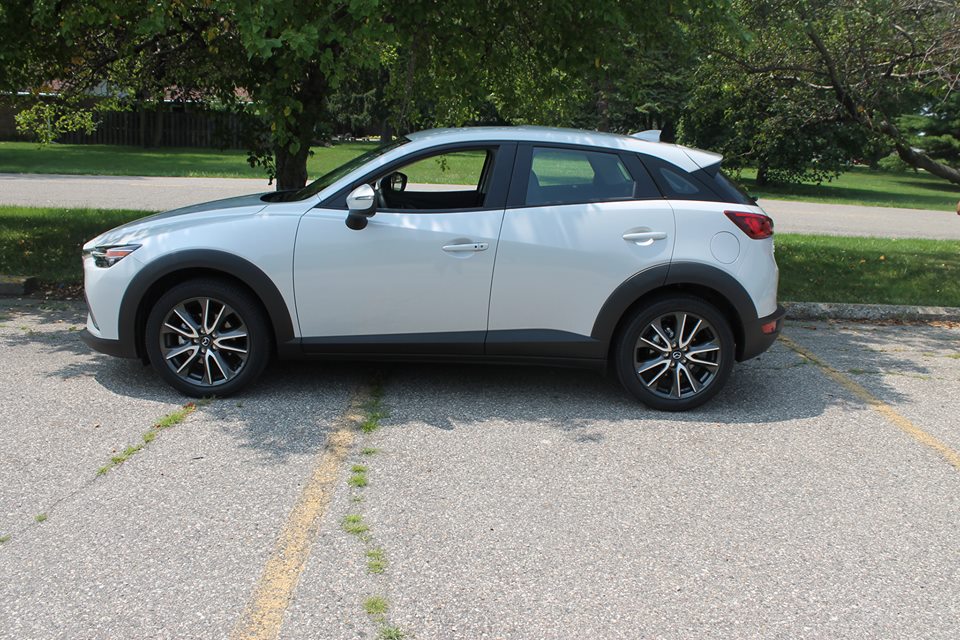 What many of you may not know is all Mazda vehicles, including the  2017 Mazda CX-3 Touring AWD carry a 5star safety rating with the government. When the 2017 Mazda CX-3 Touring AWD was delivered to my home, I was floored at the beautiful Cermamic Metallic color! The 2017 Mazda CX-3 Touring AWD is not a large size vehicle at all, it's more of a smaller version of Mazda CX-9 crossover if you ask me.
The 2017 Mazda CX-3 with SKYACTIV Technology exterior has a peak of the front fender pushed rearward to lie beneath the base of the A-pillars.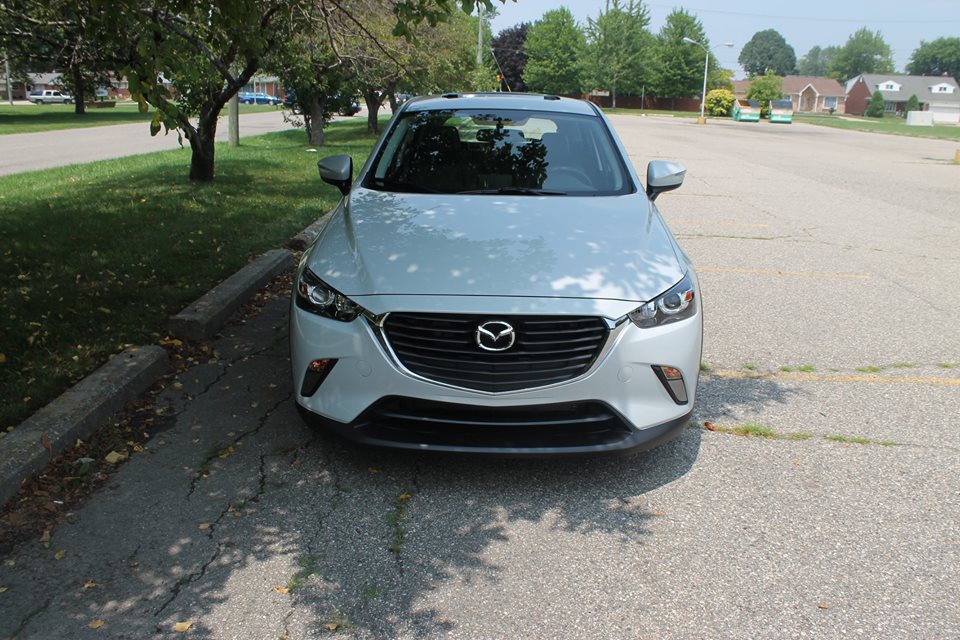 The side view of the CX-3 coveys a sense of extended body size. You can visually see careful attention was devoted to creating the  rich expression and subtle change in each of the body surfaces. The 2017 Mazda CX-3  employs Mazda's high strength SKYACTIV body which effectively absorbs impact energy from any direction to suppress cabin deformation. Safety has to be number #1 in everyone's life, and with the SRS airbag system, front seat structure that firmly support the occupants head and door armrest designed to absorb impact, you better believe Mazda took all that into account to make sure everyone is safe.
The 2017 Mazda CX-3  also has your standard lane departure warning which I love so much, smart brakes, standard  rear backup camera. As for the horsepower within the engine, yes honey, it has some great get up and go power.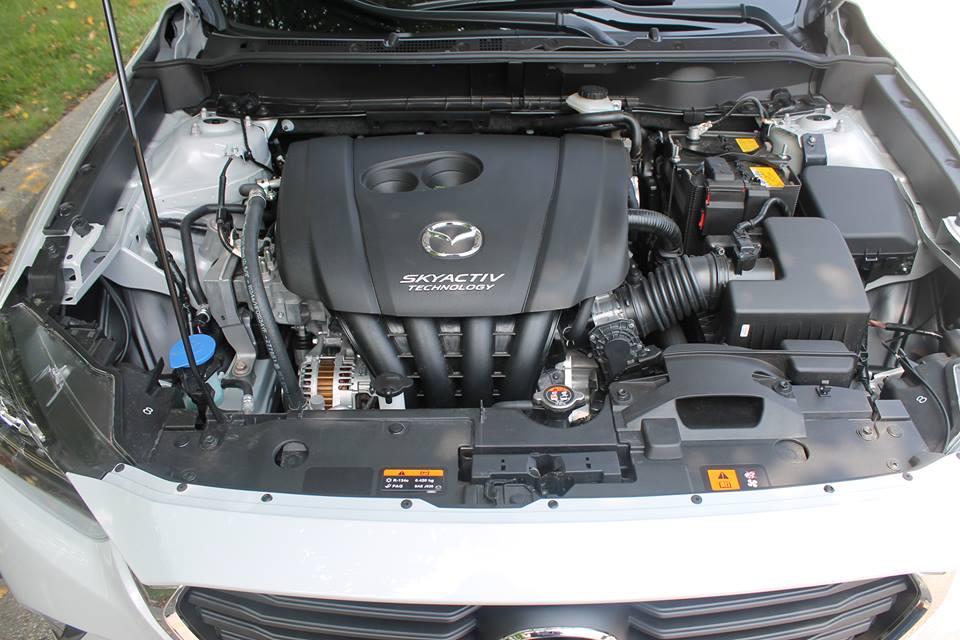 Let's go deeper, the 2017 Mazda CX-3 – engine and Drivetrain has a Skyactiv G2.0L 146 horsepower at 6000 rpms, with also 6 speed automatic Skyactive transmission. The 2017 Mazda CX-3 compact crossover came with so many cool features, like keyless entry, standard push start, Bose 7 speaker audio system, blind spot monitoring, Sirius X-M satellite radio, navigation system, one power moon roof and 18″ alloy sporty wheels.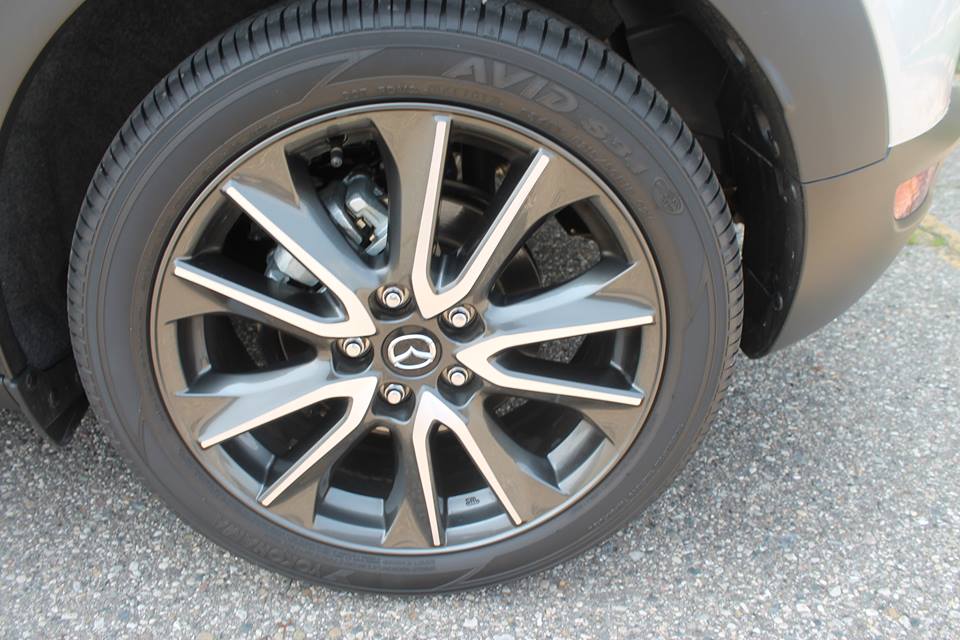 I was totally amazed at all the cool features within this compact crossover! Let me just throw this out there, you will definitely look at the size and think this vehicle is small, but don't let the small size fool you! It's fully packed with the latest technology for a comfortable, safe ride!
The Mazda 2017 CX-3 Touring has a premium seating package which is "Beautiful" and very comfortable! As you see below the seats are all wrapped in leather with a touch of red accent from the front to the back.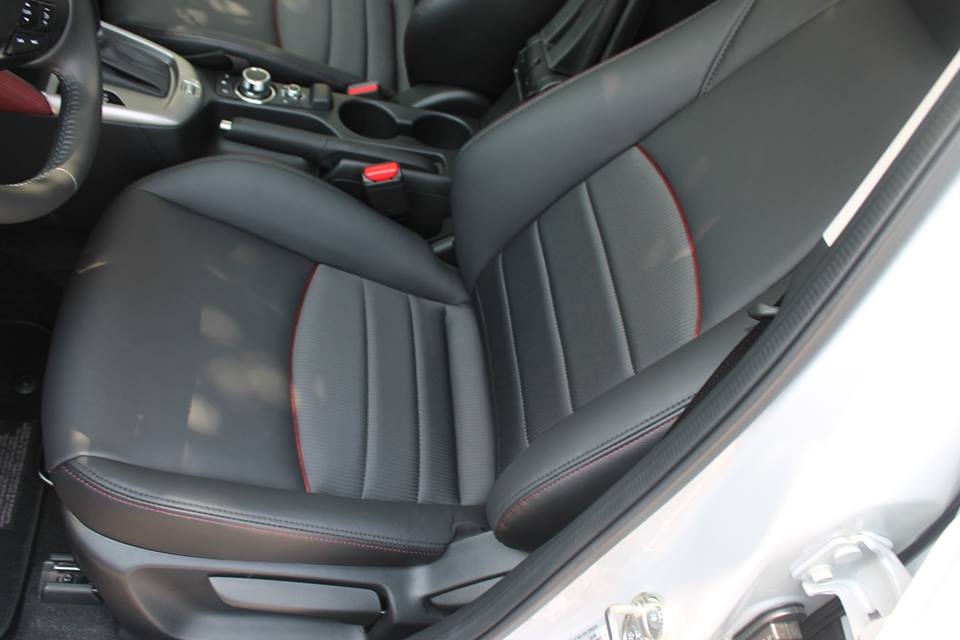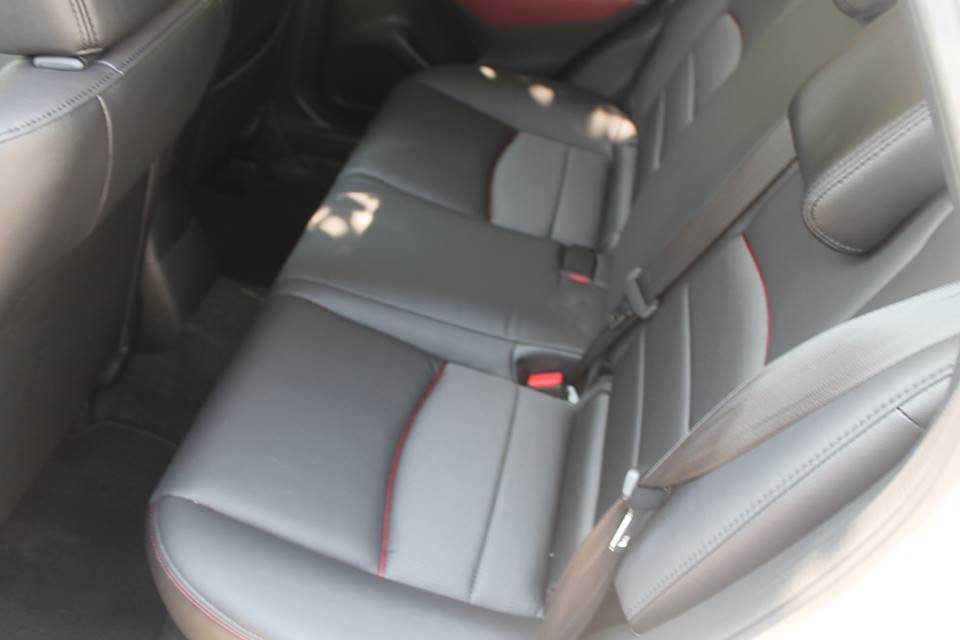 Inside you will also see a leather wrapped steering wheel, USB ports, Bluetooth hands free phone button, 7″touchscreen, cruise control, heating and cooling controls and much more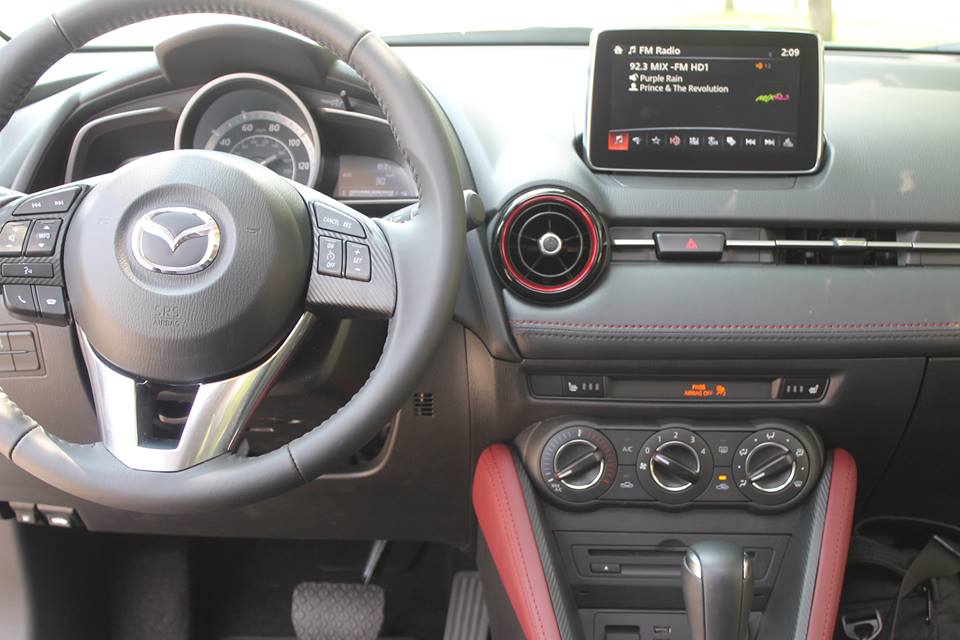 The trunk space is not as large, but it is doable to work with. I placed one of the boys skating boards inside so we could go to the park. As you see, it was able to fit, but really didn't leave much room left in my opinion, but again this is a compact crossover.
Well, if you ask me if I would purchase the Mazda CX-3 Touring? I would say yes, I think it's a wonderful vehicle and a great car for a small family, even for a teenager. As always, Mazda vehicles hold a soft spot in my heart, because they are reliable, equipped with the latest technology, safe, and very sporty looking!!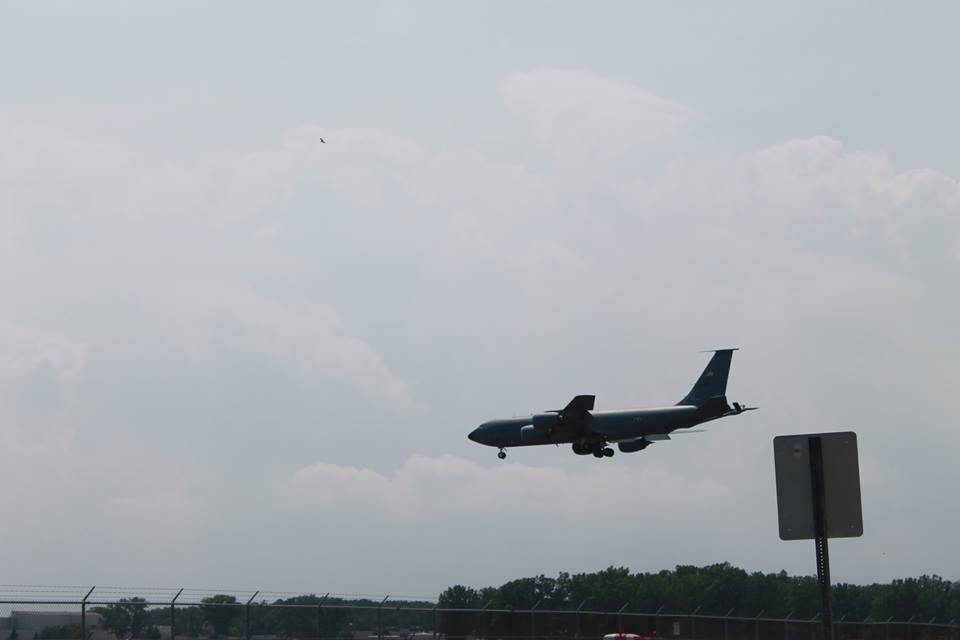 My overall experience with the 2017 Mazda CX-3 was amazing, the first thing we did was hit the highway to visit our National Air Force base! We came by just in time, the kids had just enough time to capture one of our military planes landing! It was truly a wonderful sight to see!!
All I can say to Mazda, is "Keep up the good work Mazda", you make Americans very proud to drive your well made manufactured vehicles! Plus, I love that Mazda not only specialize in providing consumers well made vehicles, they also give back to the community with their Mazda Drive for Good Charity program!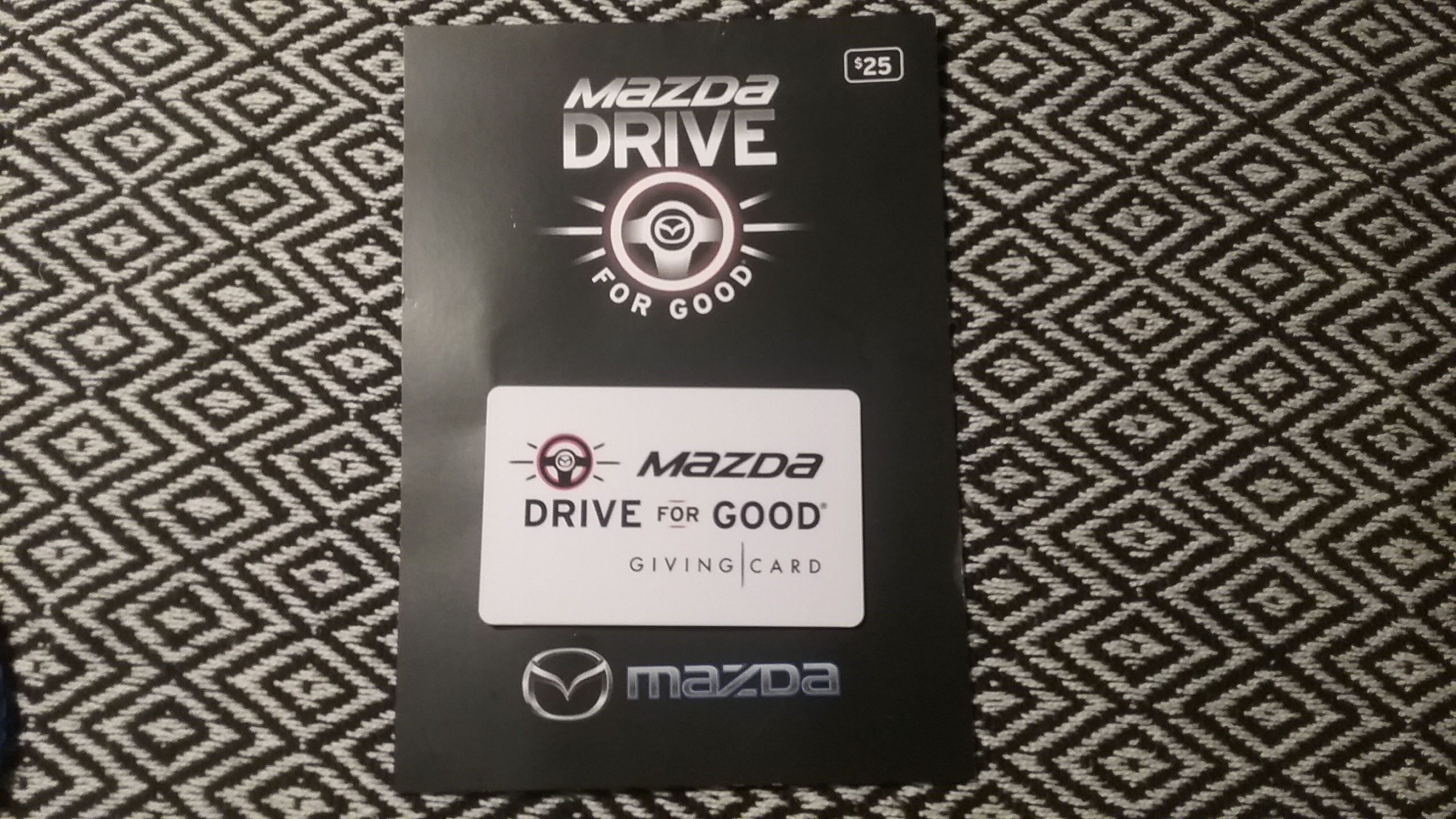 Do you know, since 2013 Mazda Drive for Good has donated  more than 12.9 million dollars to provide monetary donations and community service throughout the year? Mazda provided me with a $25 charitable giving card to submit to my favorite charity on my behalf, I selected to donate to St Jude Hospital for St. Jude has such a big place in my heart. Thanks so much Mazda for allowing me to donate to a charity that definitely needs help, and thanks for all you do by building exciting vehicles and helping other communities…I applaud you!! In The Words Of Britney Spears: Oops!!…They've Done It Again…Mazda That Is! Mazda 2017 CX-3 Touring AWD is ready for YOU!!
Thank you so much Mazda for allowing me this opportunity to test out the new 2017 Mazda 2017 CX-3 Touring AWD.  To learn more, just visit MazdaUSA.com
Disclosure: Howdy everyone, I wanted to inform you that I was not compensated for this post. However, I did receive the Mazda 2017 CX-3 Touring AWD  for review purposes from  Mazda and the opinions expressed in this post are 100% my own. I am disclosing this in accordance with the FTC guidelines.