Holiday Gift Ideas For Everyone!
Here is our yearly Holiday Gift Guide! Enjoy! We've curated another list of gift ideas for your loved ones below. Each brand link is also provided below; feel free to visit their website to view all of their unique merchandise.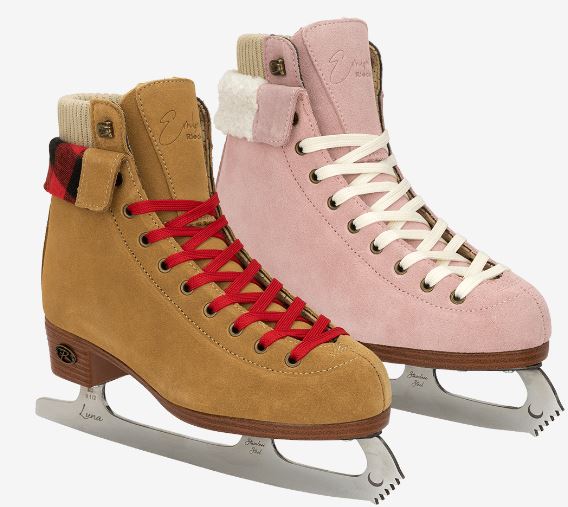 These cute, cozy, comfortable, skates are the perfect gift for those who love to ice skate. Ice skate enthusiasts will adore these adorable, warm, and comfy skates as gifts.
Prepare yourself to move effortlessly across the ice. With a casual fit, Ember offers unisex sizing.
Skaters will discover it simple to glide around the ice thanks to the stainless-steel Luna blade and a cushioned fold-over collar that relieves strain on the Achilles tendon. Riedell is a fourth-generation legacy company that has been making figure skates and roller skates for over 75 years.
Ember is built to withstand outdoor skating excursions and maintain its excellent appearance for many years thanks to its waterproof suede leather upper and low-maintenance PVC outsole. Riedell Ember Skates are available in Cider and Blush and are sold here.
Facebook| Twitter | Instagram | Pinterest|
This is one sharp, stylish, fashion statement fleece.  The "Stacy" has an oversized hood and a raglan sleeve for a relaxed fit. Designed with raw cut edges, kangaroo outside pockets and an EXTRA inside chest pocket, if you love the Casey, the NEW Stacy is a more casual version.
Sleeve pocket with envelope velcro closure is lined with water repellant nylon. Outside 2 kangaroo pockets
Triple-needle cover stitched seams for a clean and secure finish.
Premium 80% cotton/20% polyester blend created for shape retention. Available colors: Navy, Heather Grey, Black and Purple
Faux suede art on the left sleeve, spread the message when asked what does "End Stupidity" means. Faux suede "Be Happy" art on the inside is a positive daily message. Available here


What's Next? Special Needs Set.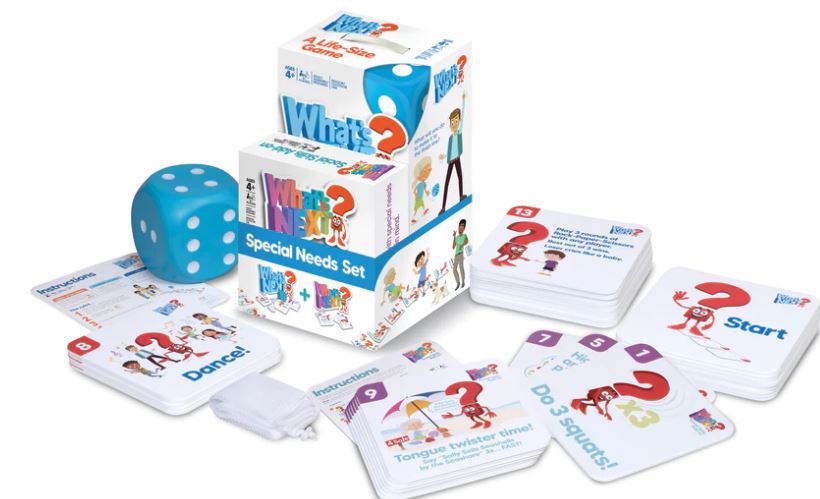 Get ready to take game night to a whole new level of fun. By pairing two of M & G games, What's Next? A Life-Size Game and What's Next? Social Skills Add-on, is an ideal game for neurodivergent and neurotypical friends/families, of all ages, to play together — the What's Next? Special Needs Set.
Through gameplay, the game gives each player the chance to celebrate their uniqueness and share their similarities with the other players. Roll, Move, Act – That's it!
Designed to establish a culture of complete acceptance, no matter what your cognitive abilities may be. Additional tiles have been added to allow the game to be modified based on the player's needs. Available here
Facebook| TicTok | Instagram |
Playmobil Advent Calendar Christmas under the Rainbow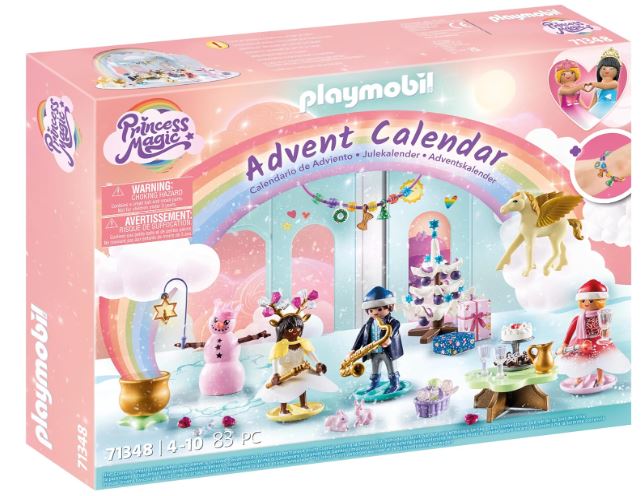 The PLAYMOBIL Advent Calendar "Christmas under the Rainbow" will help you have a wonderful Christmas season! A magical ball scenario featuring two princesses enjoying an extravagant celebration with their prince, the golden Pegasus foal, and other adorable creatures comes to life in just twenty-four days.
A Christmas tree decked out with gifts and a table full of delectable food. The rainbow princesses spin on their spinning tops to the tunes of Christmas songs played by the prince on his saxophone. A lovely bracelet with Christmas charms that doubles as a garland is offered for jewelry enthusiasts.
Ideal for creative kids ages 4 and up, this Advent present is wonderful. Available in many retail stores and on Playmobil website
 Facebook |Twitter | Instagram | Youtube|


SkateX Dragon Beginner Complete Skateboard for Kids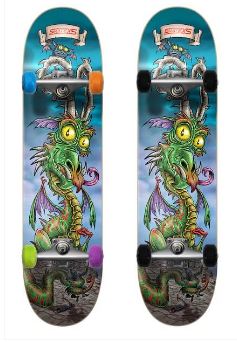 Every child will be waiting in line to ride this amazing kid's skateboards. The Beginner Complete is made especially to help younger skaters who want to get started and advance on a performance skateboard that fits them properly. The young skateboarder can start with their first pushes and progress to the most sophisticated tricks and maneuvers available with this high-quality setup at an affordable price!
To make their decks easier for younger skaters to balance and maneuver, SkateXS sizes them especially for them. On skateboards that are the right size, kids can learn to skate more safely and develop their skills more quickly.
The right material – Bamboo offers a lightweight, durable deck with great board "pop", all while being sustainable and environmentally friendly. It is a great upgrade for the skater and a smart choice for the planet.
SkateXS skateboards are absolutely "real" skateboards that meet or exceed the quality of boards that are found in traditional skateparks and skated in competitions such as the X-Games and Olympics. Available on the SkateXS site
| Facebook | Twitter | YouTube| Instagram 

SkateX Unicorn Beginner Complete Skateboard for Kids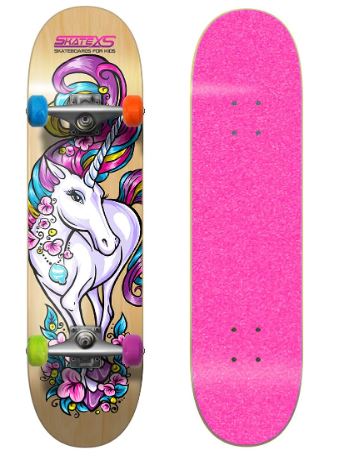 SkateXS builds high quality skateboards just for kids ages 5-12. These are real skateshop quality boards, just sized correctly in 3 different options for smaller skaters. The boards come in unique designs and can be customized with your choice of wheel and grip colors and even personalized with your skater's name.
They feature high performance decks, lightweight trucks, softer bushings for easier turning and slightly softer wheels for a smoother ride on a wide variety of surfaces. They work well in the neighborhood, but are 100% ready for the skatepark.
With over 3,000 5-Star Reviews, you can feel confident you are giving your child the best chance to learn to skate more safely and easily with a properly sized SkateXS Skateboard.
All boards are built to order in California and typically ship out the same or next day. Parents choose the design they want, then the size, wheel colors, and grip tape, we can even put kid's names on the top of the boards. Available on the SkateXS site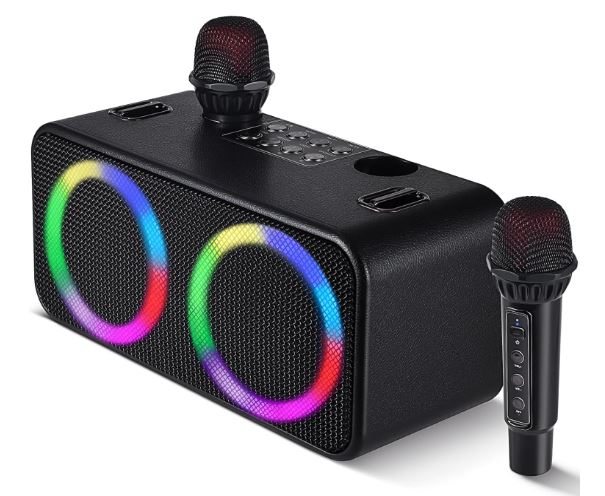 The karaoke machine for adults features dual 15W full-range speakers, advanced noise reduction, clear sound, powerful bass, and balanced volume. Enjoy high-definition stereo sound without distortion, even at bluetooth karaoke machine high volumes, creating a remarkable musical ambiance for your gatherings.
The portable karaoke machine includes 2 rechargeable wireless bluetooth microphones. They automatically pair with the karaoke machine when turned on, covering an area of about 50 feet. You control mic volume remotely, eliminate original vocals with one tap, and select from 6 fun sound effects.
The karaoke machine pa system boasts 6 unique voice effects: Echo, Original, Male, Female, Child, and Monster, adding unexpected creativity and entertainment to your performance. Available on Amazon

Leveret Matching Girl & Doll Nightgowns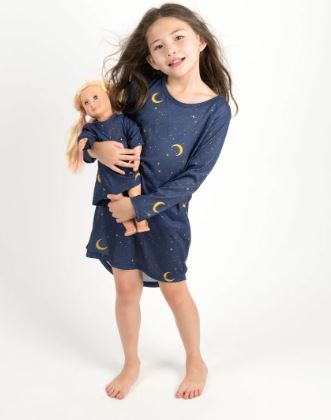 Your little ones and their precious companions have a wide variety of cozy options in the Matching Girl & Doll Nightgowns. Have them choose between a stylish purple pattern with dinosaurs, lovely pink heart designs, and other outfits guaranteed to provide the cutest look.
Each nightgown is made with flame resistant polyester, complementing the long-sleeves and overall breathable feeling. Wearers will love including their dolls in the cozy fun, and everyone can match with the rest of the festive family.
100% Flame Resistant Polyester
Flame Resistant Fabric – For child's safety, children's sleepwear should be snug-fitting or flame resistant; This garment is flame resistant.
We offer sizes from the ages of 4 to 14 years old, size up for a looser feel. Available on Leveret.com
Twitter| Facebook |  Shop| Instagram 

Bellabu Bear Polar Express Bamboo Girls' Long Sleeve Dress
Embark on a whimsical adventure to the North Pole with our Polar Express Bamboo Girls' Long Sleeve Dress. Your little one's dreams will be filled with holiday enchantment in this cozy and charming sleepwear.
Featuring a delightful long-sleeve design, this pajama dress is adorned with the spirit of the season. The North Pole-bound train and twinkling stars create a festive atmosphere that's perfect for the holidays. Crafted from the softest bamboo fabric, this pajama dress offers the ideal blend of warmth and breathability.
Your child will stay snug and comfortable throughout the night, whether they're nestled under the covers or eagerly awaiting the arrival of Santa.