Are You Looking For Beauty Gifts For Her This Holiday Season? Rihanna's FENTY Collection Has It All!
This Holiday Season set your beauty gift-giving high with one of the best beauty brands on the market, FENTY by Rhianna!
No matter if you're seeking to find skincare products, makeup, shade finder, eye makeup, or fragrance this brand has it ALL!
Although I've previously worked with a few celebrities to highlight their fantastic products over the years, I'm thrilled to add Rhianna's FENTY Collection to my celebrity roster this year.
I can clearly remember learning that Rihanna's makeup line, FENTY Beauty, was available when I was with my daughters in a Sephora store. I promise you that these girls' smiles were brimming with excitement. They were smiling like the "JOKER" lol because they were eager to try out Rhianna's cosmetics and fragrances because they had heard nothing but great things about her brand!
Upon visiting the Sephora store we noticed that the FENTY section was all neatly placed on an end-cap but many of her products were already "sold out" but that didn't matter. We all still glazed at all the remaining merchandise.
Now the great thing about Sephora is we were able to test out some of the FENTY samples that were available, and I must say that they were amazing.
Let me tell you about the brand FENTY first: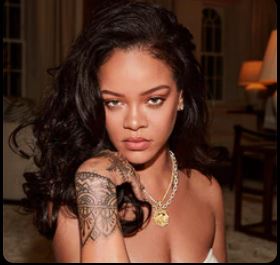 Rihanna was inspired to create Fenty Beauty & Fenty Skin after years of experimenting with the best-of-the-best in beauty—and still seeing a void in the industry for products that performed across all skin types and tones.
"MAKEUP IS THERE FOR YOU TO PLAY WITH. IT'S THERE FOR YOU TO HAVE FUN WITH. IT SHOULD NEVER FEEL LIKE PRESSURE, AND IT SHOULD NEVER FEEL LIKE A UNIFORM."
FOUNDER, CEO & AND OWNER OF FENTY BEAUTY
Now we were recently given the opportunity to firsthand try out some of Rihanna's FENTY Beauty products and here is our list of Holiday Recommenedations from her brand.
Fenty Skin Butta Drop Warm Cinnamon Shimmering Whipped Oil Body Cream ($46)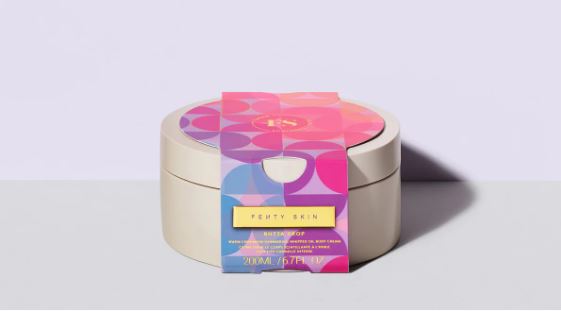 Look who's back to shimmer 'n spice up the holidays! This limited-edition, soft gold shimmer-infused Butta Drop features a festive, cinnamon-inspired scent is thick, rich, luxe-infused, best-selling body moisturizer helps to replenish, renew, and leave skin with a healthy-looking sheen. It contains nearly 25% rich butters and restorative tropical oils and extracts. It feels really nice on the skin and has a really thick, soft texture. I also really like the smell of cinnamon. It does, in fact, leave your skin looking radiant and never sticky.
THE LOWDOWN:
Delicious blend of seven conditioning essential oils melts onto skin
Renews and replenishes intense moisture instantly and over time
Levels up skin's vibrancy with antioxidant-packed Barbados Cherry
Leaves skin with a healthy-looking sheen that's never sticky
Soft gold pearl leaves behind a subtle shimmer
Indulge in a deliciously warm, cinnamon-inspired scent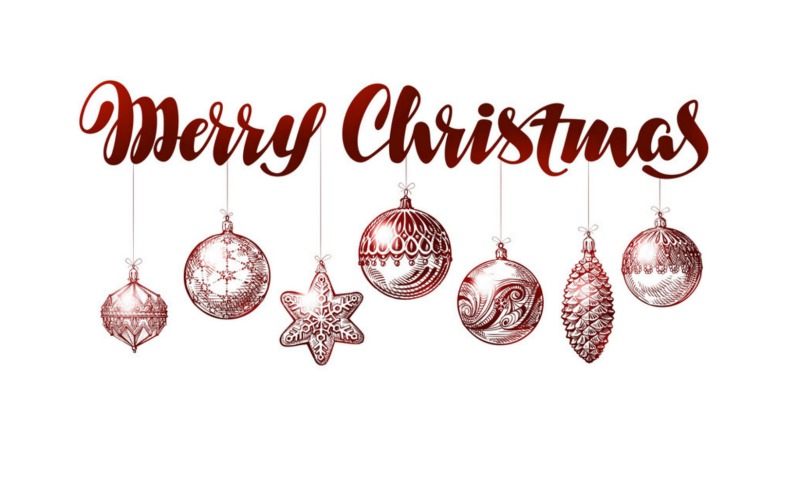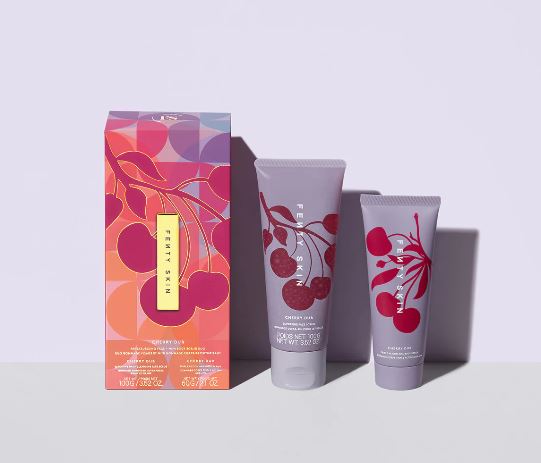 This is an excellent FACE + BODY SCRUB. Finding the ideal body and face scrub can be challenging at times because different people have different skin types and certain scrubs don't meet your needs. This one, however, is fantastic; it exfoliates your face and body, leaving them smoother, more radiant. I found you don't need a large amount to administer to your skin and the scent is very pleasing. Afterwards your skin will definitely feel rejuvenated.
THE LOWDOWN:
Cherry Dub Superfine Daily Cleansing Face Scrub
Instantly reduces the look of pores
Brightens skin in just 1 week
Smooths skin texture for flawless makeup application
Mini Cherry Dub Triple Action AHA Body Scrub
Retexturizes rough, bumpy skin
Brightens + evens skin tone
Leaves skin soft + smooth
Fenty Beauty The Gloss Bomb VaultFull-Size Universal Lip Luminizer 10-Piece Set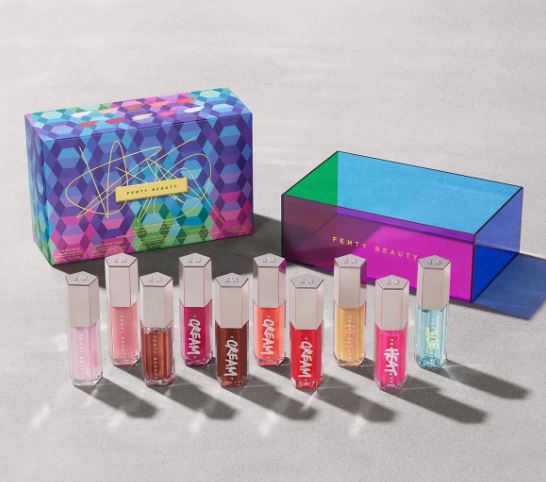 These Gloss Bombs have always been my fave. They give your lips an instant appearance of fullerness and genuinely stay hydrated for a long time. I also adore that they don't feel sticky on your lips. These Gloss Bombs will help lock in moisture whether you're hanging out with friends and family or going out on the town. There are so many shades to choose from.
The Gloss Bomb Vault is a collection of the most coveted Gloss Bomb shades, handpicked by Rihanna and the ideal present for yourself or a member of your gang. For the ultimate lip gloss collection, you will get 4 full-size Gloss Bomb Cream, 3 full-size Gloss Bomb Original, 2 full-size Gloss Bomb Heat, and 1 full-size Gloss Bomb Ice. The collection features a mix of new shades, past favorite limited-edition shades, and best-sellers from each of Fenty Beauty's Gloss Bomb formulas and finishes. Gloss Bomb Heat in Pretty Hawt (Sheer Shimmering Bright Pink), Gloss Bomb Cream in Berry Brat (Plum Berry), and Gloss Bomb Original in Makes Cent$ (Shimmering Copper) are among the new shades.
All shades of Gloss Bomb Heat and Gloss Bomb Cream are vegan. The following shades of Gloss Bomb Universal Lip Luminizer are vegan.

Fenty Beauty Fenty Icon Semi-Matte Refillable Lipstick Set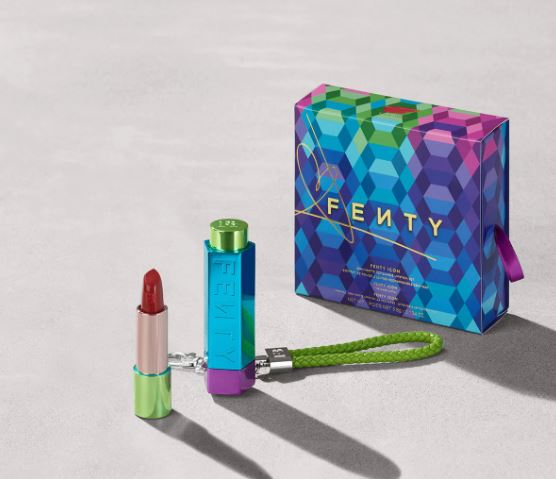 There's soooooo much I love about her Lipstick but this exclusive edition is freaking awesome.  Take your lip on-the-go and in style, clip on something iconic with this set-exclusive Fenty Icon Lipstick and key clip. It's never been simpler to take your glam on-the-go between all of your holiday celebrations with this NEW! limited edition shade, Sorta Single (Red Berry), and case, along with an accessory that's never been seen before: a braided clip-on strap.
This lipstick feels lightweight, has high pigmentation, and a creamy, semi-matte finish. The lipstick bullet shape, which was influenced by Rihanna's cupid's bow, is meant to be applied precisely. It is brimming with conditioning vitamins C and E as well as moisture-plumping hyaluronic acid. Its plush texture comes from an amino acid technology that loves lips. But wait, this awesome brand-new, set-exclusive Fenty Icon Lipstick is REFILLABLE!
How To Refill
It's easy to refill your Fenty Icon case:
Make sure bullet is twisted all the way down.
Separate lipstick shade fill from bullet base by pulling upward to pop it off.
Remove cap from new lipstick shade fill.
Attach new lipstick shade fill to bullet base—a click lets you know it's fully connected.
Make sure new bullet is twisted all the way down.
Insert lipstick, bullet first, into case.
Pop into place.
Your Fenty Icon lipstick is now refilled and ready for use. Twist base to the left to lift bullet and apply.


Fenty Skin Cookies N Clean Whipped Clay Pore Detox Face Mask: Mint Chocolate Chip Edition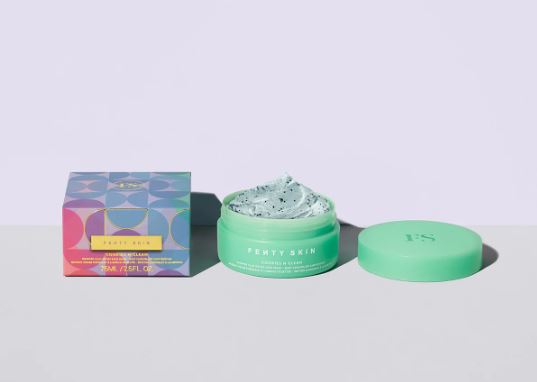 I've seen this Fenty Skin Cookies N Clean Whipped Clay Pore Detox Face Mask in Ulta Beauty store and always wanted to give it a try.
Indulge in Rhianna FENTY most-requested mask, now in mint chocolate chip for the holidays. This mint green face mask cools skin upon contact while whipped clay and charcoal deeply purify pores by extracting dirt, oil and impurities. Skin is left soft, conditioned and primed to fight shine all day for a snatched complexion this holiday season.
THE LOWDOWN:
Lightweight whipped Clay helps extract dirt, oil and impurities
Encapsulated Charcoal bursts upon massaging the mask into skin and helps detoxify
Salicylic Acid helps clarify pores
Instantly refines skin's texture and minimizes the look of pores
Instantly reduces excess oil and fights shine throughout the day
Tested on all skin types, including sensitive
Fragrance-free
Features a new mint green color and refreshing feel that cools skin upon contact
Last but not least we have the Fenty Eau de Parfum Holiday Set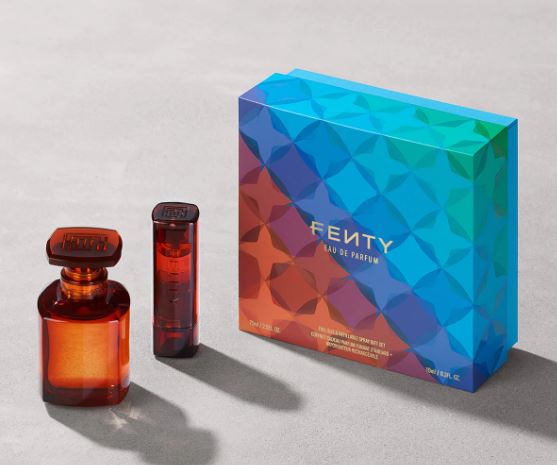 With a full-size Fenty Eau de Parfum and an opulent Refillable Travel Spray, FENTY limited-edition deluxe set is the perfect way to give Rihanna's signature scent as a gift. This powerful and seductive spicy floral scent was created by Rihanna and contains Bulgarian rose, tangerine, musk, and magnolia. Treating yourself or anyone else who is eager to be the center of attention this holiday season to this gift is ideal.
THE SET: One full size 75ml bottle and one twist-up refillable spray for on the go. A quintessential gift for yourself or anyone ready to be the center of attention at every holiday celebration.
I've received a lot of compliments on this iconic Rhianna scent, which is really lovely. It has a clean, mild to medium scent permeates the air.  It undoubtedly worked flawlessly the entire day!  It smells amazing and is specially blended with Bulgarian rose, tangerine, musk, and magnolia to create a spicy floral scent that lingers on your skin. It seemed to smell a little strong when I first applied it, but over time, if that makes sense, I feel like it toned down on my skin. Because of its distinct scent, I really like it and will be using it more often.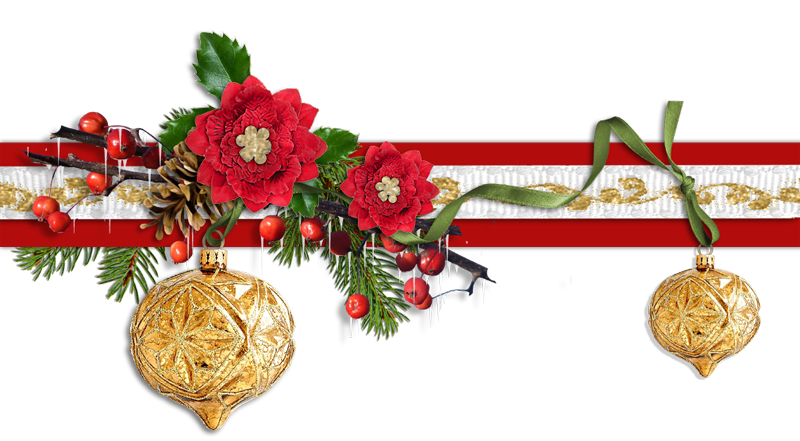 Well, there you have it! A wide collection of FENTY products by Rhianna that can meet all your beauty needs this Holiday Season! Make sure to visit the stores listed below to see more FENTY products and our Holiday Guide.
Available at FentyBeauty.com, Sephora and Sephora.com, Ulta Beauty and Ulta.com, and Sephora at Kohl's and Kohls.com.
Remember to connect with FENTY via Facebook | Twitter| Instagram | Youtube | TikToc|

Disclosure:  We were provided FENTY products free of charge for this Holiday Gift Guide post.  We are disclosing this in accordance with the FTC guidelines.