Evriholder Products,there unqiue, simple and useful products!
I enjoy sharing unique, simple but yet useful products and EVRIHOLDER products fall within all those categories.This is my first time ever reviewing their products and so far I love them.
I find  that they really are unique, useful and very simple and innovative too. I received a few samples to review.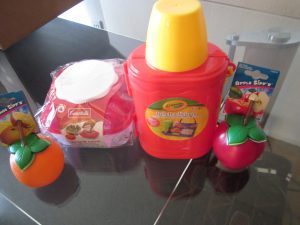 As seen in my photo, I received the Campbell's Soup 'N Salad container, which we all love!

With the Campbell's salad container everything you need is ready for on the go. It's the right size, convenient, dishwasher & microwave safe, includes 2 containers, 2 piece adjustable lid covers for both containers.
Soup container holds: 1 cup, .23 liters. Salad container holds: 5 cups, 1.1 liters. It is the prefect container for work or even enjoying soup or salad at home.
Next we have the Crayola Lunch-a-licious, this is one school product that every child would love to have. It is a lunch box with a detachable cup…..cool ha!
It opens wide and has great space to pack all your children's favorite lunch meal. The detachable cup allows your children to enjoy their juice or milk right along with their lunch but most of all you can attach it right back to your lunch box. Believe me when I say, every child would like to have the Crayola Luch-a-licious, its cool, convenient, colorful and stylish.
The handle is detachable as well for easy cleaning, available in 2 assorted colors, is top rack dishwasher safe, and BPA free. So grab your snack or sandwich and enjoy using the Crayola Lunch-a-licious!
Last we bring to you the Apple & Orange Sipper Cups,
I like them both but I know the kids are going to want to use them before me. LOL! They are pretty cool also, they both have a soft and bendable straw, holds 9oz. of  juice or beverage. The lids snap on/off for filling them up easily and for cleaning.
You have to visit Evriholder website, not only do they have licensed products they have innovative, affordable. fun and very clever products. I saw so many things I would love to have.
Sports Bowls
SweetBytes – DynoBytes – FlipperBytes – TrainByte & Butterfly Sandwich Crust Cutters….these are so cool!
 When I saw the Slipper Genie Family, I couldn't help but laugh!
Just slip on Slipper Genie and they'll do the cleaning for you on hardwood, linoleum and tile flooring. Chenille soles provide an extra soft dusting material and are removable for cleaning in the washing machine.  Available in black, pink and green.
They really had me LOL, I can just see my kids playing around while they are wearing these…LOL!
Well there you have it, super cool products from Evriholder, let me share a little about the company as we close out.
Welcome to Evriholder Products, LLC.
Evriholder continues to bring innovative, new and unique products to retailers across the USA, Canada, and around the world. Please feel free to explore our site. Our products represent all those things you never realized you needed but seem indispensable once you have them. Visit their site to learn more.
Thanks Evriholder Products, LLC for allowing us to showcase some of your cool products!
Disclaimer Statement
I was not compensated for this post, however I did receive a product sample from Evriholder Products, LLC The opinions expressed in this post are 100% of my own and any product claim, quote or other representation about a product or service should be verified by the above mentioned store, PR or product designer.