Driver Booster 8 Free Review – Fully Update Your Drivers
Driver Booster 8 Free, as you can see from its product name, is a freeware for users to update their old outdated drivers to optimize your PC performance. IObit software company upgraded this Driver Booster 8 Free on the September of 2020. Perhaps you have been using their other flagship software including Advanced SystemCare, IObit Uninstaller, and Smart Defrag. Today let's take a look at its free Driver Booster.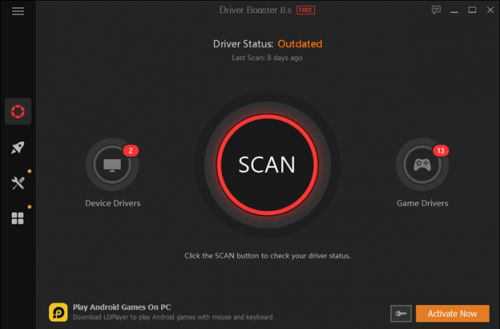 Why Do We Need a Driver Updater?
Drivers are important to help different hardware devices installed on your PC to work smoothly, reduce and avoid problems with your computer. If you are troubled by a sudden system slowdown, game crashes, and even security threats, you probably need to update your device drivers now.
   Why Do We Choose Driver Booster?
    Large Driver Database
Driver Booster 8 Free supports you to update more than 3,500,000 device drivers. All downloaded drivers come from the manufacturer's official website and have passed Microsoft's WHQL and IObit tests, ensuring their legitimacy and safety.
   Offline Driver Update
Have you ever been in a situation like this before? I'm attempting to update the drivers on my network card in order to make my network available, but I currently do not have one. Don't be bothered. Driver Booster has added a new feature. You will be supported by an offline driver update.
   Repair Windows Problems
Driver Booster includes a number of useful built-in tools for effectively resolving common Windows issues. You can fix the blue screen issue caused by a failed driver upgrade. It also aids in the resolution of issues and network outages where the majority of sounds are missing, resulting in a better user experience.
   Fast Driver Update
You can quickly identify and update out-of-date drivers. Furthermore, the scan rate of this driver Booster has enhanced to the point where it virtually approaches 100%, saving much time than before.
   How to Use the Driver Booster Free 8?
Driver Booster is a strong and user-friendly driver updater program. With the great one-click solution and a comprehensive database, Driver Booster can rapidly and safely upgrade outdated drivers, install missing drivers, and fix wrong drivers. Solving these driver issues saves your PC from experiencing system crashes, BSODs, no audio, poor resolution, network issues, and other issues, resulting in increased system compatibility.
Furthermore, its game boost feature offers a simple solution for the greatest gaming experience and system performance.
   Pros:
The software allows you to quickly access information on your computer's hardware, including graphics cards, sound cards, network cards, and other peripherals.
One of the best advantages of Driver Booster 8 is that it allows you to back up your drivers before updating them so that you can recover them if something goes wrong.
   Cons:
The customer service is pleasant, but it could be better. The response time is a little slow. I attempted to contact support through email, but received no response after 20 hours.
A pop-up occurs once while the program is running, advising that you install another program.
Conclusion
We recommend Driver Booster 8 if you wish to update your drivers quickly and effortlessly. It has more features than other driver updating software. Furthermore, the huge driver database can quickly identify the problematic driver. And all it takes is a single tick to update it.