Why Axe Throwing Is The Perfect Year-Round Hobby
By now, you've probably heard of axe throwing, the sport that's taken North America by storm recently. Understanding its charm is dead simple: it's a great source of exercise, a great form of stress release, and just about the most hardcore sport you do without putting yourself in immediate danger. It ticks off a lot of boxes!
But what's neat about axe throwing, unlike a lot of other sports, is that it's a perfect hobby for year-round entertainment and exercise. Not only is it fun to warm up at an axe throwing league facility in the dead of winter by working those arm muscles, but it's also fun to get outdoors in the summer heat and throw axes. This article will look at a few of the main reasons that axe throwing makes such a compelling year-round hobby.
Learning A New Skill
When you start axe throwing, in addition to picking up an entertaining hobby and a fun way to stay in shape, you're also getting a new skill. Sure, the specific act of throwing an axe might not be transferable, but a lot of the coordination, aim and patience that it involves are certainly good skills to pick up. You can use this surefootedness next time you shoot a basketball hoop, or throw in a soccer throw-in, for instance.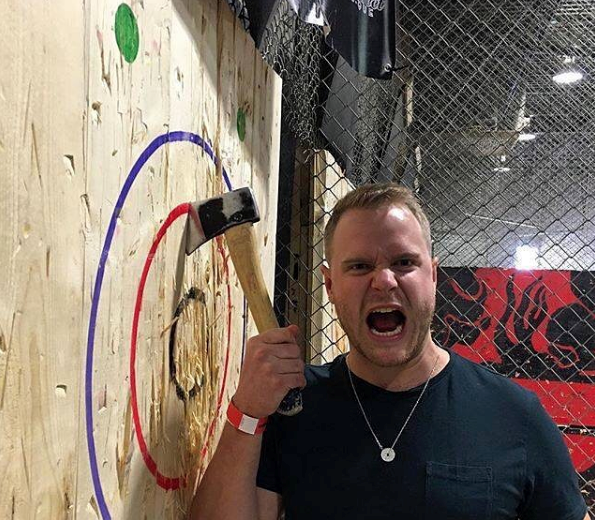 Rain Or Shine Exercise
As mentioned, involvement in an axe throwing league isn't contingent upon a certain season. It goes throughout the year. In the summer, you get the benefit of throwing outside, with the sun and cool breeze; in the winter, you get a warm community indoors where you can test your skills. It's the best of both worlds.
There's Always A Tournament
Tournaments at BATL (The Backyard Axe Throwing League) run throughout the year, in 8-week chunks, so if you join an axe throwing league you could literally get involved every single week if you wanted to. There's also the possibility of booking a lane for a private party or event (if you wanted to show off your skills to your friends), or a weekend walk in you can partake in. Being a part of an axe throwing league gives you plenty of opportunity to hone your skills.
Flexible Involvement
As mentioned, BATL offers 8-week tournaments, meaning that if you needed to skip a couple months for whatever reason – travel, illness, a simple lack of motivation – it's easy to do so. It's also flexible in that it can be done by pretty much anyone, whether you're in or out of shape. Above all else, an axe throwing league is a community, and as such they are very supportive and will help you no matter what your experience level (the vast majority of people go in with zero experience).
If you're looking for a sport that you can do throughout the year, inside or outside, with no prior experience required, you are going to go bananas for axe throwing. Start by going with some friends and then honing your skills. Who knows, by next year you might be the proud recipient of a tournament trophy.