ABOMINABLE on Digital now and 4K, Blu-ray December 17! #AbominableMovie
Cozy up on the couch this Holiday Season with a cup of hot coco and a good family movie from DreamWorks, ABOMINABLE!

Universal City, California, November 11, 2019 – DreamWorks Animation and Pearl Studio's co-production ABOMINABLE is a magical action-packed adventure for the whole family; with a 95% Audience score on Rotten Tomatoes, critics are calling this new animated classic "pure magic" (Dave Morales, Fox TV Houston). Yi, Everest and the gang come home just in time for the holidays on Digital December 3, 2019 and on 4K Ultra HD, Blu-Ray™, DVD and On Demand December 17, 2019 from Universal Pictures Home Entertainment. Boasting the biggest opening for an original animated film this year, ABOMINABLE is "an epic, colorful journey home. Beautiful and exhilarating to behold" (Glenn Kenny, The New York Times). The 4K Ultra HD, Blu-ray™, DVD and Digital versions feature tons of fun bonus content including 2 original shorts, deleted scenes, and activities for the entire family to enjoy.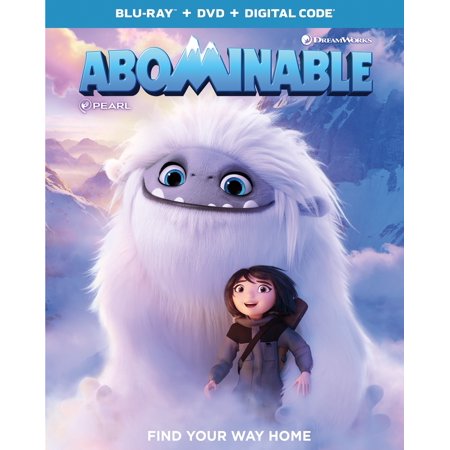 This magical journey is brought to life with the voice talents of Chloe Bennet ("Marvel's Agents of S.H.I.E.L.D"), Golden Globe® and Emmy® Award winner Sarah Paulson ("American Horror Story"), Eddie Izzard (Cars 2), Tenzing Norgay Trainor ("Liv and Maddie"), Albert Tsai ("Fresh Off the Boat"), Tsai Chin (The Joy Luck Club) and Michelle Wong ("Scandal"). It is written and directed by Jill Culton (Open Season, Toy Story 2, Monsters, Inc.) and co-directed by Todd Wilderman (Open Season 2).  The film is produced by Suzanne Buirgy and Peilin Chou.
From the studio that brought you How to Train Your Dragon, this heartwarming and humorous story follows teenage Yi (Bennet) as she encounters a young Yeti on the roof of her apartment building in China, she and her mischievous friends, Jin (Trainor) and Peng (Tsai), name him "Everest" and embark on an epic quest to reunite the magical creature with his family at the highest point on Earth. But the trio of friends will have to stay one-step ahead of Burnish (Izzard), a wealthy man intent on capturing a Yeti, and zoologist Dr. Zara (Paulson) to help Everest get home. Heartwarming and a visual masterpiece, "ABOMINABLE is a movie for all ages with laughter and life lessons and a little bit of wonder thrown in" (Allison Rose, Flick Direct).
BONUS FEATURES ON 4K Ultra Hd, BLU-RAYTM, DVD and digital:
DREAMWORKS SHORT – MAROONED – Marooned, tells the story of a cantankerous and selfish robot named C-0R13. Stranded on an abandoned lunar outpost, C-0R13 longs to return to Earth. With a partially built ship and his last power source, this determined robot will stop at nothing to achieve his goal.
SHOW AND TELL – Back home in the Himalayan Mountains, Everest puts on a magical show-and-tell for his fellow yetis after he receives a special care package from Yin, Jing and Peng.
DELETED SCENES with Intros by Writer/Director Jill Culton and Co-Director Todd Wilderman

Play All
Spa Day
Villains at the Map
Magic Montage
Yak Attack

MAKING A MYTH (MOVIE) – In this entertaining 'making of' we learn from the filmmakers and stars how they brought the heartfelt and whimsical story of

Abominable

to life – from the use of magic, music and humor, to the themes of family and nature.
ANIMATING

ABOMINABLE

– From production design to storyboarding and animating, the creative team behind

Abominable

will take us through the design and animation of the film.
MEET THE CAST – This fun featurette introduces the audience to the cast of

Abominable

and the characters they play. Learn first-hand from the actors what their personal inspiration was for the role and how they went about performing the voicework.

Play All
Chloe Bennet as Yi
Tenzing Norgay Trainor as Jin
Albert Tsai as Peng
Tsai Chin as Nai Nai
Joe Izzo as Everest
YOUR YETI CARE GUIDE – Chloe, Albert and Tenzing provide tips and tricks to caring for your newly adopted "Yeti". In this case YETI stands for pet – dog, kitten and bird.
COURAGE TO DREAM – This featurette explores the character Yi, the strong, independent and untraditional female lead at the center of

Abominable

. Actor Chloe Bennet and the filmmakers discuss what makes Yi special and why she is the ultimate role model for young girls and boys today!
AN

ABOMINABLE

TOUR WITH CHLOE BENNET – Like her father before her, Yi dreams of travelling across China to see the many beautiful, natural and culturally significant locations featured in

Abominable

. Chloe Bennet, the voice of Yi, will take viewers on their own magical journey.
EVEREST'S TALK BOX – Shooting on the DreamWorks Animation campus, we bring in some real kids to meet the man behind the voice of Everest, Joe Izzo, and the audio team from

Abominable

to learn about all the cool tech that went into Everest's voice.
COOKING WITH NAI NAI – Can Tsai Chin, the voice of Nai Nai, learn to make Nai Nai's famous pork buns in real life? Let's find out!
HOW TO

ABOMINABLE

– Bring Everest, Yi and Nai Nai to life in your home with this How-to-Draw with a difference. Not only will we show you how to recreate your favorite characters from

Abominable

, but also how to magically bring them to life through a homemade Chinese style lantern!

How to Draw
Play All
Intro
Everest
Yi
Jin
Peng
Nai Nai
How to Make a Chinese Lantern
Website:  http://uni.pictures/Abominable
Trailer: http://uni.pictures/AbominableTrailer
Facebook: https://www.facebook.com/AbominableTheMovie/
Twitter: https://twitter.com/dwanimation
Instagram: https://www.instagram.com/abominablemovie/