A Titan 2-in-1 Power Lantern from LuminAID® will help you prepare your home for any upcoming stormy season.
Disclosure: Night Helper Blog did receive a sample product to showcase in this editorial. We're disclosing this in accordance with the FTC guidelines.
Hurricane season is already upon us, so what better time to be ready than right now with this amazing Titan 2-in-1 Power Lantern from LuminAID®?
We have experienced numerous severe storms over the past few weeks, and a number of them have caused us to lose power for a few days.
There is nothing worse than being without power, but what is more essential is that it is even worse when you are unprepared!
You know, I've learned my lesson about not having everything I need in case there's another storm. I do have a lot of emergency items on hand, but the most of them run on batteries.
What if I told you that you won't have to be concerned about not having light any longer during a storm outage? This amazing solar power PackLite Titan 2-in-1 Power Lantern is all you would require to powering up some light in your home and powering up your cellphones when the power goes out.
The Titan 2-in-1 Power Lantern has a ton of wonderful qualities that you will adore, starting with how simple it is to use, where it can be placed, how it can be used indoors and outdoors, even while camping, and how easy it is to store because it isn't big and bulky at all.
But wait, there's more "The most potent and recent offering from LuminAID is the Titan 2-in-1 Power Lantern. including brand-new design improvements, such as a Twist-to-Inflate design and Red Light Mode for night vision. You could bring one with you when you go camping or include one in your emergency kit in case the power ever goes out."
Prepare to "Use a small, light-weight, solar-powered lamp to illuminate the night. LuminAID Solar Lanterns are ideal for exploring the great outdoors, preparing for an emergency, or simply chilling in your own backyard. Heck you can even place the LuminAID Solar Lanterns in your backpack while you're out riding your bike.
The Titan can provide lighting for your campsite with a maximum brightness of 300 Lumens. You may rely on it for prolonged power outages or off-grid trips because to its 100 hours of runtime. The PackLite Titan 2-in-1 Power Lantern color: White and Red Phone Charging? Has a 4000mAh battery Runtime: 100 Hours Brightness: 300 Lumens Weight: and weigh 12.5oz with a Storage Life: 2+.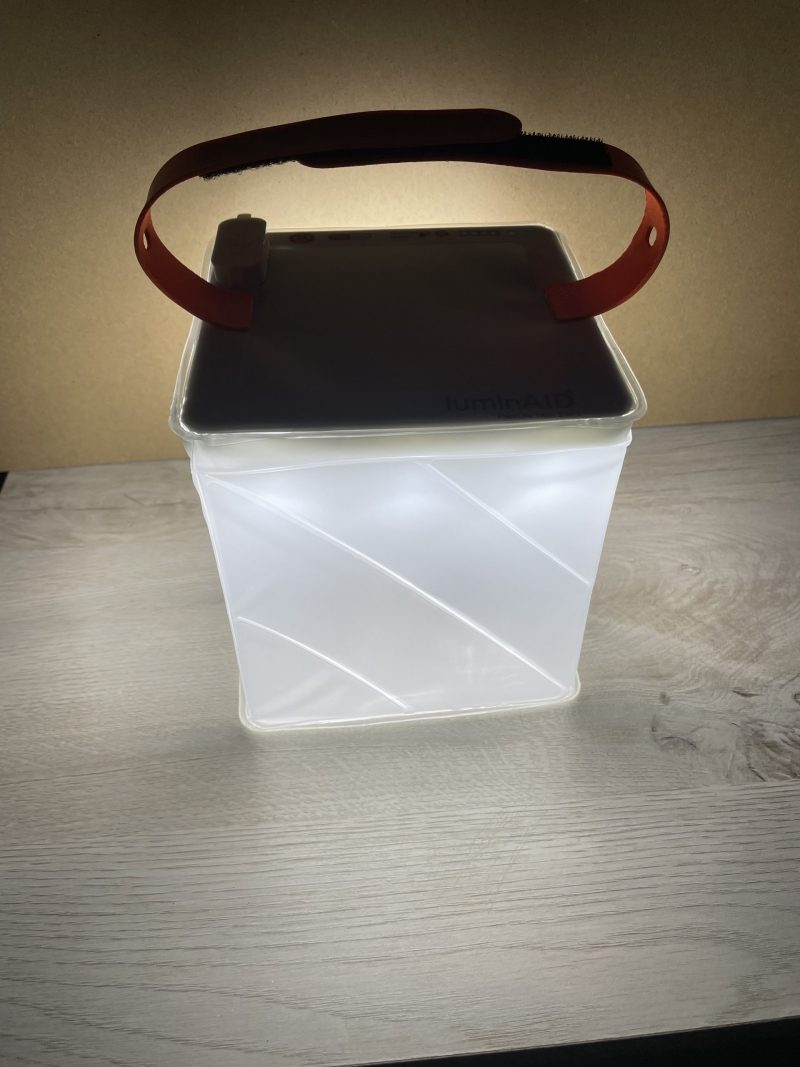 It would be fantastic to have it on hand when we stop by a park, so I can't wait to pack mine away and head out for our nighttime bike rides.
We occasionally stop by a park during the late evening while riding only to swing, yes swing! There's nothing wrong with getting that late night swing in, LOL!
Now, when we do it, I can swing away and light up the area using my LuminAID Solar Lantern that I have positioned right on the picnic table.
I must admit that this innovative lantern is fantastic to have on hand, and I eagerly anticipate purchasing a few more for myself and my children. It's really bright and packs enough juice to power my device when needed!
When you get a chance take a moment to check out LuminAID website to see the Portable Solar Lantern and many other products like the Bloomio Gem listed below.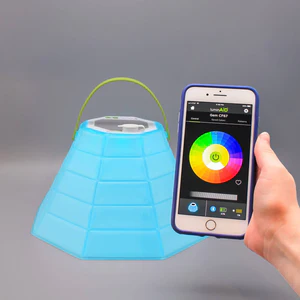 Don't forget to connect via social media Facebook | Twitter | Instagram | YouTube |
Here's some more details about LuminAID;
Our Mission: LuminAID seeks to make safe light and energy accessible for all.
We conceived of the LuminAID light when we were students at architecture school in New York City. A devastating earthquake had just struck Haiti, and we asked ourselves what we could design to help survivors of such an event. When we think of our most basic human needs, we often think of food, water, and shelter. But the stories we were hearing of the dangerous conditions at night in the tent cities inspired us to turn our attention to another critical need: light.
We designed an inflatable solar lantern that could pack flat to be cost-effectively distributed after disasters. The simple, rechargeable lantern is lightweight, easy to use, and serves as a safer alternative to hazardous candles or toxic kerosene for people without stable access to electricity. For ten years, we've worked with humanitarian partners across the world to send LuminAID lights to those who need them most.
Anna Stork and Andrea Sreshta
Inventors & Co-Founders of LuminAID
Disclosure: Night Helper Blog did receive a sample product to showcase in this editorial. We're disclosing this in accordance with the FTC guidelines.