4 Kitchen Designs That'll Make You Want to Redo Yours.
The kitchen has morphed from the traditional food preparing space to a multi-purpose room that is the epicenter of a home. Today, it is an entertainment center, a place for bantering with friends, and an entertainment center, among other things. Real estate experts have declared the kitchen the heart of a home. 
As life changes, family needs do too, and new designs emerge, providing a chance to update your kitchen space. There are thousands of kitchen designs, from the countryside vintage look to the white kitchen modern luxe styles to suit different personalities. The wide variety makes it hard for a novice and perfecting the kitchen look is a significant and exciting achievement. 
This guide highlights the best kitchen design that will make you want to redo yours immediately. 
Galley
Galleys are space savers and highly efficient kitchen layouts. This design is perfect for cooking kitchens and small spaces but works perfectly in huge areas. Also known as a walk-through kitchen, galleys are characterized by two countertops opposite each other with a walkway between them. With the walls opposite each other, this style is a one-cook kitchen.
The design is nostalgic and common in historic homes and city apartments. If you are used to open-plan kitchens, galley design may feel cramped and dated. However, this is a classic space-saving style that people with self-contained spaces will appreciate. It also helps keep the mess away from the main living room sight. 
If you wish to make utmost use of every square inch of your kitchen space, you do not have to contend with annoying corner cabinets. This can reduce your cabinetry budget significantly. 
One wall
Known initially as Pullman kitchen, the one-wall design is as simple as the name sounds. It is common in loft spaces and studios since it is a super space saver. In this arrangement, all appliances and cabinets are installed on one wall. You will find an island in modern designs with ample spaces. The addition of an island transforms the kitchen into a galley style. 
L-Shape Kitchen Design
Homeowners with small and medium size kitchens will appreciate this design more. This versatile design consists of two perpendicular adjoining wall countertops forming an L. You can extend the end of the L as long as you wish, or the size of your space can accommodate. However, keeping them to 12-15 feet will enable you to use the area efficiently. 
You can add an L Island to create a double L Island-shaped island. This style is perfect when you are a big household needing big storage. The open kitchen layout exposes everything to people in the sitting or dining area. Consider a bar height island section if you wish to provide some visual privacy. 
U-Shaped Kitchen Style
A U-shaped kitchen style is ergonomic and versatile, making it one of the best cabinetry arrangements. This design accommodates integrated devices and is popular among homeowners with huge spaces and needs extra storage. 
Minimalists will enjoy this perfect layout as it provides space for all your small kitchen equipment tucked away in the cupboards. You can choose to add a space for stools on one of the surfaces instead of an independent island. Ensure you create a clear space for everything and choose statement fixtures for a luxe finish. 
 Final Thoughts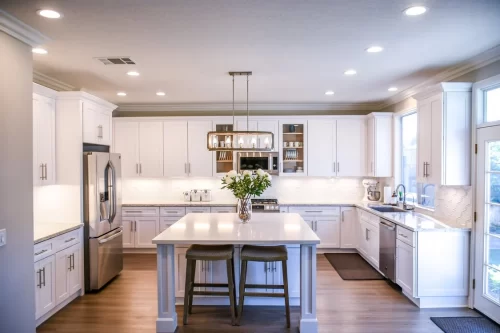 There is much more that determines the final look of your kitchen than a layout. Ensure that you pick the right color to complement the rest of your space. A good kitchen style will incredibly add to the value of your home. Order paint samples, visit different showrooms, and check online for inspiration. To achieve a great kitchen design, you must work with contractors like plumbers and electricians. The first step to achieving your dream kitchen is engaging the right contractors for the job.