4 Simple Tips To Consider When Trying To Find Your "Dream Wedding Dress"!
When we had to plan my daughter's wedding last year, I don't know who panicked the most her or me! There's nothing like a bride panicking about what wedding dress would be her dream dress. With so many options to select from I can see why all brides would become overwhelmed. The most important part about finding that dream wedding dress would be narrowing down the style.
After trying on over 200 gowns at over 20 bridal shops I wasn't sure if she would ever find what she was looking for. In my head I felt we were in the middle of a serious bridal gown nightmare that seem to never end.
Even online she scrolled through many sites so, I suggested she find a wedding dress consultant so she could help her narrow down her vision for her "Dream Wedding Dress"! It was in her best interest to have at least an idea of what she was looking for so the process could go more smoothly, and she could find just what she wanted without all the stress of being overwhelmed!
Before we moved any further, I told her four things she really needed to consider so she could make the best decision in what she really wanted:
1. Price:
This gorgeous TUCANA structured gown in glossy Mikado with crossover, off-the-shoulder neckline features a sparkling spray of white beaded embroidery would be perfect for her and within her price range. It's important to make sure you find a dress within your price range. No matter how beautiful a gown may be if it's not within your budget don't worry there are other gowns that are……. stick to your budget!
2. Style: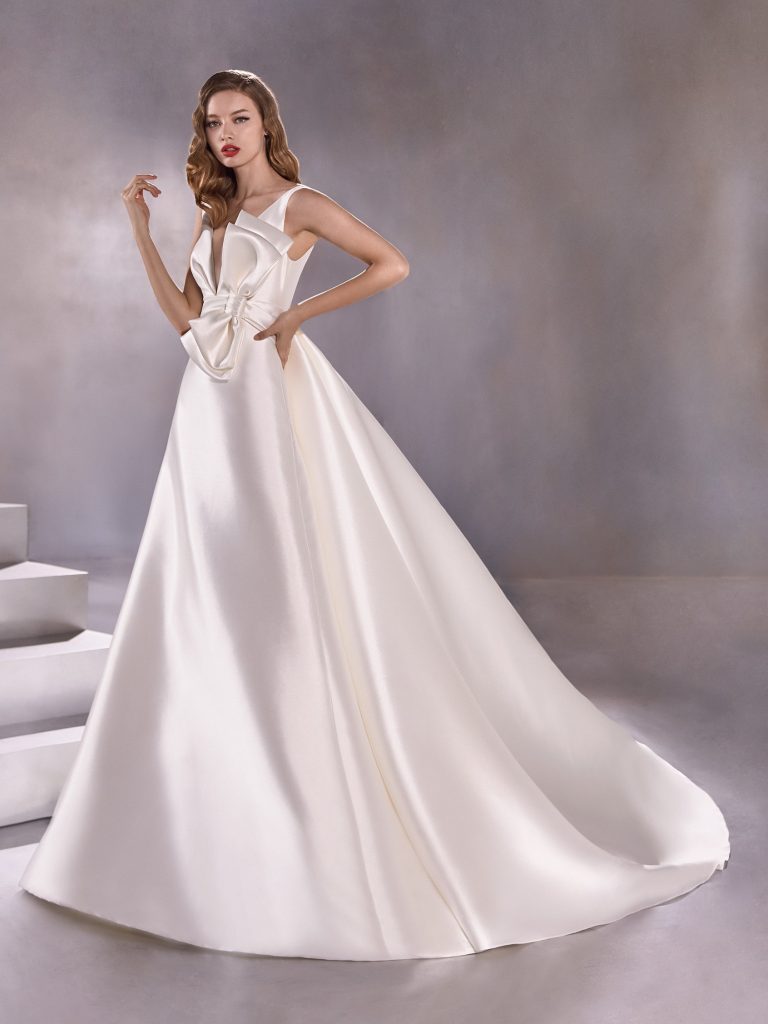 This jaw dropping STELLAR Princess wedding dress with V-neck in Mikado is A-line wedding gown crafted in glossy Mikado, carefully draped at the V-neck bust and high waistband, which features a tightly wrapped, sculptural bow, beautifully complemented by the attachable, princess train for dramatic effect and yes it is also available in a plus size wedding dresses. You want to make sure your wedding dress contours to your body type and flows on your body smoothly and complements you for your special day!
3. Confident: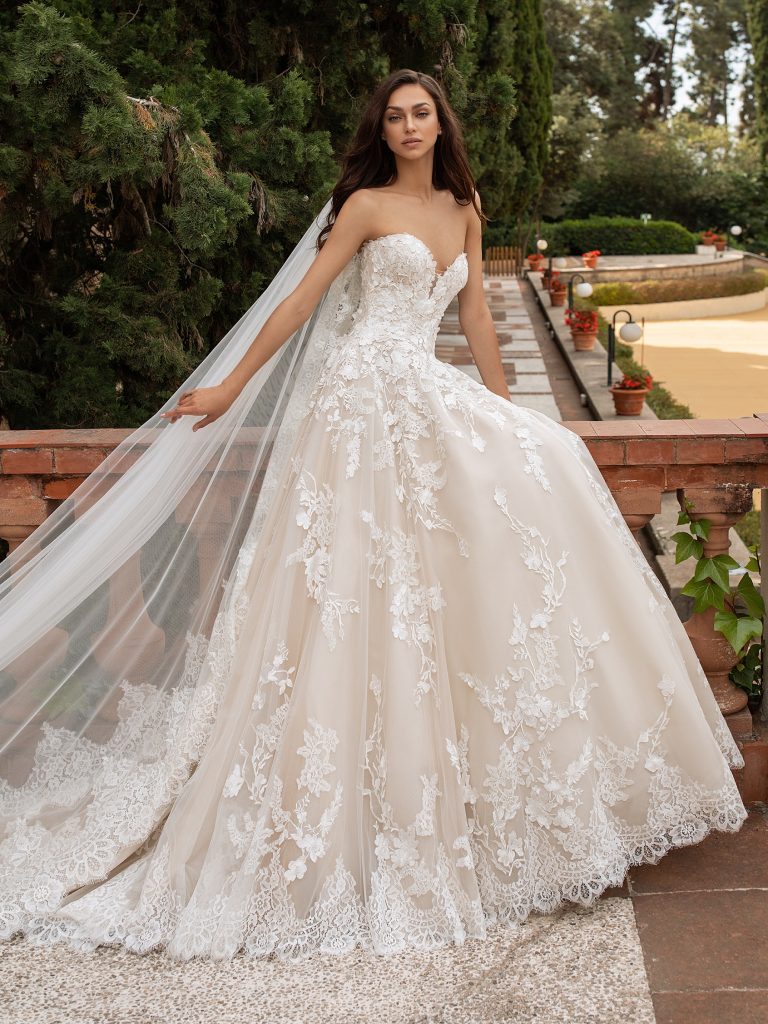 This ELCIRA wedding dress would make a "Powerful Statement" for any bride to be because this wedding dress speaks confidence, volume, style, poise, and glamour too! The Elecira wedding dress with open back, princess cut, and sweetheart neckline is a creamy, strapless dress crafted in soft tulle and delicate layers of lace petals that flutter about the sweetheart bodice and float down an elegant princess skirt.
4. MOOD
It's important to set the mood right before moving forward in shopping for your long train wedding dresses. You don't want anyone's style going against what you selected. That would mean everything from wedding dress, to venue, to theme and bridesmaid dresses. Having a more upbeat mood will help you achieve your dream for a more personal style that will make you shine on your wedding day!
No matter if you select a day or night wedding or in need of a strapless gown, vintage, modern, traditional, plus -size wedding gown, Pronovias US has a wide selection of wedding gowns that will definitely match your personal style and mood plus, they are a global leader in bridal-wear which has dressed brides in more than 105 countries for over 50 years.!
Remember, your dress needs to represent you! If you're feeling good, looking good, and ready to marry your sweetheart, put your best foot forward in finding that Dream Dress! Don't allow emotional decisions to overwhelm you, so stop, breathe, and relax so you can make the best decision and see what gown works for you on your big day!!