Traveling with Knomo London Alice Shoulder Bag!
Since my husband travels a lot throughout the year with his job the kids and I sometimes join him. Sometimes its just me and I truly enjoy spending time with him alone but the packing can be annoying sometimes with preparing his stuff and mine.
You know us women like to take almost everything we own when traveling and sometimes I have left for a weekend trip with one-two suitcases. But not anymore, no more packing laptop, clothing, shoes, accessories and all in one or two suitcases.
KNOMO has designed many Totes, handbags, Laptop Bags, IPad / Tablets, Messenger bags and IPhone Cases and much much more. Not only for us women but for men too. Knomo was kind enough to send me one of their "Gorgeous" Alice Shoulder Bags.
The Alice  Shoulder Bag is jaw dropping stunning!
The details on the stitching and design is truly impressive. Its the type of shoulder bag every women should have. The Alice bag is an oversized tote/weekender in soft pebbled leather. It's a fashionista dream bag that can be used every day when you have a lot to carry, or throw in your weekend gear and get away from it all, in style.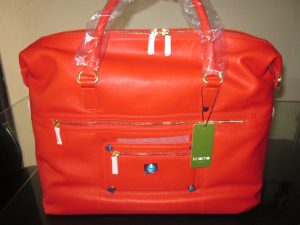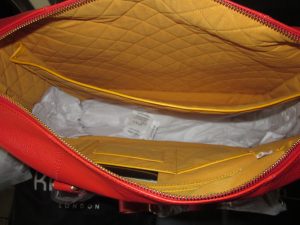 I chose the Terracotta color but you can chose from Black, Cognac, Mango, Dragonfly it really doesn't matter what color you choose this shoulder bag is stunning. As shown above the inside is extremely wide, allowing you to not only hold your weekend gear but you have room for your laptop. Within the inside you will see it has a quilted protection pouch with shockproof protection inside. Internal pouches and zipped pockets for key items, plus fastens with top-zip for security
You can carry this beautiful  Alice Shoulder Bag two ways, either by the short handles or the detachable shoulder strap that is shown below next to the KNOMO LONDON Case to store your bag in when not in use.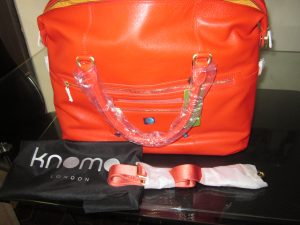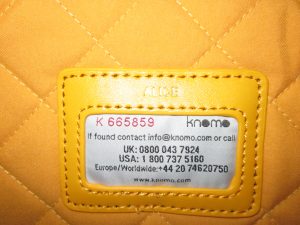 Another feature I love so much in this beautiful Alice Shoulder Bag from KNOMO is the Unique 'If Lost' ID number to help reunite you with your KNOMO. I have brought many high end bags before but never have I seen any of them with there own ID number inside. I'm telling you if I lost my KNOMO bag I probably would "Cry Out Loud", that's how much I love my bag!
But wait there's much more to see, is your hubby in need of a good briefcase? Check out the Warwick.
Warwick
Well there you have it the Alice Shoulder Bag from KNOMO. I can't wait to carry my bag this Spring & Summer I'm sure it will jazz up my outfit as well.
Connect today to keep up with all the latest at KNOMO via Facebook, Twitter, Pinterest.
The Night Helper would like to extend a Thank You to KNOMO for allowing us to showcase their brand. Thank You!
Disclaimer Statement
I was not compensated for this post, however I did receive a product sample from KNOMO. The opinions expressed in this post are 100% of my own and any product claim, quote or other representation about a product or service should be verified by the above mentioned store, PR or product designer.