The Top 5 Gifts for Baby's First Christmas
 One of the most memorable and meaningful holidays a parent will ever experience is their baby's first Christmas. It not only reminds us of the true meaning and joy of the season, but allows us a chance to express the overflowing love that's in our hearts. While you'll find a newfound excitement in showing your little one the glowing lights, reading them stories about Santa and rockin' around the tree, you'll also get to buy them a bundle of presents like baby toys, pajama romper sets, cute  walkers for babies, and much more!
Yes, you'll be the only one opening them for at least a couple of years, but it's fun to know that there are plenty of gifts that will keep them happy and comfortable until next Christmas rolls around. If you're wondering what an infant may need for the holidays or are searching for a must-have list for the grandparents and relatives, we have several excellent ideas for you. Our countdown of gifts is a combination of fun and practical, so everyone can make the most of their seasonal budget while feeling like they're contributing to the little one's health and happiness.
1. Comfy Blankets
Soothe your child and keep the chilliness at bay by placing a plush security blanket under the tree. It's a win-win! The comfiest materials include chenille, fleece and cotton flannel. Wrap them up while you're watching holiday movies or going for a brisk walk outside. Plus, you won't mind cuddling up with it, either.
If you need a safe item to keep your baby warm while they're sleeping, a wearable blanket or sleep sack is a must-have. Since they wear them like clothing, there is no risk of suffocation.
Blanket plushes are another holiday favorite. Whether you choose a whimsical unicorn, happy hippo or festive reindeer, it will likely become your child's new best friend. There are tiny ones that will fit in their arms or larger sizes big enough to wrap around their whole body.
 2. Cold Weather Clothing
Every small child grows like a weed, which means there's always a need to shop for baby clothes. Christmas is a great time to grab cold-weather items for the rest of winter. A parent's essential checklist includes a pack or two of long-sleeved bodysuits, a few warm pieces of sleepwear and pants. You can also plan on picking up a couple of coats and sweaters. While you're at it, grab gloves, socks and booties, too.
If you plan on opening a couple of gifts up on Christmas Eve, or will visit family ahead of the holiday, you can always ask for formal outfits. Little girls look amazing in burgundy, red and dark green dresses. Boys are precious in Santa outfits, trousers with suspenders and tiny formal jackets. Complete their festive look with matching headbands and smart bowties. You won't be able to stop giggling with delight!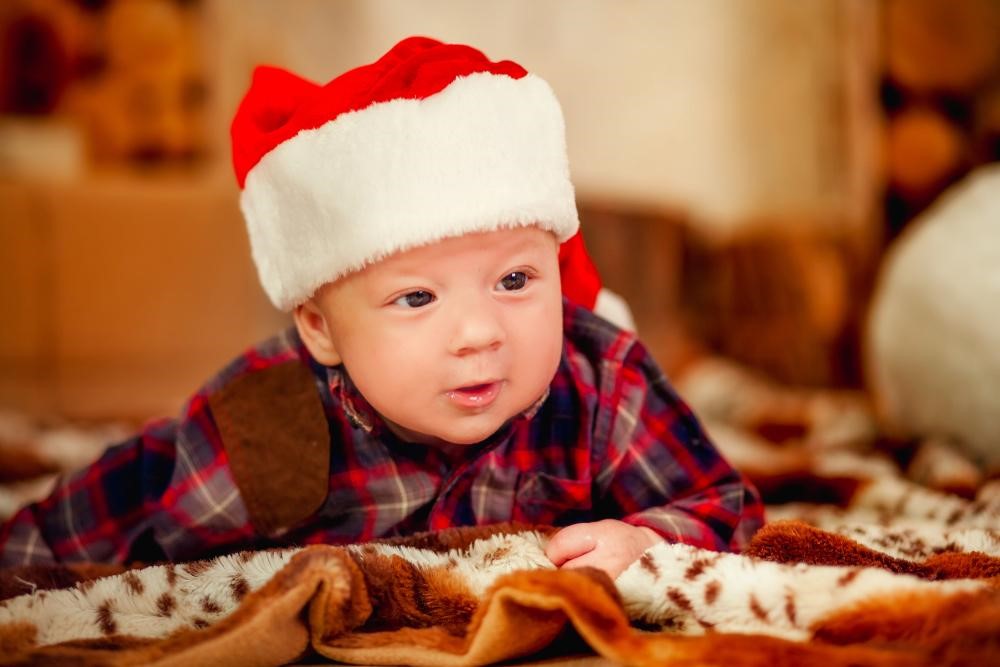 3. Christmas Keepsakes
You'll also want to pick a few things up to memorialize the holiday season. A must-purchase is baby's first ornament. Some include personalization options, like adding their name and birthdate, while others will allow you to create an imprint of their hand or foot. Family members can also pitch in to help buy photos with Santa or formal pictures of mom, dad and baby together.
Other keepsake ideas include a customized stocking, personalized Christmas story book or snow globe with your little one's name etched in it. If baby was just born, a photo ornament is a wonderful home for a sonogram picture. Holiday music boxes and picture frames can be used every season. Custom Christmas blankets are also a fun surprise when you take them out each time you decorate.
4. Sensory Toys
In the first year of life, baby is working on developing fine motor skills and evolving their five senses. There are plenty of neat toys out there to help them become stronger and smarter. Soft rattles make perfect stocking stuffers, are easy enough for little hands to hold and allow your child to shake shake shake as much as their heart desires.
An activity gym or play mat is an excellent choice for tummy time. Many of them are tricked out with loads of built-in activities and musical features. If you're searching for a great mat for a low price, there are plenty of designs with plush cushioning and vibrantly colored toys in a mobile-style arrangement. These gyms are just as enjoyable because they easily capture baby's attention from above
 5. Remaining Registry Items
While most parents enjoy picking up a cute shirt or fun toy here and there, big ticket items are usually saved for birthdays and Christmas. Now that the season is here, don't forget about anything you need that is still lingering on your baby registry. If you have anything substantial remaining, like a play yard, high chair or convertible car seat, the holiday season is a great time to get it.
Many registries will give you anywhere from 10-20 percent off the product's list price once you go past your baby's due date. If you'd like to save the extra money, ask family members for gift cards to the store and buy the leftover items with it. You can also get together and purchase straight from the app and then wrap the toys or furniture to put under the tree. The best part about getting gifts ahead of time is you may not remember what it is until you open it. It's like Christmas all over again!
Making Baby's List and Checking It Twice
There's always something you're going to need for your child, so you really can't go wrong at Christmas. Remember that they'll always require the essentials, like developmental toys and baby clothes and then branch out from there so you can have a fun and festive season. While every parent can use another PJ set or play item, it's fun to both give and gift ornaments and holiday clothing for baby. Take plenty of pictures because they'll never be this little again!