The 2013 Mazda3 SKYACTIV…Zoom, Zoom, Zoom!
I was not compensated for this post, however I did receive a MAZDA3 SKYACTIV for purpose of review, all opinions expressed in this post are 100% my own.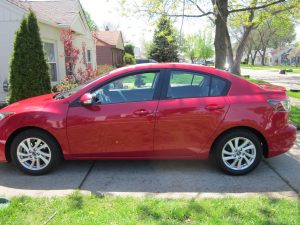 The 2013 Mazda3 I 4-Door Grand Touring Velocity Red with Black interior is so beautiful! The technology of this car is so sophisticated! The SKYACTIV Technology 2.0-14 liter engine runs so smooth with its 6 speed automatic 2WD Transmission.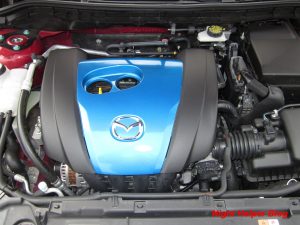 The 2013 Mazda3 SKYACTIV technology  gives you great road performances with its 16″ Alloy wheels and all season tires.
It has a cool Moonroof with one touch opening, allowing everyone to enjoy a good breeze. The Mazda3 SKYACTIV comes with so much more. Many safety features like 36 months 36,000 mile bumper to bumper coverage, 60 months 60,000 power-train warranty, 24 hr. road side assistance.  That's just what us Mom's need, wouldn't you agree?
Zoom, Zoom, Zoom is what you can say when your driving this beautiful Mazda3 SKYACTIV 4 wheel anti-lock disc brakes with EBD brake assist. It has dual airbags, 5 passenger 3 point safety belts plus latch child safety seat anchors for the kids…now that's AWESOME!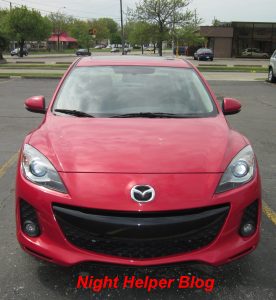 The Mazda3 SKYACTIV technology was the top safety pick from IIHS-2013 and has a starting price around $17,000 dollars, that is a great value. The fuel consumption 40mpg hwy and 28 mpg city gives you a combined 33 mpg, that's great with the way economy is today.  Saving money is always on everyone's mine!
The Interior features are as follow 60/40 split fold down rear seat,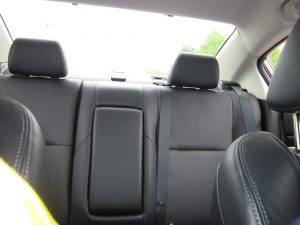 BOSE 265 watt center point 10″speaker surround sound audio system with HD Radio and Pandora Audio.
How cool is having this type of system in your ride——> SMS Text messaging with reply.
A MP3 player and USB input Bluetooth hands-free system also. The Mazda3 SKYACTIV technology also come with a full color touch screen Navigation System…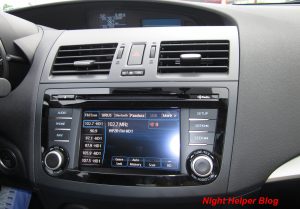 advance key-less entry and  push button starting system located on right side next to  the steering wheel.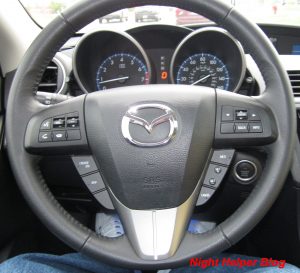 The steering wheel is equipped to assist you in many ways, you can control the dashboard right from your wheel.
The Mazda3 SKYACTIV is so "Sweet", it even has heated mirrors, black grille, halogen headlights, single exhaust and body color door handles and alarm system. I was Amazed when the interior lighting displayed a blue light on the interior floor, that I would say is a touch of class indeed!
What I found to be exceptionally beneficial on the Mazda3 SKYACTIV is the outside mirrors on both sides displays when a vehicle is coming up next to you, this in return will help with maneuvering over. Keeping you and the other drivers safe from crashing into each. It also has LED Rear Combination Lights, body color heated power mirrors with turn signal lamps and so much more.
We had such a wonderful time test driving the Mazda3 SKYACTIV, we even took it on a little trip. My family and I went up North and we also had a chance to visit a Carnival…look!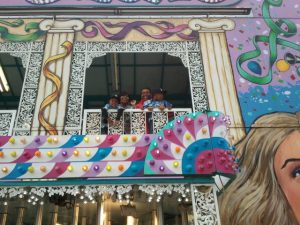 I think they had a great time!  No I did not ride anything, lol I have a injured back so those days of riding are gone for both me and my husband. *smiling*!
Well there you have it, the Mazda3 SKYACTIV!  Mazda is building some of the best looking cars with all the safety we need.
Thanks for allowing me to participate in test driving this Awesome vehicle what a wonderful experience!
Remember—->This is the Mazda way "What Are You Driving"?
                                   ZOOM, ZOOM. ZOOM!!
Disclosure: Howdy everyone, I wanted to inform you that I was not compensated for this post. However, I did receive the 2013 Mazda3 for review purposes from Drive Shop and Mazda and the opinions expressed in this post are 100% my own. I am disclosing this in accordance with the FTC guidelines.