Spray N Splash 2 Inflatable Water Park , are you ready?
I was not compensated for this post, however I did receive a product sample from BLAST ZONE for purpose of review, all opinions expressed in this post are 100% my own.
Its here, its here! That's right the Spray N Splash 2 Inflatable Water Park has arrived! See the box.
We are so excited to welcome the Spray N Splash 2 into our home. It is just what the kids need in this warm weather. The kids do not get a chance to visit the pool over the summer months because it is always over crowded.
When Blast Zone allowed me to share their Spray N Splash 2 Inflatable Water Park with the kids, I couldn't wait! It is the perfect water park entertainment to have right in the comfort of your own backyard.
No standing in line, no standing on hot pavement and no waiting to take turns. The Spray N Splash 2 Inflatable Water Park will allow your children to enjoy lots of fun this summer. I think it is the "BEST" investment mom and dad can make plus it retails at a great price.
When we unpacked our box and laid every piece down, we were able to see all that was needed to put the Spray N Splash 2 Inflatable together. The box contained the Inflatable water slide, blower,  spray hose to connect to inflatable slide, stakes to secure Spray N Splash 2 and the storage bag.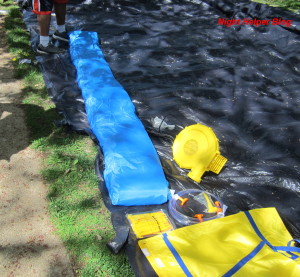 The Water Park has two areas that must be secured before you start. One area is for the blower and the other area is where you tie the strings together to prevent air from seeping!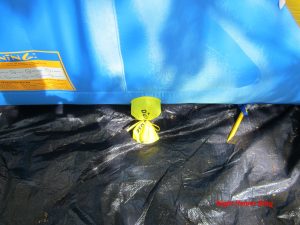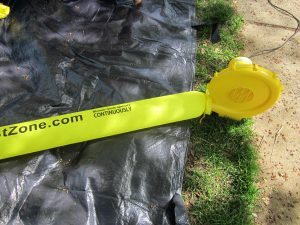 You also have to make sure that your Spray N Splash 2 Inflatable is anchored down on all sides. This is very important because you do not want the wind to blow or tip the Spray N Splash 2 when in use.
We turned on the blower after it was connected to the inflatable and within minutes……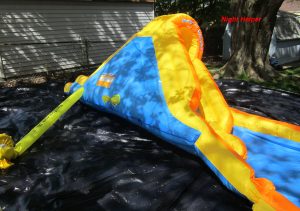 "Boom"! It was up and ready for the kids to enjoy! I love the design, colors and especially the easy set up.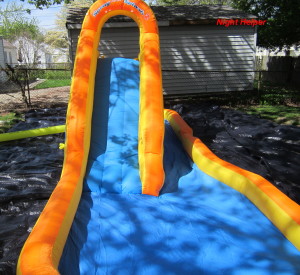 The set up was easy as 123! The blower blew up the inflatable to quick that I blinked my eyes and it was fully inflated! Once I did my walk around to make sure all was secured and anchored correctly, I began to add the water sprayers at the top of the Spray N Splash 2.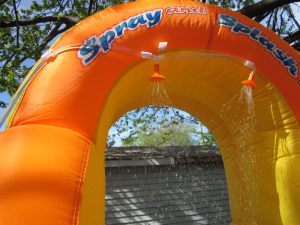 The sprayers are held up with velcro and was very easy to install to the Spray N Splash 2! Once you have installed them you can then attach the water hose to the connector. Now you can sit back and watch the kids have a grand time all while in they comfort of your own backyard.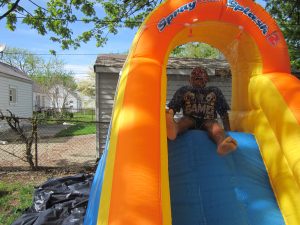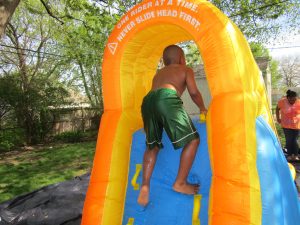 I tell you, the kids played all day and even when I suggested they take a break, they wouldn't budge. They just went right by me waving and climbed right back on the Spray N Splash 2. All I could do was laugh!  I sat back and watch them enjoy themselves for hours. They must have splashed me hundreds of times LOL!
The great thing about this product is I knew they were safe, having fun, and most of all they weren't in the house watching TV or playing those video games. They were able to run around and have fun along with getting some much needed exercise.  The kids took turns climbing the Spray N Splash 2 for hours. I do recommend that you speak with your children about only sliding down on their behinds while playing. It is not recommended for children to slide down head first for safety reasons.
I noticed the Spray N Splash 2 had some very important warning signs throughout the inflatable, warning signs that were visible and easy to understand.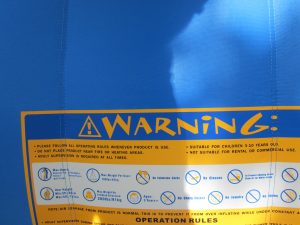 I'm so grateful to Blast Zone  for allowing us to review this awesome Spray N Splash 2 Water Park! The Spray N Splash 2 Inflatable Water Park is easy to assemble, disassemble and has its own storage bag to store your water slide in until next use. After each use it is recommended that you allow the Spray N Splash 2 to dry completely before packing it away which will keep the inflatable from building mold and mildew.
The Spray N Splash 2 Water Park material is well constructed, strong and very durable! The colors are sure to brighten up any backyard. The blower is to remain connected at all times when in use and you must also place your blower in a safe area especially away from water.
Spray N Splash 2 Inflatable Water Park Includes:
Blast Zone Spray N Splash 2 inflatable unit
UL approved blower
Carrying case to hold the Spray N Splash 2
Stakes for the blower and stakes for the bouncer
Hose attachment for the water
Patches and string (in case you get a hole)
Instruction Booklet and DVD
Dimensions:  17′ Long, 8′ Wide and  8′ Tall.
You to can also enjoy the Spray N Splash 2, just visit Amazon.com  plus you will receive FREE Shipping!
So sit back and watch your kids enjoy this cool Spray N Splash 2 Water Park Inflatable this Summer all while staying cool. They are guaranteed to have a BLAST!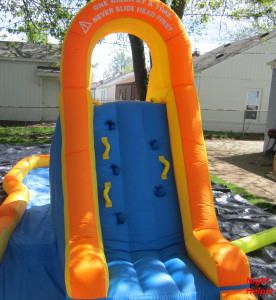 Order from Blast Zone today at  www.blastzone.com. and use this code to get 10% off your order BOUNCEBLOG!  Blast Zone has a variety of home &  commercial inflatables, inflatable water parks, combos, bounce houses and  much more!
But wait, you didn't think Blast Zone would forget about your kids this Summer did you, Blast Zone was kind enough to offer one of our readers the chance to win one. So this Summer you too can have a great time with this Spray N Splash 2 Inflatable Water Park!
P.S.It is also great to have for birthdays and summer occasions! Your kids will have lots of fun this Summer!