Stepping into Spring with UPERE WEDGE Sneakers!
Yes Spring is here and its time to become that fashionsita diva you are. Bring on the hottest trends for clothing and footwear. UPERE   Luxury high end wedge shoes and wedge sneakers are ready to help you jump into Spring.
The company was created in 2012 and is a family business that specialize in wedges that will show women inner beauty and to be conductive to the health of your feet.
Not only do they have wedges they also have wedding shoes and scarfs. Here is a sample of one of their wedding shoes……all that glitter is gold. Cute pair but the heel is too high for me!
 Retail value $155.59.
Upere was kind enough to send me a pair of their sneaker wedges. I chose this color and style Upere "Wedge Sneakers" Suede Navy Beige so I could share them with my oldest daughter.
I could not wait for my daughter to try them out and tell me her view about them. The color blue is very cute and just right to go along with any outfit. I ask my daughter to share with me her thoughts about the Upere Wedge Sneakers.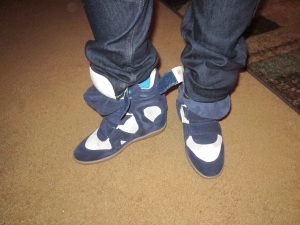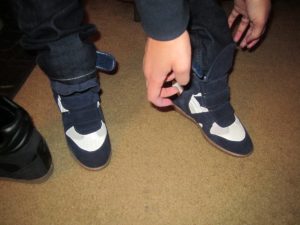 Here is what she expressed:
Me: How do you like them?
Daughter: They are cute Mom and stylish.
Me: What about the design of he shoe?
Daughter: I like everything but the tongue, it is just too big and feels funny on me leg.
Me: What would you change, if any change is need?
Daughter: Everything is nice. I really like the style its the latest trend except for that tongue, I would slim that area down . It's just to big and very uncomfortable.
Mom, Would you buy the Upere Sneaker?
Daughter: Yes, as long as the tongue is slimmer. They have great styles and colors..
Me: When wearing the shoes, what would you rate comfort level?
Daughter: I would rate my comfort level a 7, only because they felt a little tight but other then the tightness and the large tongue they were nice.
What is your overall opinion?
Daughter, I love the color and style everyone knows that wedge sneakers is the new trend this Spring & Summer. I do intend on buying another pair so I can see how the other styles are made and how they would feel far as comfort. I think it is a great shoe just that particular area of the tongue really didn't give me the comfort I needed. However I did visit Upere site and saw a few other styles I like.
These color wedges are so cute  and would go well with a pair of jeans or straight leg pants but again the tongue is to big.
Well, there you have it. Uppers Sneaker Wedges are cool, stylish and cute but only one factor seems to bother my daughter that's the tongue.
You can visit Upere Website to see their latest selection of wedges plus visit them on their social sites….Twitter , Facebook, Pinterest.
 Upere is offer the Night Helper readers a discount code "UPERE" to get 15% off on their wedge sneakers.
Thanks again Upere for allowing us to showcase your "Wedge Sneakers"
Disclaimer Statement
I was not compensated for this post, however I did receive a product sample from Upere. The opinions expressed in this post are 100% of my own and any product claim, quote or other representation about a product or service should be verified by the above mentioned store, PR,or product designer.