Review Of The NewAir 160-Can Free Standing Beverage Fridge
Disclosure: I was not compensated for this post. However, I did receive a product from the company and the opinions expressed in this post are 100% my own. I am disclosing this in accordance with the FTC guidelines.
The NewAir 160 Can Freestanding Beverage Fridge offers plenty of space and adjustable shelves.
If you're seeking to find the right beverage fridge for your home, the NEWAIR 160-CAN FREESTANDING BEVERAGE FRIDGE would be the best investment.
No matter if your home is large, medium, or small, this NEWAIR 160-CAN FREESTANDING BEVERAGE FRIDGE is sure to fit in any space.
Now, if you've never heard of NewAir Company, you are missing out. You see, NewAir are makers of many excellent household appliances like mini-fridges, Icemakers, Wine fridges, Cooling and Heating, and many more household appliances.
When the NewAir company reached out to me, I'm not sure who was excited more, my husband or me…LOL! Finding space to keep all our beverages and his beer cold has been a challenge for us since we do not have much space. Plus, our refrigerator is a little small; we can only place a few cans a week inside the fridge.
Before long, the NewAir 160 Can Freestanding Beverage Fridge in Stainless Steel arrived, and we did the unpacking. The fridge weighs in at 77lbs, which is not too heavy, and removing it from the packaged box was an easy, peasy step.
Once we had the unit removed from the box, we saw the owner's manual, the sliding shelves, and my husband took a moment to read all about the NewAir 160 Can Freestanding Beverage Fridge.
My husband knew exactly where he wanted to place this NewAir 160 Can Freestanding Beverage Fridge. Once in the area, he began to look over the fridge and its settings. So cool to see this fridge has a convenient SplitShelf design and adjustable shelves that allow you to hold food, snacks, and beverages—all in the same space. The interior LED light is sure to complement any room. I'm also impressed by the modern design of the sleek look of a stainless-steel finish, which we all know will be easy to clean.
Listen, it is essential to allow the unit temperature to stabilize for 24 hrs before use. Also, make sure the fridge is away from hazardous material or combustible/flammable substances. My husband plugged our fridge right in the wall socket, it is recommended to use wall plug DO NOT USE a power strip.
As for the temperature setting, you will find a LED display digital thermostat that will show the ambient temperature first, and then the internal cabinet temperature once turned on. Press the "light" button to turn the interior lighting on and off. Use the up and down arrows to adjust the temperature. The interior temperature can be adjusted in increments of 1 degree between 37°F and 64°F. After you set the desired temperature, this set temperature will flash for 5 seconds on display and then revert to displaying the current internal temperature.
Don't worry; the fridge will offer precision cooling so that you can enjoy every beverage at the perfect serving temperature. I love the freestanding design; this design will allow me to place this unit anywhere in my home, even in my husband's man cave, which he says it will go…lol!
As I stated, the temperature range setting chills to 37F-65F, and if you want to change the temperature to Celsius, hold down the up and down button for 3 seconds, and you can switch to either temperature.
The power consumption is 85W; the storage capacity is 4.6 cubic feet with a voltage of 110-120V. So, there's no doubt you won't get an exact temperature to perfectly chill your beverages.
Now keep in mind that there is no freezer, therefore you won't have to worry about your beverages, beer, or juice freezing. The amount of space is astonishing and will get great use with all our cans.
Now the time has come to fill the fridge. Before doing that, here are a few images of the space inside and the shelved.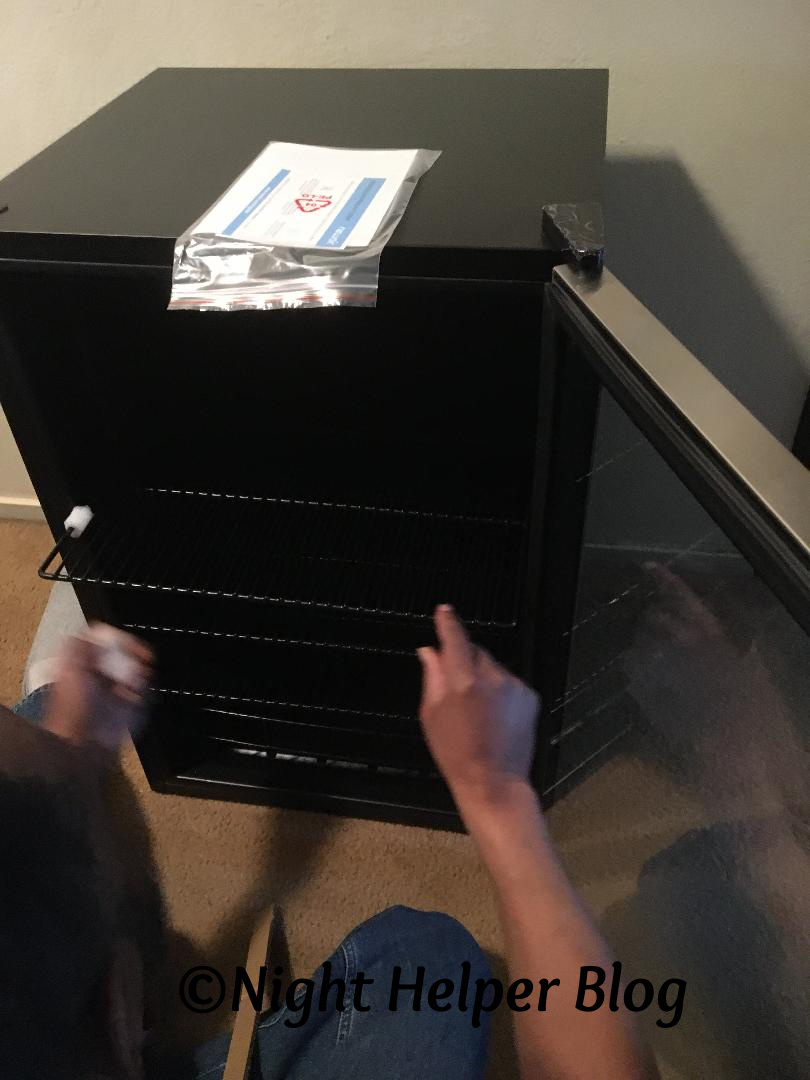 We wanted to have various drinks in the fridge since we have kids and adults here in our home. It took no time for all the beverages to get cold!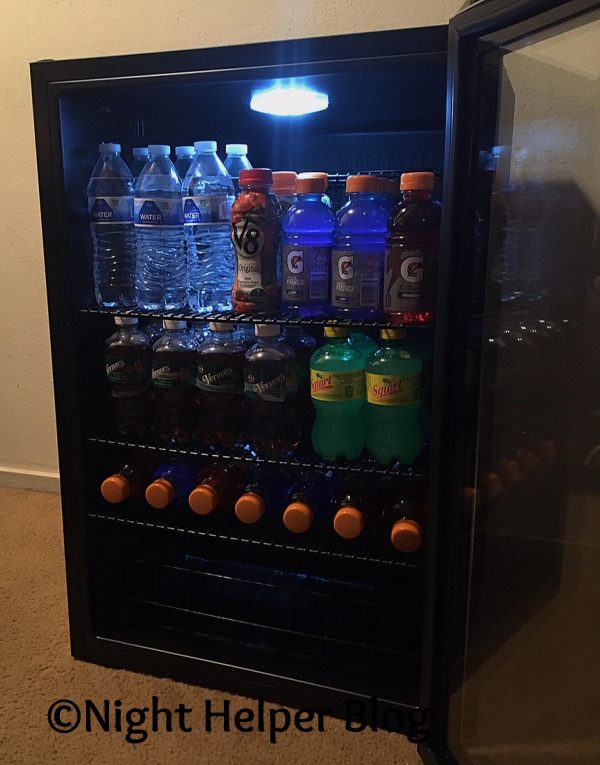 We decided to place the unit in my office next to my new desk instead of his man cave. Remember, you can place upright bottles like beer, soda, or juices, or place them laying down; it's all your choice because there is plenty of shelf room to maximize the space. I love the basket in the lower area; I think I will add some fruit to my basket.
I have to say I love the sleek black and silver design of the fridge; this unit is sure to add a sophisticated décor effect to any area.
The clear stainless steel glass door frame is solid, and so are the racks. I would not recommend placing too many items way back for the fridge needs proper internal air circulation. When storing beverages, keep them away from the rear wall to allow free circulation of cold air!
The following clearance for this Fridge is as follows; Sides: ¾" (19 mm) Top: 4" (100 mm) Back: 2" (50 mm). No doubt this fridge will be perfect for your bar, basement, living room, office, or any area you desire to place it in to grab a cold soda or beer.
Cleaning your fridge is also easy, make sure to unplug unit first:
Remove anything inside.
Wash the inside of the unit with a solution made of warm water and neutral detergent. Do not use abrasive cleaners.
Use mild, soapy water to clean the door gasket.
To ensure efficient operation, thoroughly clean the back and bottom of the fridge.
To clean the outside of the unit, use a mild detergent and warm water.
Defrosting Your Fridge:
To prevent ice buildup on the inside of the fridge, it may be necessary to defrost occasionally:
Increase the temperature to 65 degrees.
Wait 30 to 60 minutes.
Clean up any melted frost from the bottom of the unit.
Change temperature back to desired level.
So, if you are ready to add this awesome NewAir 160 Can Freestanding Beverage Fridge to your home, don't wait! Order today online directly from NewAir.com.
I know you may look at the price of this awesome NewAir 160 Can Freestanding Beverage Fridge and say to yourself…whoaaaaa…what a price tag! Trust me when I say it is worth every penny and more, and as I mentioned before, the NewAir brand has been around for years pleasing their customers with "AMAZING" Products!
You can visit NewAir online here and don't forget to connect with them via social media: Facebook| Twitter| Instagram| and Pinterest to keep up with the latest about all products.
Disclosure: I was not compensated for this post. However, I did receive a product from the company and the opinions expressed in this post are 100% my own. I am disclosing this in accordance with the FTC guidelines.