National Daughters Day 9/25 Dream Seeker Dolls Giveaway arv $60
Welcome to National Daughter Day Today September 25, 2021, and International Day of the Girl –
October 11, 2021
Welcome to the Nationals Daughter Day Dream Seekers Doll Giveaway.
This giveaway will include Bella, Lu, and Hope (The Dream Seekers) in the giveaway to 1 Winner ARV $60.
WINNER has been Notified! 
Dream Seekers are mystical friends who are here to share their dreams and inspire kids to follow their own dreams. They are meant to hold one's dreams and give one the courage to make them come true.
Dream Seekers consist of three beautifully crafted soft dolls with unique personalities. The core dolls are named Bella, Lu, and Hope are wholesome, timeless, and inspiring, helping kids achieve their dreams! Dreams can be written inside the Dreamy Moon Packaging of the Dream Seeker to keep and protect!  Make sure you tune in for their podcast here.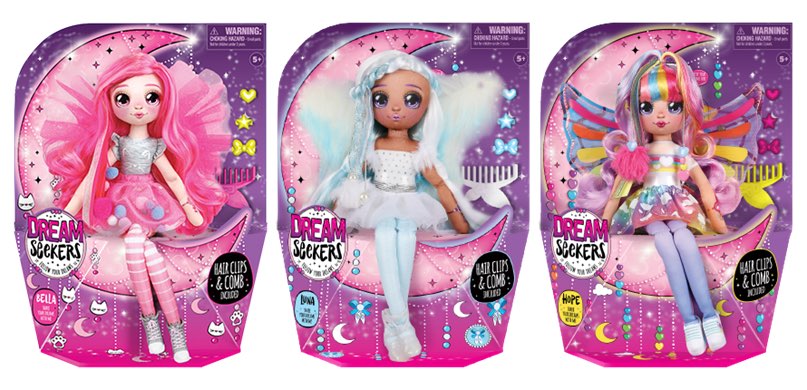 Dream Seekers were released in July and are available at all major retailers for a suggested retail price of $19.99. As part of the launch of Dream Seekers, Moose Toys has partnered with Rebel Girls, a global brand focused on empowering girls.  Beginning this fall, Rebel Girls will spotlight Dream Seekers on four of its famous podcast episodes to create four mini-episodes of their flagship podcast to inspire young listeners.
Disclosure: Some of the links in this post are 'affiliate links.' This means if you click on the link and purchase the item, I will receive an affiliate commission.