Koch Foods Cravers, they'll have you wanting more!
       Koch Foods Cravers brings to you their new section of delicious chicken…coming in MARCH!

I have seen Koch Foods Cravers in my local Walmart store but never thought to even purchase them. For the month of March I will be sharing with you samples of their new line of delicious chicken that comes in many flavors.
I received lots of samples and just couldn't wait to try at least one last night when they came in.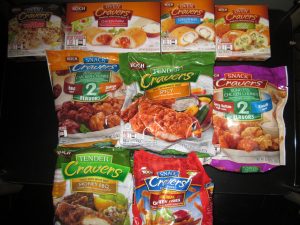 Their new line of chicken consists of three types of Cravers and believe me when I say each one looks mouth watering.
You have the Tender Cravers, which are:
*Spicy Chicken
*Honey BBQ
*Original
*Italian
*Chicken Parmesan
Next is the Oven Cravers, which consist of:
*Breaded Cordon Bleu
*Breaded Broccoli and Cheese
*Seasoned Swiss and Mushroom
*Seasoned Pepperjack and Bacon
*Chicken Parmesan
*Chicken Kive
Last is the Snack Cravers:
*Buffalo and Ranch(Coming in March)
*BBQ and Orange(Coming also in March)
*Chicken Fries
*Chicken Bites
*Restaurant Style Chicken Bites
No matter what you choose, whether its from the Snack Cravers to the Tender Cravers selection everyone will be happy.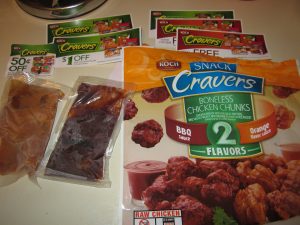 We decided to try the snack Cravers Boneless Chicken Chunks. It came with two bags of sauces, BBQ and Orange flavor.
Since it was a little late, I decided to cook the Cravers Boneless Chicken Chunks and place my sauce in separate bowls so everyone could dip their chicken per choice.
Koch Foods made sure to pack enough chicken in each 2LBS bag. It was enough to share with the whole family. The best part was it only took 20-25 minutes to cook. So not only was it a good snack for the family, the chicken and sauce had great flavor that only took a few minutes to cook.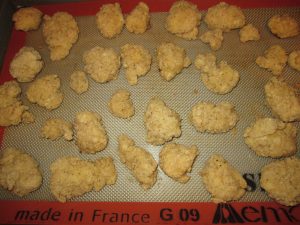 Don't they look delicious?
Here is how I served the Cravers Boneless Chicken Chunks last night to my family as we enjoyed a movie.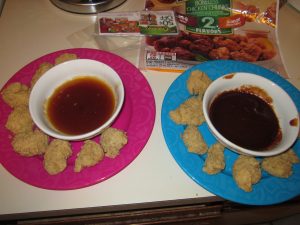 The Orange flavor sauce was pretty good, that's the one on the pink plate. The blue plate is the BBQ which was good too.The Orange flavor sauce reminded me of the sauce from our local Chinese Restaurant.
The chicken was so tender and blended well with the two sauces, both left you wanting more! *smiling*
With the way food costs has gone up especially chicken wings, the Cravers Snacks is sure to fit within your budget.
Don't worry, you can purchase your Koch Foods Cravers at your local Walmart. They will be arriving just in time for March Madness College Basketball Tournament.
 Visit today and enjoy Koch Foods Tender Cravers, Oven Cravers and Snack Cravers.
It's lunch time for me so I'm going to enjoy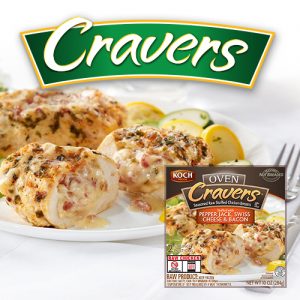 one of the Oven Cravers Seasoned Pepperjack and Bacon Chicken. Can we say MMM, MMM, Good!
Well that's it for now tune in next week when we share another line of Koch Foods  Chicken Cravers!
Disclaimer Statement
I received one or more of the products mentioned above from Koch Foods at no charge for review purposes only. All opinions expressed are 100% my own and were not influenced by any other source. I am disclosing this in accordance with the FTC.