Entertain Your Little One This Summer With Into the Forest Gymini Deluxe.
Now that summer has arrived many parents like myself are always on the lookout for cool playset toys to keep our little one's entertained. Now trying to find the perfect toy to help keeping your little one busy can sometimes be a challenge. Well, not anymore because now he or she can enjoy the new Tiny Love
Into The Forest Gymini-Deluxe
!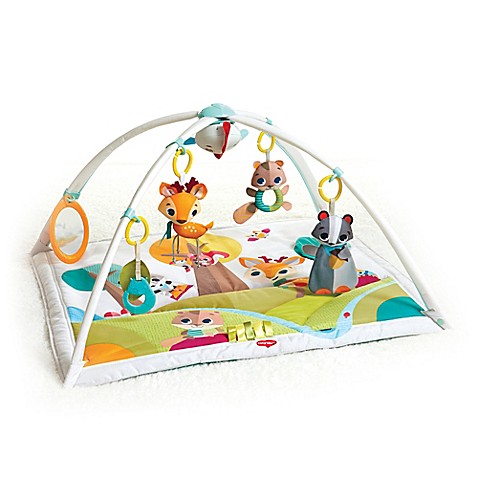 This new Gymini Deluxe is now part of Tiny Love collection and I'm sure your busy little baby will love it. You see, all kids love colors and this attractive playset has that and more.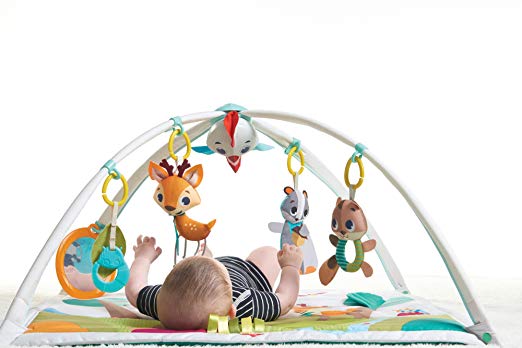 Your little one will love the colors, textures and shapes on the Into the Forest Gymini Deluxe. The 2-in-1 activity mat has adjustable arches, where adorable animals and textured toys hang to invite exploration and discovery.
The process of getting your baby ready for the gymini deluxe is simple. Just lay baby on his or her back so they can look up and interact with all the cool toys hanging from the arches, or if they are crawling around they will be able to be eye to eye with the electronic flyers! One things for sure, electronic bird toys with lights and music feedback offer an attention-grabbing activity in itself!
This Gymini Deluxe engages baby's senses and refines motor skills with a variety of detachable, entertaining developmental toys that promote baby's growth and stimulate baby's senses. Babies can enjoy music for 30 minutes and be mixed between 30 different tunes. The bird can also be taken off the arch and taken wherever your little one ventures off to!
Not only is the activity mat entertaining for your little bundle of joy, the mat is said to boost babies' developmental wonders, including, motor skills, visual and auditory cognition, and the 5 senses. By the way, you can easily transport the activity mat by simply folding down the arches and off you go!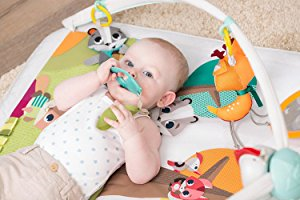 This 2-in-1 playmat has an adjustable arch and so many other cool features:
Uniquely designed 2-in-1 baby activity mat with adjustable arches provides an adaptable environment for baby's continued growth and development.
Electronic bird toy with engaging lights & music feedback, including 30 mins of music and 20 different tunes, can also be used as an adorable take-along.
Selection of soft Into the Forest™ dolls and various activities will keep baby engaged and happy.
Open arches mode offers baby a whole new perspective on things.
The Gymini®'s various features have been carefully conceived to support babies 7 developmental wonders, including motor skills, visual and auditory cognition, and the senses.
Part of the Into the Forest™ collection! Sharing those special Moments of Wonder™ with baby.
So, what are you waiting for? Head over to Tiny Love and grab your little one the Into The Forest Gymini-Deluxe!
Don't forget to connect with Tiny Love via Facebook,| Instagram | Pinterest|to keep up with the latest. Plus, you can subscribe to their You Tube Channel for all the latest news and promotions.
Disclosure: Howdy everyone, I wanted to inform you that I was not compensated for this post. However, I did receive samples from the company below and the opinions expressed in this post are 100% my own. I am disclosing this in accordance with the FTC guidelines.