How to Keep Your Kids Safe This Winter
Winter can be a challenging time for parents. When the weather outside is cold, wet, and miserable, children can become exposed to the elements and chilled, leading to compromised immune systems and potential illness. Indoors, recirculated air is also a haven for germs, and overly dry, over-conditioned air can also interfere with the body's natural defenses.
Keeping your children safe during the frigid winter months involves a variety of strategies including supervision, cleanliness, optimal hydration, and taking advantage of your heating, ventilation, and air conditioning (HVAC) system to insure beneficial air-quality. Here are a few tips on how to keep your kids safe this winter:
Adult Supervision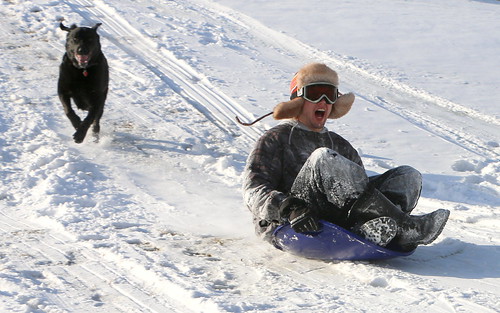 Photo via Flickr by OakleyOriginals
Dangers present themselves during those cold winter months that might otherwise not be present during warmer seasons. An abundance of rain can lead to engorged rivers, streams, and creeks, as well as high floodwaters. Drowning and hypothermia become very real threats, particularly for smaller, more vulnerable children. When we get cold, our immune system tends to break down, so what seems like a minor chill could end up becoming a devastating cold or flu.
Cleanliness
Maintaining proper cleanliness is essential to maintaining health, especially during the winter months. Regularly washing your hands is one of the best methods you have for avoiding communicable illnesses. Additionally, making sure kids aren't tracking mud and debris into the house when they come in after a session of play can greatly improve the air quality in the home. Because air is often recirculated through the HVAC system during colder months, eliminating as much particulate as possible from the house will help everyone breathe better and stay healthier.
Proper Hydration
Winter dehydration is severely taxing to the body and the immune system. When our bodies dry out, the mucous membranes and small hairs in the nostrils called cilia become less sticky and flexible. This impedes the nose from serving one of its important purposes as the immune system's first responder.
When the nose is fully lubricated and functioning properly, it actively captures and ejects airborne viruses and contaminants from the body before they have a chance to get to the bloodstream, where they can manifest in the form of illness. Make sure your kids are drinking plenty of water during the winter.
Using Your HVAC System to Preserve Health
Your home's HVAC system is a great tool for preserving your family's health. Modern HVAC units can do a whole lot more than simply maintaining consistent air temperature. By incorporating a whole-house humidifier into your HVAC system, you can help prevent dehydration and bolster your family's immune system.
Installing an Air Purifier
Installing an air purifier will also help your HVAC system eliminate microscopic germs and dust. Today's air purifiers combine micro screen technology with UV light to destroy offending airborne contaminants. Contact an HVAC professional in your area to learn more about how installing a humidifier and air purifier can help keep your family safe, warm and happy during the upcoming winter months.
Keeping your kids safe during the winter will ensure they stay healthy and ready to enjoy the season. These steps are smart ways to help keep your kids, and everyone in your home, healthy and happy.