Get Ready for Summer with the First Aid Starter Pack from me4Kidz! @me4kidz
Now that we have entered summer it seems kids are more prone to injuring themselves more than ever. I take it with the nice weather kids just become more of a daredevil and of course we do know sometimes things just happen ….right!
Well, now is the best time to prepare for any injury. But, to be honest medical preparedness should be taken more serious regardless if it's summer or not. I believe every household should make a point to have a first aid kit on hand but more importantly I believe that when you are a parent you must have a medical kit that is tailored to children.
So, when we received the First Aid Starter Pack from me4kidz I was so excited to see what all it entailed.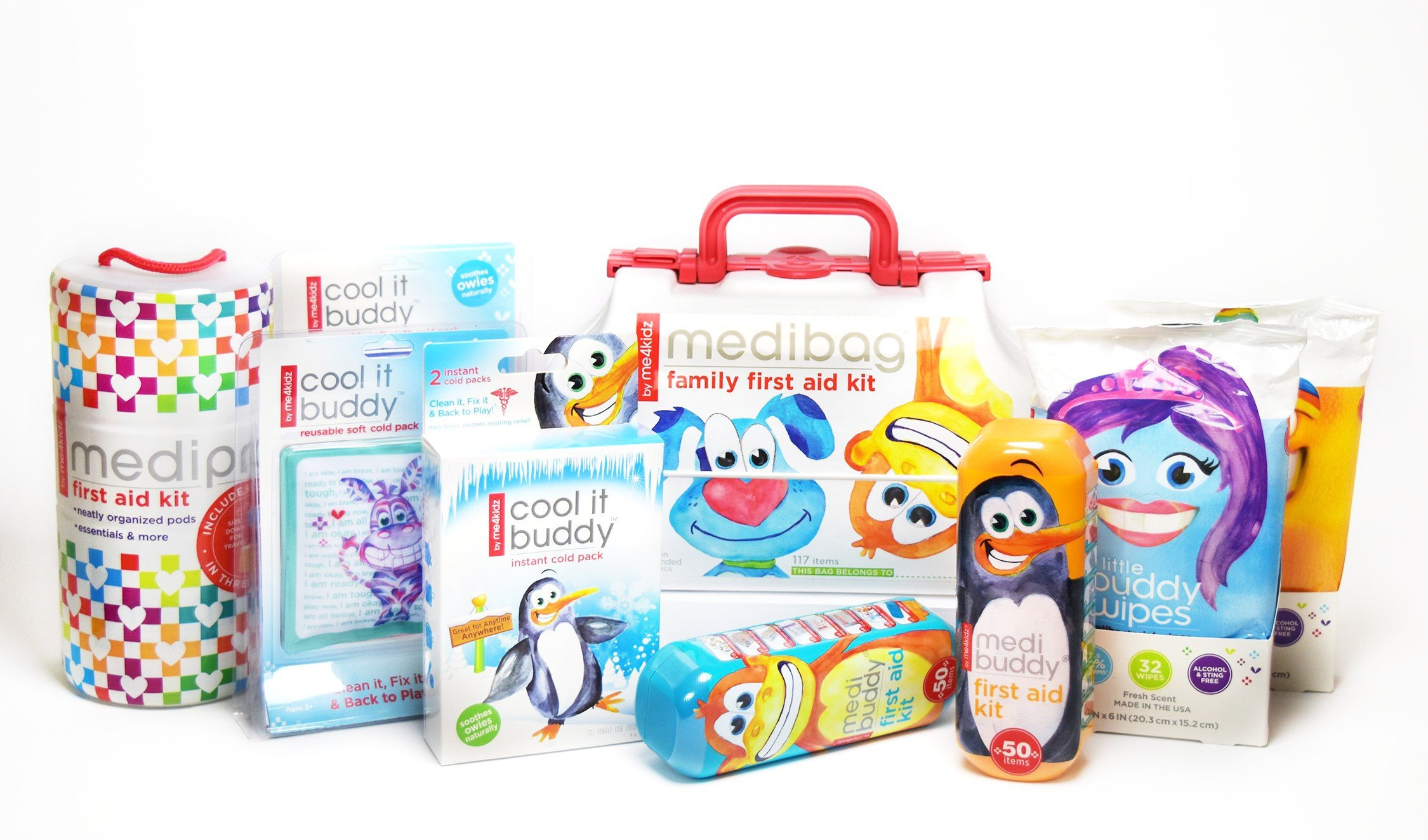 The key to your medical supplies is to make sure it meets the needs of your family.  But many prepares find it hard to start and to be honest it's not that hard when you have the right kit on hand. This is where the  First Aid Starter Pack will come into place!
The First Aid Starter Pack is complete with everything and it's very affordable!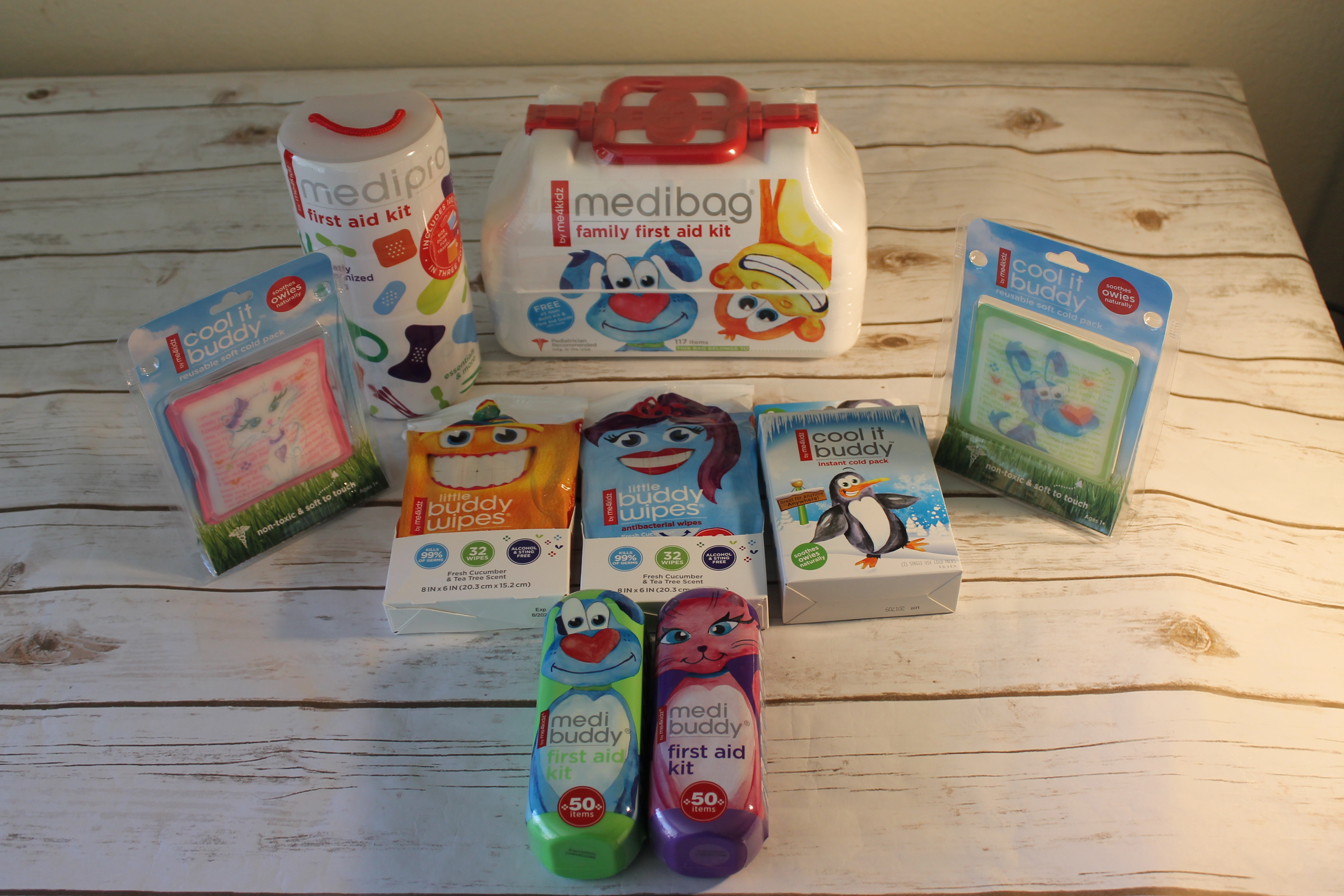 The First Aid Starter Pack is portable and ready to address any minor injury booboos! Inside you will find these items:
(1) Medibag family first aid kit
(1) Medipro first aid pod
(2) Cool it buddy reusable ice packs
(1) 2pk Cool it buddy instant ice packs
(2) Little Buddy Wipes
(2) Medibuddy first aid kits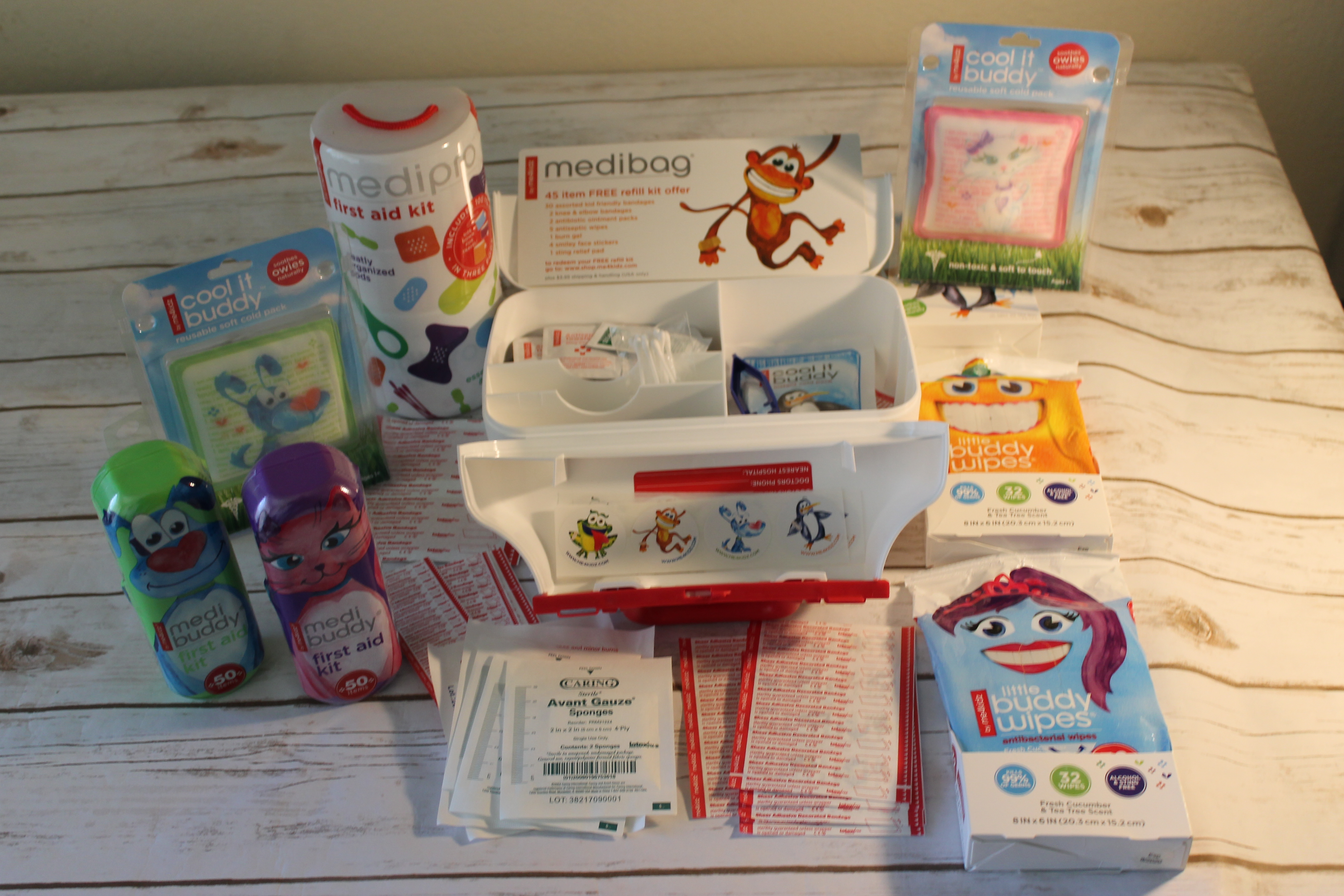 Inside the Medibag we saw many size bandages, gauzes sponges, sting free antiseptic, plastic tweezers, cotton applicator swabs, instant ice packs, kid cute friendly stickers, emergency family information card, refill card and of course the cute doctor bag. The Medibag contains 117 items actually and the entire First Aid Starter Pack retails for $44.99
You will also receive a small travel Medipro First Aid Kit Pod.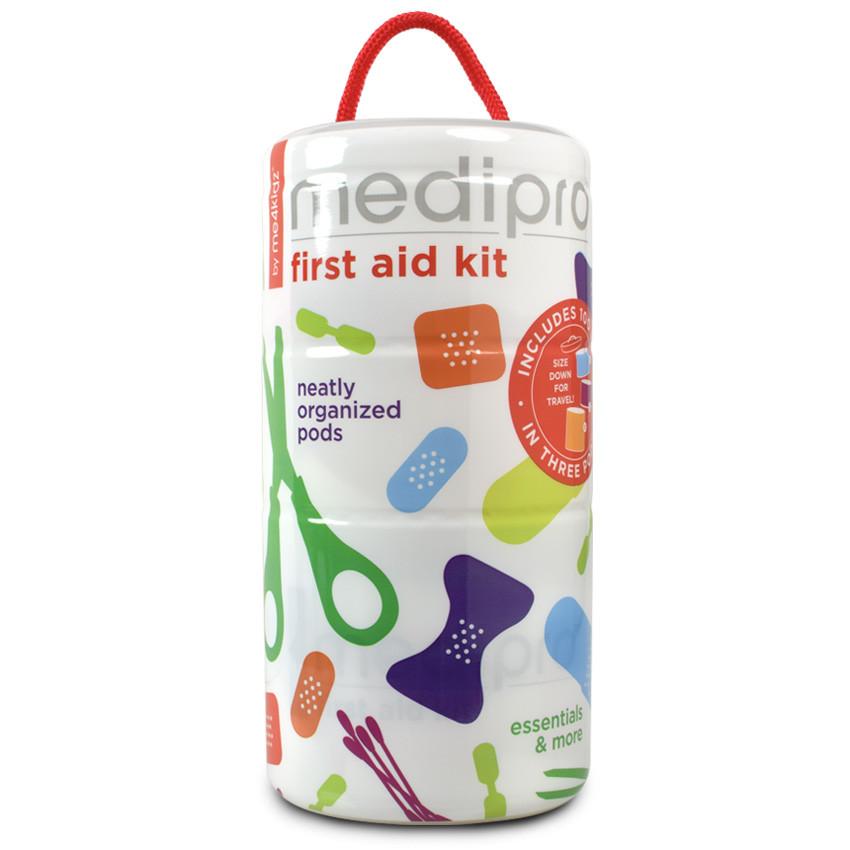 This medipro First Aid Kit Pod has all the medical essentials you need and would be great to add to your car, so you'll always have medical accessories on hand. Everything inside is neatly organized so you can grab just what you need and close back up. Due to the size storing this pod would be just as easy as closing and placing in your car, under the bathroom sink, packed in a backpack/diaper bag, in your kitchen cabinet or even in your bedroom or purse if it's a nice size handbag! The pod retails for $10.99
The pod is available in 3 different designs and each one includes:
Each Pod includes:
(10) kid-friendly bandages
(10) 3″ designer bandages
(10) 3″ sheer bandages
(20) 1 1/2″ junior bandages
(2) knee & elbow bandages
(2) butterfly bandages
(2) antibiotic ointments
(1) sting free relief pad
(1) burn relief gel
(8) 2″ X 2″ gauze pads
(1) rolled gauze
(10) 3″ cotton tipped applicators
(1) splinter remover
(1) instant cold pack
(15) sting free antiseptic wipes
(1) tweezers
(2) exam gloves
(1) tri pod case
I love the motto me4kidz have, parents can Clean it, Fix it, & Back to Play the kids go! I really love this kit and I'm so glad this company created it to be child friendly! You know sometimes children can become overwhelmed when they injure themselves but, knowing there is a kid friendly kit that can address their needs in a way that will make them feel comfortable, is Awesome! So, don't let those summer booboo's take you or your kids over, be prepared get your medical Fist Aid Starter kit today!
You can see the  First Aid Starter Pack here and while you're visiting take a moment to check out their line of other products.
Remember to connect with me4kidz via Facebook | Twitter | Instagram|
Disclosure: I was not compensated for this post. However, I did receive a product from the company and the opinions expressed in this post are 100% my own. I am disclosing this in accordance with the FTC guidelines.