Celebrate International Learn to Swim Day on Saturday, May 18th @SwimWays
The moment warm weather hits you better believe my kids are ready to hit the pool. Last year we invested in a new pool and we must have spent at least half the summer in our pool. But before we even opened the pool the kids had to have a refreshing course about the importance of water safety and pool time from my brother who is a licensed swim instructor on the side.
Learning about water safety was a must, more like a top priority for us all. You see, I don't want them to ever fear the water but learn to love it and feel comfortable while enjoying it.
International Learn to Swim Day is the perfect opportunity to raise awareness about the importance of teaching children to swim. With summer right around the corner, learning this invaluable life skill is even more essential for safety. According to the Centers for Disease Control and Prevention, drowning is the leading cause of unintentional death for children ages one to four, and the second-leading cause for children under 14. If we work together to promote learning to swim, we can improve this scary statistic and make water wonderful for everyone!
This year to help celebrate this important day, Swimways has joined up with the heroic pups from the hit animated series, PAW Patrol! Now your children can enjoy these new PAW Patrol inspired products that will not only allow them to have fun in the water but will also help encourage kids during the learn-to-swim process.
Check out SwimWays PAW Patrol line of awesome swim products to encourage your kids to learn to swim
SwimWays PAW Patrol Paddlin' Pups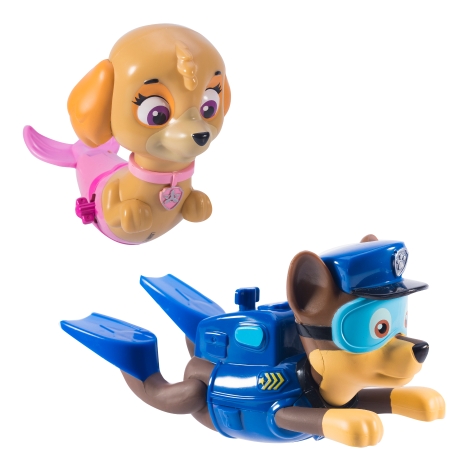 SwimWays PAW Patrol Paddlin' Pups are adorable character pool toys that move through the water all on their own.
To make the pup swim, simply twist the winder on the side of the character and watch it go.
They are great for encouraging kids during the learn-to-swim process and fun for the bathtub too.
Batteries are not required.
Featuring two styles, sold individually: Chase and Skye
Recommended Age: 4+
MSRP: $7.99
Retailers: Target
PAW Patrol Swim Trainer Life Jacket 3D Chase & Skye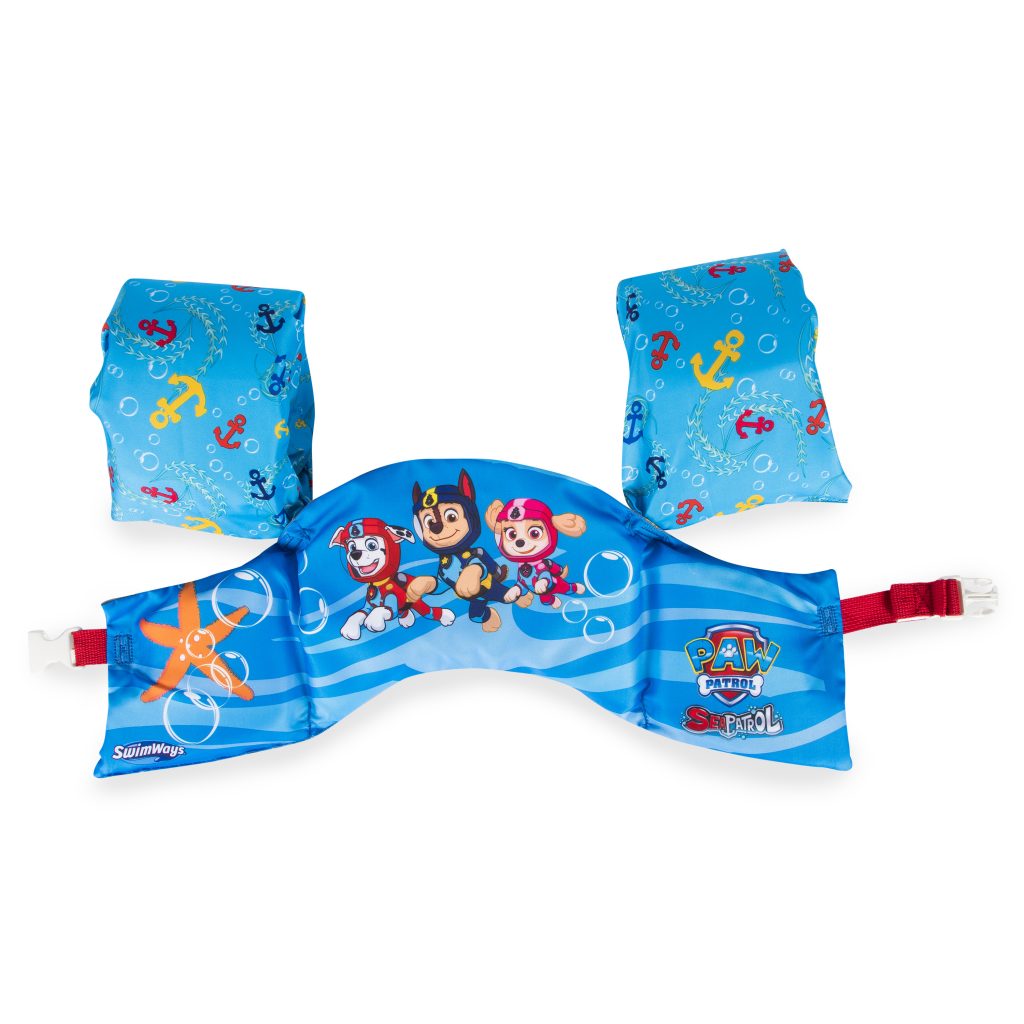 The PAW Patrol Swim Trainer Life Jacket from SwimWays is a U.S. Coast Guard-approved personal flotation device for kids.
Permanent flotation in the arms and chest provides greater mobility and the out-of-reach adjustable back buckle is convenient for parents and more secure for kids.
It features soft fabric and fun PAW Patrol character graphics kids love to wear.
Fits most children weighing 30-50 pounds.
MSRP: $18.88
Retailers: Walmart
PAW Patrol Kickboard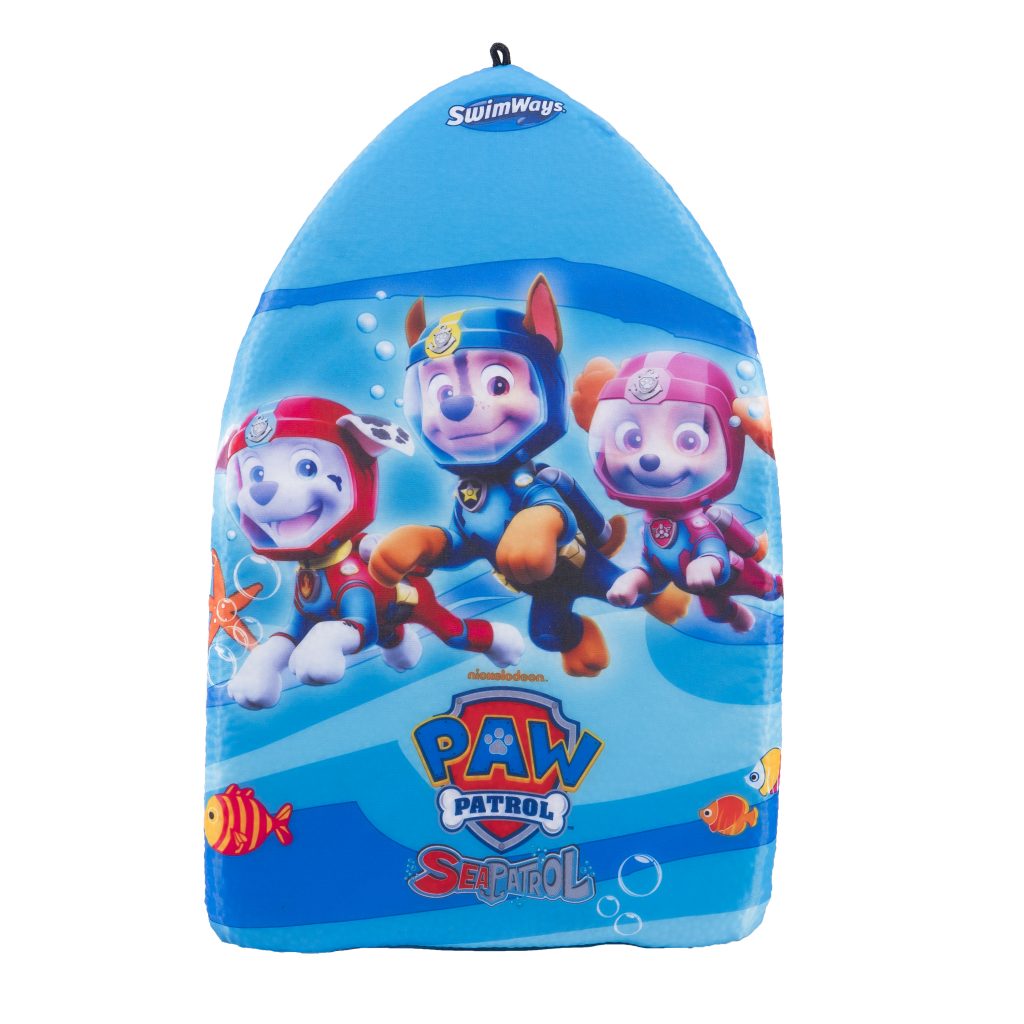 Kids will love to race around the pool with this PAW Patrol kickboard featuring their favorite PAW Patrol characters.
This kickboard for kids is made of sturdy, buoyant foam and features vivid, high-intensity PAW Patrol graphics on the entire top surface of the board.
Great for everyday fun at the pool and for use during swim training practice to help encourage new swimmers.
Features rigid fiber-clad construction.
Recommended Age: 5+
MSRP: $4.97
Retailers: Walmart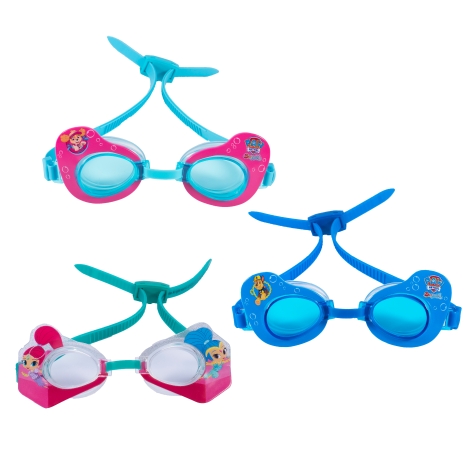 PAW Patrol Swim Goggles from SwimWays are comfortable swim goggles for kids with adorable Chase and Skye accents!
These children's swimming goggles feature soft construction, a water-tight seal and an adjustable head strap.
 Little ones will love to wear these PAW Patrol themed goggles to the pool and swim class!
Featuring two styles, sold individually: Chase and Skye
Recommended Age: 3+
MSRP: $4.99
Retailers: Target
How do you and your family plan on celebrating International Learn to Swim Day? Do your children like Paw Patrol? What do you think of the Paw Patrol Swim Trainers?
To learn more about International Learn to Swim Day visit SwimWays website here
Connect with SwimWays via  website and forget to connect with them via Facebook | Twitter | Pinterest| to keep up with the latest.
Disclosure: Howdy everyone, I just wanted to inform you that I was not compensated for this post. However, I did receive a product from the company below and the opinions expressed in this post are 100% my own. I am disclosing this in accordance with the FTC guidelines. All prize fulfillment will be provided by Sponsors.