Belli Anti-Blemish Basics Kits Help Manage Breakouts
Howdy everyone, I just wanted to inform you that I was not compensated for this post. However, I did receive a product from the company below and the opinions expressed in this post are 100% my own. I am disclosing this in accordance with the FTC guidelines.
Blemishes always seem to come at the most inconvenient times.  Whether you are pregnant, a teen, or just an adult that suffers from acne it is never fun.  Belli Anti-Blemish has a basic kit just for these type of problems.
You can Expect Beautiful Skin
Belli Anti-Blemish Basics provides 2 powerful blemish-fighting products, Anti-Blemish Facial Wash and Acne Control Spot Treatment and offers a $9.50 savings.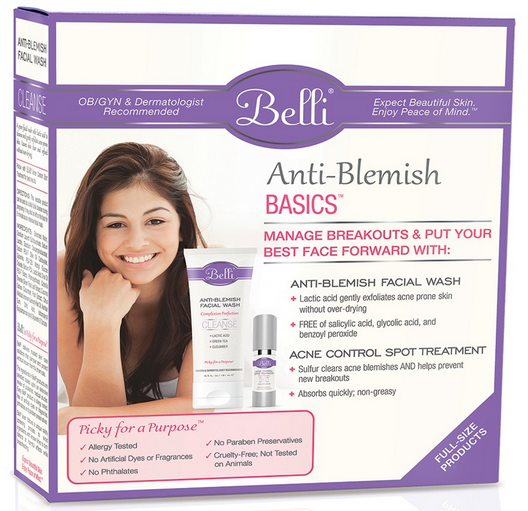 Anti-Blemish Facial Wash uses lactic acid (which is found naturally in the body) to gently and effectively cleanse and exfoliate acne prone skin. Acne Control Spot Treatment uses colloidal sulfur to clear acne blemishes and help prevent new breakouts.  This is a plus because who wants to no sooner get their blemishes under control to have them come back.
These two products are FREE OF salicylic acid, glycolic acid, and benzoyl peroxide-common acne fighting ingredients that can result in over-drying and irritation.  These are ingredients that should be avoided during pregnancy.
This awesome pair is a favorite of those struggling with pregnancy acne, adult acne,  teenage acne, sensitive skin, or breakouts from any cause including hormonal changes.
You can Enjoy Peace of Mind
Allergy Tested. Paraben Free. No Artificial Dyes or Fragrances. Teratology Screened. LactMed Screened. OB/GYN & Dermatologist Recommended which is another great advantage.
For best results maintaining a healthy glow during pregnancy and beyond, they also suggest: