Backyard Bliss: 8 Cool Backyard Ideas That Achieve the Wow Factor
Wondering how to spruce up your yard? And how you can do it without breaking the bank? Discover 8 cool backyard ideas to punch up your yard now.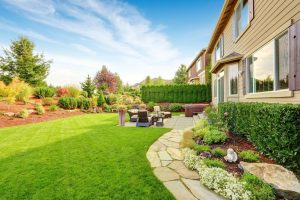 Are you part of the 25% of Americans who spend the majority of their day inside, never enjoying fresh air or the beauty of nature? No need to go outside when everything you need is at your fingertips.
Spending the day indoors because you work inside is one thing. What about people who don't even venture into their own backyard? Sometimes backyards are as bare and boring as sparsely decked out office cubicles.
If that strikes a chord in your soul, maybe your yard needs a little sprucing up.
The good news? You can create a fabulous backyard without breaking the bank. Try a few of these cool backyard ideas. Your spirit will love it and your neighbors will thank you.
Your Own Private Paradise
If you're looking for more shade, build a gazebo, but if you're dreaming of an outdoor paradise, put up a pergola.
Gazebos are miniature houses with a floor, maybe walls, and a rooftop. If you choose a pergola, you can attach it to your house or build it as a freestanding structure. While they do have a roof, it's open and usually constructed of beams and rafters. With the right outdoor kitchen appliances you can have a great party with friends or family outside in the gorgeous sun and brisk air.
Easy to build and more budget-friendly than a gazebo, you can personalize a pergola to fit your space and your personality.
Tuck a pergola away in the far reaches of your backyard. Fill it with flea-market-find furniture, hanging lights, and lush potted plant. Attach curtains for extra privacy and shade.
Be prepared for neighbors looking over the fence so they can admire the new addition.
Get Moody with Backyard Lighting
The perfect lighting sets the mood in your outdoor living space.
Even if you're on a tight budget, you can create ambiance with decorative lanterns, DIY luminaries, or LED candle lights. Drape a tree with white twinkle lights or hang stringers of clear bulb lights. Fairy lights in bottles or mason jars add a little magic.
A dark landscape in your backyard makes the space uninviting. This landscape lighting company suggests subtle spotlights and pathway lights to create a warm and welcoming mood.
Adding outdoor lighting doesn't only add to the mood of your backyard, it also acts as a security feature.
Backyard Furniture Revival
You can spend a fortune on backyard furniture—if you buy everything new.
Why not recycle what you already have in the shed or garage? Gather the rusty wrought iron tables and chairs. Sand the rust and revitalize with two coats of white paint.
Those old metal patio chairs from your grandparent's era? Scrape with a wire brush, sand off the rust, and spray paint with a bright, fresh color.
If you need extra seating for guests, spray paint metal folding chairs in bright colors. You can stow away in the garden shed after the party.
For amazing bargains on used backyard furniture and garden treasures, shop garage sales. Also, check the "Free Stuff" section on Craigslist and other online sights where people list used items.
Enjoy the Glow of Firelight
Whether you create a backyard camping experience with the kids or want a romantic place to unwind after a busy week, plan a DYI firepit before the summer ends.
You have a variety of affordable options for a firepit including:
Rocks left over from another project.
Natural stones from the woods on your property.
A fire ring with a dirt floor (use stones or bricks).
You can also use concrete retaining wall blocks or make your own concrete fire bowl. Most of these DYI fire pits don't cost more than $50-60. You'll have plenty left in your budget for skewers, marshmallows, and maybe a bottle of bubbly.
Unleash the Artist Within
You may not have your work in a gallery, but you can still use your artistic side and spruce up your backyard.
Use an antique headboard, trim it down, and use it as a gate between the front and backyard. Liven things up even more and paint the headboard in your favorite color.
If you have a wooden shed, paint a whimsical scene on it. Fairies, fields of sunflowers, and ponds all make a statement and you can add flowers, plants, or tall grasses that complement your work.
Maybe you enjoy creating mosaics. Use tiles and pebbles to create eye-catching stepping stones, cover planters, or create a birdbath.
Using your own artistic style lets you express your unique talent and personality and doesn't have to break your budget.
Add a Pop of Color
There's nothing quite like flowers to add a punch to your backyard. You can buy several flats of petunias and fill the flower beds on a Saturday. By mid-summer, those petunias will spread out in a blanket of color.
Marigolds. Petunias. Begonias. Add splashes of colorful flowers in pots on your patio or along a fence. Break up a monotonous area of green grass and plant a flowering ground cover like alyssum or sedum.
Maximize your budget and plant perennials. Hostas, iris, and lilies all come back every year. If you plant hostas strategically and have several varieties, you'll have flowers all summer.
With fall just around the corner, add pops of gold, maroon, and purple mums in pots.
Watch for end-of-summer tent sales at your local home and garden center. You'll enjoy significant savings on planters, pots, and garden décor for next spring.
Go Vertical
If you don't have a ton of space in your backyard you can still add a beautiful garden.
Instead of crowding plants into a small area, go vertical. Vertical gardens aren't only great for tight spaces and budgets, they add a touch of pretty to your yard.
One popular way people add vertical gardens is by using old wooden ladders.
Paint a step ladder bright yellow or blue and use it as a trellis for climbers like clematis or squash. Nail a ladder on your fence, add hangers made from old spoons, and suspend small containers of colorful flowers.
You can also use an old wooden step ladder as a garden focal point. Instead of using it for growing plants, decorate it with jars of cut flowers, small garden statues and LED candles or solar lights.
Leave that Stump Alone
Why pay for a tree service to remove ugly tree stumps when you can repurpose them?
Instead of cutting a stump down to the ground, use it as a pedestal to hold a big terracotta or ceramic planter. Fill with seasonal flowers and grasses.
Anchor a round tabletop to your stump and voilà, you have backyard dining. Surround the tree table with a few of your freshly painted chairs and add pillows in vibrant colors and patterns.
You can also turn a tree stump into a chair. Just attach a waterproof cushion and you have the perfect outdoor reading spot.
Or, make it fun and paint a checkboard on the stump.
Ready to Try Our Cool Backyard Ideas?
If you're inspired by visions of a cozy hideaway or planters full of colorful flowers, why not get started now?
Focus on one main element you can invest in today like a fire pit, backyard lighting, or one large piece of backyard art. Then in the spring, you can try a few more of the cool backyard ideas we've shared. Think about spending a little more on your focal piece and then finish with several affordable accent pieces.
Did you enjoy this post? Check out more cool articles on home and gardening in our archives.