Atmosfx Digital Decorating Kit Helps You Take Decorating To The Next Level
"D-Did a ghost just cross my doorway?!"
"Oh wow! Those balloons weren't real? No way!"
"Ah! The undead are knocking at my window!"
"Thanks for the indoor fireworks, Honey. They make being sick on the 4th of July better."
What do these phrases have in common? Any takers? No? Silly, it's the Atmosfx Digital Decorating Kit! The ingenious AtmosFX team focus on taking celebrations to the next level with their visual effects.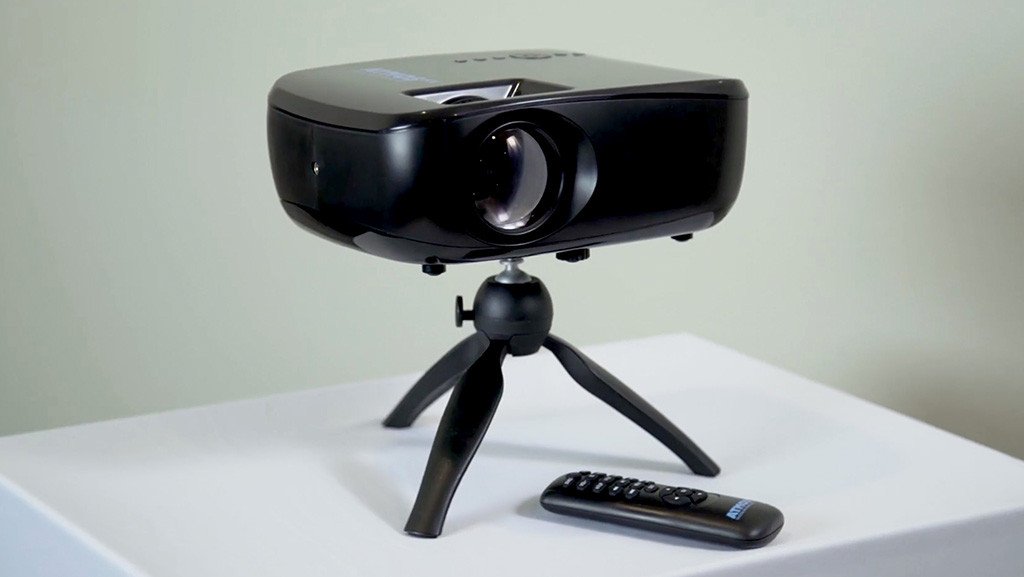 The Atmosfx Digital Decorating Kit is designed to project numerous visual effects with sound in order to change how people decorate their homes.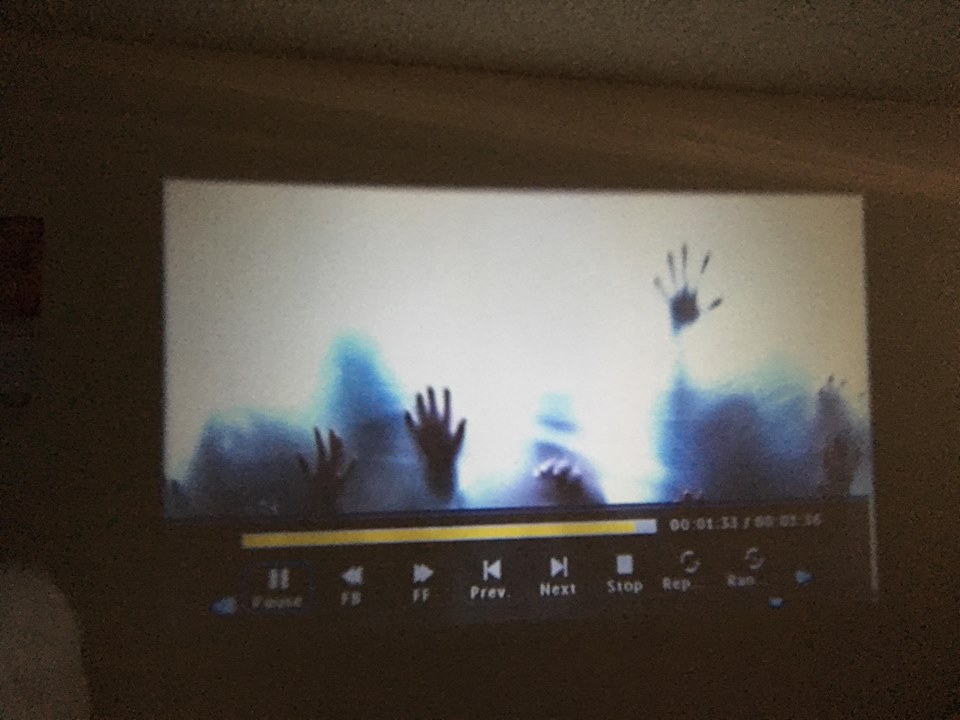 In events such as birthdays, themed shindigs, holidays, and other festivities can now have a variety of innovative, amusement park–quality decorations. Not only does the Atmosfx Digital Decorating Kit project on solid surfaces such as walls, ceilings, and floors, but the images can be seen on any window, TV or monitor, and thin air! I kid you not!
Here you will see how we projected a few scenes right off my daughter bedroom wall. It was sooo cool and the special effects of the sounds made it even better. The kids were so excited and they can't wait to have a party to display their Atmosfx Digital Decorating Kit to their friends.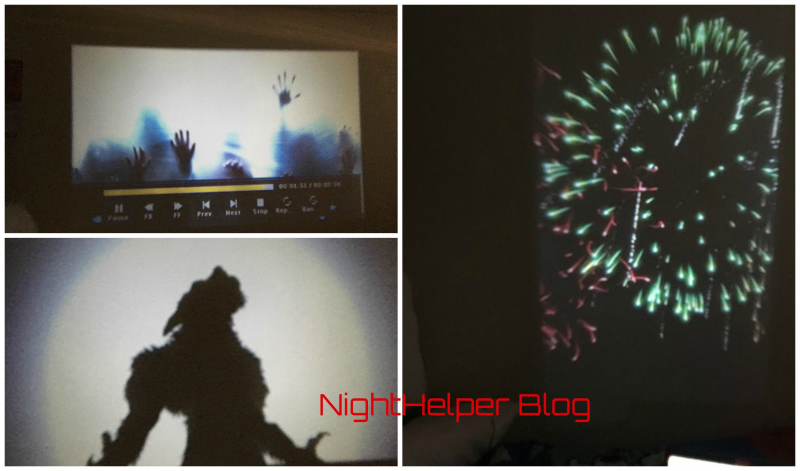 The Atmosfx Digital Decorating Kit comes with the following items.
Projector
Professional mounting tripod
UL power adapter
Digital Decorations SD Card with 14 pre-loaded scenes
Remote control (2 AAA batteries not included)
Standard Window Projection Material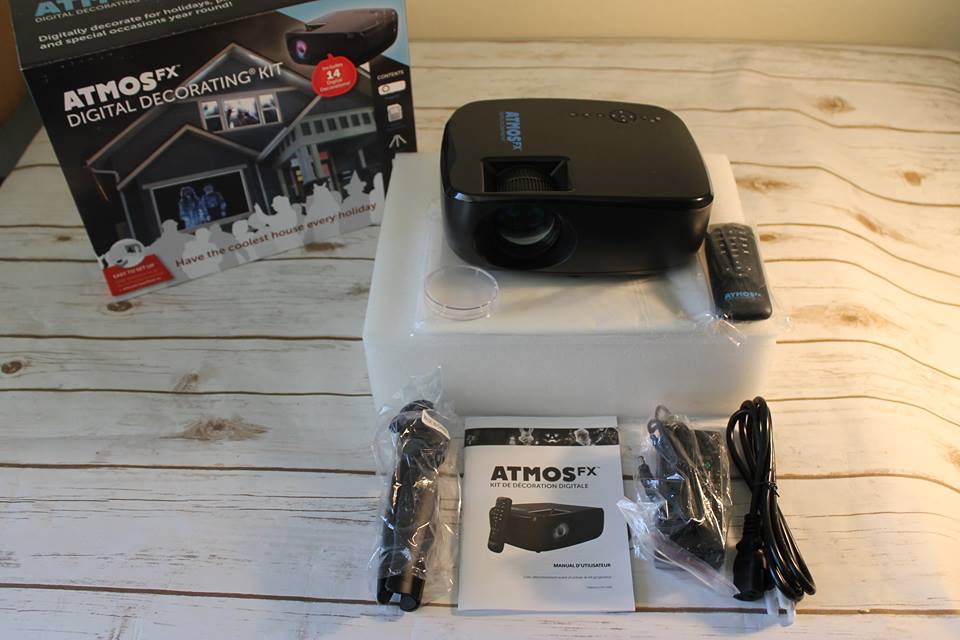 In more detail on the Tech
Display Technology: 4" Single LCD Panel Display
Color: 16.8 million, 24-bit RGB
Brightness: 300 ANSI LM (1800 market lumens)
Lamp: LED 24W
Contrast Ratio: 2000:1
Native Resolution: 384,000 Pixels (800 x 480)
Lamp life: 30,000 hours
Projection Distance: 3 feet to 20 feet (or .9 meters to 6 meters)
Projection Size (diagonal): 40" to 180"
Throw Ratio: 1.37:1
Aspect Ratio: 4:3 / 16:9
Keystone Correction: + or – 15 degrees
Power Supply: 100-240 V
Power Consumption:  60 W
Input: USB/SD/HDMI/Composite
Audio Output: 3.5mm or built-in speakers
Projection Material:  4' x 6' — 86.5" diagonal
The Atmosfx Digital Decorating Kit is loaded with the following decorations on the given SD card.
Halloween Scenes:
Seasonal Scenes: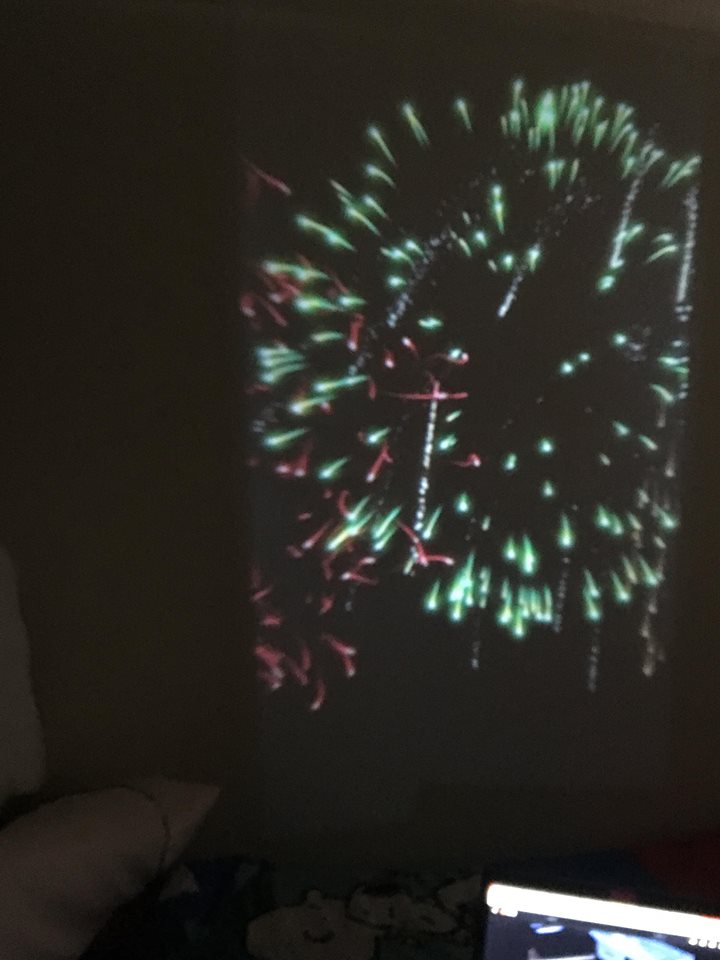 Have something personalized that you wish to use? Then go ahead and upload your digital decorations to the SD card slot. Within the card is a simple explanation video as well to help the customer become familiar with Atmosfx.
Following that video, the buyer can also visit the Seattle-based studio's website where a detailed description of their history and products can be found. While you are there why not check their additional AtmosFX scenes? From scares to get your blood pumping to an adorable Christmas scene the kiddies are sure to enjoy. The AtmosFX has produced a variety of digital decorations for all ages to enjoy for multiple occasions.
Therefore, why not become the coolest house on your block with the Atmosfx Digital Decorating Kit? Have your friends and foes bask in the mastery that is your next-level decorations this holiday! I know that I will this year for sure. I was truly impressed by this company and the heart behind it. I look forward to seeing what else they create.
You can connect with Atmosfx  via Facebook | Twitter | Pinterest | Instagram
Disclosure: Howdy everyone, I just wanted to inform you that I was not compensated for this post. However, I did receive a product from the company below and the opinions expressed in this post are 100% my own. I am disclosing this in accordance with the FTC guidelines. All prize fulfillment will be provided by Sponsors.