2020 Valentines Day Gift Guide #giftsideas #giftforhim #giftsforkids #giftsforher
Disclosure: Night Helper Blog did receive sample products from the companies to showcase in our Valentine's Day Gift Guide. We're disclosing this in accordance with the FTC guidelines.
Before long Valentine's Day will be upon us. If you haven't figured out what to give your sweetheart or little sweetie, then look no further! Sit back and check out these lovely gift ideas, and we will share information about each product. We'll even directly link each brands' website.
So let's begin this gift guide with a gift for the adults. It's the perfect gift for both you and your sweetheart. It's wine from Wine Insiders Martha's Stewarts Collection! Imagine sitting back after a long day enjoying a glass of great tasting wine from Martha's Entertaining Must-Haves Half-Case, which includes a mix of six food-friendly wines from Spain, Italy, the U.S., and France.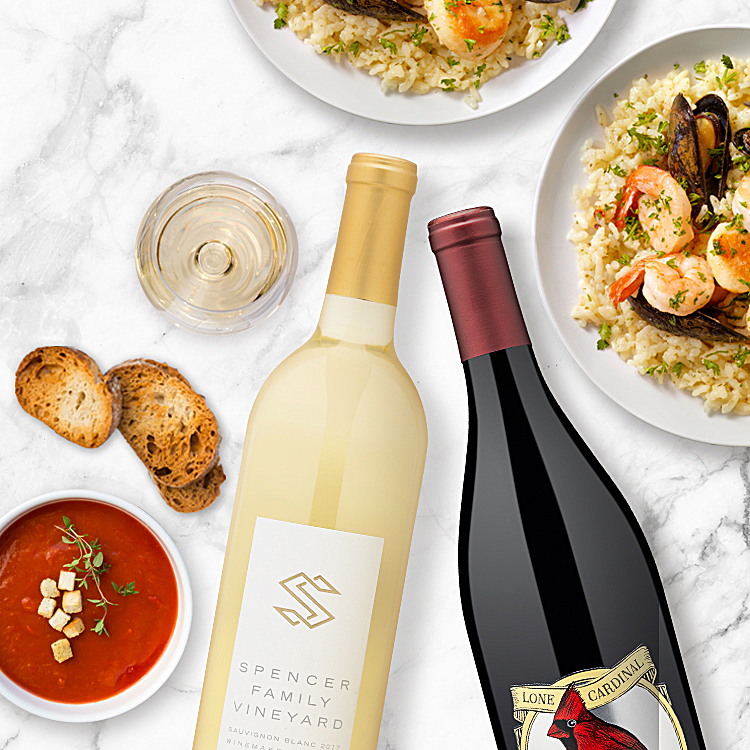 Martha Stewart believes that for every meal there is a perfect wine to pair it with. Impress guests at your next dinner party by serving these food-friendly wines, including beloved Pinot Noir, crowd-pleasing Cava, and more delicious selections to compliment every course.
The wine case includes 6 bottles in this collection:1x Marqués de Plata Cava
They are available in 11 flavors like:
Lemon
Rasberry
Cookies 'n Cream
Scarlett (Red Velvet)
Chocolate Chip and other flavors.
This original moisture-wicking hair towel is the perfect hair care product for your valentine to pamper themselves for a night in.
It comes in tons of fun prints, keeps your hair out of your face, and will cut drying time in half making your locks look and feel better than ever.
A twist on the traditional towel. Turbie Twist towels are a lightweight alternative to the bulky bath towels we often use to dry our hair. A convenient elastic loop keeps the towel in place for secure, high-absorbent hair drying after the pool, beach, or shower
Grab that special photo and surprise your sweetheart with the Precious Moment Motorcycle near Billboard Light Up Resin Picture Frame.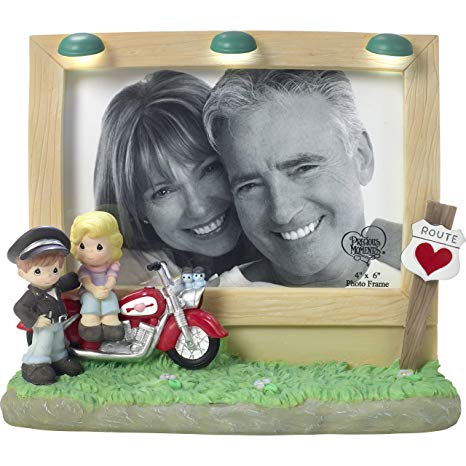 Precious Moments Picture Frame features their adorable motorcycle couple decked out in retro flair, this cleverly designed billboard photo frame showcases your favorite 4˝ x 6˝ photo of your favorite couple with romantic spotlights.
Pair it with our limited edition sculpture, (you're my road to happiness  for a truly memorable way to celebrate your journey through life together.
Perfect for any holiday like anniversaries, weddings, bridal showers, sweetest day, or just a precious gift to share with that special person. Meticulously sculpted in cold-cast resin and expertly hand painted. 3 button cell batteries included and is approximately 5.5H x 7.5W x 3.D inches. Visit their website to learn more about this cute frame.
Here's another wonderful gift but this one is for the gentlemen in your life. This beautiful set of TrendHim Divided Black Modern Set will make a great gift this Valentine's Day.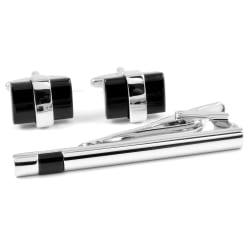 This elegant set comes with two Black Bar & Silver Cufflinks, and a Simple Black Stone Tie Clip. No matter if he is headed out for the night or dressing up for work this nice set will truly accent his wardrobe.
The set will arrive to your home in one of TrendHim signature cufflink boxes. The cufflinks feature a rectangular black slab with a simple silver frame holding it in place. The tie clip comes in that same silver tone, with a coordinating black detail on one end. Perfect for semi-wide and wide ties.
Instruments and sounds are explored, along with places and events in history that inspired the evolution of music. Kids will also get a sense of music theory, instrumentation, and the artistry of distinctive musical styles. Song recommendations help readers open their ears to what they've learned. Add to that amazing images, a rockin' glossary of musical terms, and a timeline that plots each genre on its path from ancient history to today, and this book is bound to top the charts!
Disclosure: Night Helper Blog did receive sample products from the companies to showcase in our Valentine's Day Gift Guide. We're disclosing this in accordance with the FTC guidelines.