Upgrade Your Parenting Game with Momcozy's Video Baby Monitor
Parenting can be a wonderful, but often stressful and daunting task, and with prohibitive childcare costs, a stagnating economy, and the largest share of single-parent households in the world, raising a child in the United States can be a challenge. Maintaining a safe and nurturing environment at home for your child while giving yourself the time to tackle other chores or just relax can be a tough balancing act.
Momcozy video baby monitor | Source: Momcozy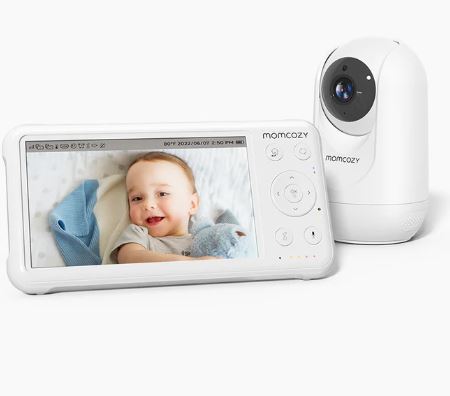 Recent research indicates that baby monitor ownership has risen alongside growing job demands amongst parents and the impacts of the Covid pandemic. With a baby monitor, parents can keep an eye on their little ones from a distance while they sleep, play, or do daily activities, while also providing parents with peace of mind and the ability to quickly respond to any emergency situation. Baby monitors provide an extra layer of protection and enable parents to be more mindful and engaged in their child's well-being.
Momcozy's Video Baby Monitor is the latest parenting tool that gives you peace of mind that your baby is safe and secure, while providing the convenience to check in on your little one without being in the same room. Available on both Momcozy's website and Amazon, the monitor makes it easy to keep an eye or ear on your little ones with its high-quality picture and audio capabilities.
The monitor features a 1080 full HD camera with night vision mode, and 5″ display with up to 4x zoom capability, making it easy to tell what your kids are doing. With the camera's 360 panoramic view, you can monitor your children's activities from anywhere in the home. The monitor also features a 2-way communication feature that allows you to hear your kids breathing when they sleep, making it a great choice for any parent who wants to keep an eye or ear on their little one.
Momcozy's Video Baby Monitor also features a hack-proof non-wifi system with 960 feet of range, so you can monitor your little one from anywhere in the home while ensuring your feed remains secure from the outside world. Besides that, the monitor features a 5000mAh rechargeable battery that lasts 11.5 hours with the display and voice on, and 22 hours with both off, so you can monitor your baby through the night without worrying about continuously plugging into a wall.
The monitor also has a kickstand for convenient viewing, and straightforward setup and use. With its host of advanced features, convenience and value, Momcozy's Video Baby Monitor empowers parents to parent smarter, not harder.
In conclusion, whether you're multitasking around the house or just need a breather, Momcozy's Video Baby Monitor is a great choice for any parent who wants to keep an eye or ear on their little one. With Momcozy helping shoulder the load, parents can take on the new year of parenting with confidence. As the #1 selling wearable breast pump brand in North America, Momcozy hopes to accompany parents through every step of their journey, from pregnancy to newborn childcare, offering products that better meet their needs to make parenting easier and more comfortable. With the introduction of its video baby monitor, Momcozy further expands its expertise and care, setting the resolution to parent smarter, not harder in the new year.