It's A New Year For Fitness Goals, Let Sharper Image Products Help You!
Kicking off your fitness goals can sometimes be a challenge for some folks.  There are many ways you can take your fitness goals to the next level.
Whether you want to build muscle, burn fat, complete a marathon, or simply become healthier, you probably already know that the first step is to set some goals.
If you're not sure where to start here are 5 tips that can help you get started. Plus, we will share two Sharper Image products that can also help you with your fitness goals.
Drink plenty of water
Cardiovascular is always a good /healthy workout
Stretch has often as you can
Eat plenty of veggies
Shoot for 5-10,000 steps a day
More importantly set realistic goals for yourself not for anyone else. This is your journey not anyone else's fitness journey.
Now Sharper Image has some really cool products that can assist you in your fitness journey so, let's get to mentioning them now. These fantastic products can assist in providing some alleviation for your body pains after a long day of working out!
Here we have the new Ice Therapy Massage Ball from Sharper Image.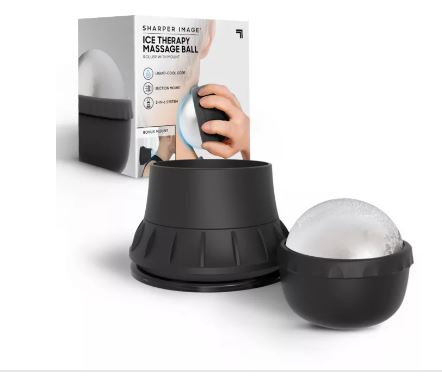 A flexible method for easing muscle aches is the Sharper Image Cold Therapy Massage Ball. The ball-shaped design has a wall mount for hands-free operation and offers trigger point therapy with a chilly sensation when put in the freezer.
Massage ball designed for trigger point therapy
Helps alleviate muscle tension, loosen muscles, increase blood flow, and work out knots
Massage ball can be placed in freezer to provide cooling relief
Place inside wall mount with a suction cup base for hard-to-reach areas
Durable plastic casing
Includes:
1 massage ball
1 wall mount
Measures 4.41″ diameter x 4.53″ H
Weighs 4.53 lb.
It is available at Bed Bath and Beyond, Walmart, Costco for a MSRP of $39.99
Next, we have the Sharper Image Compression Wrap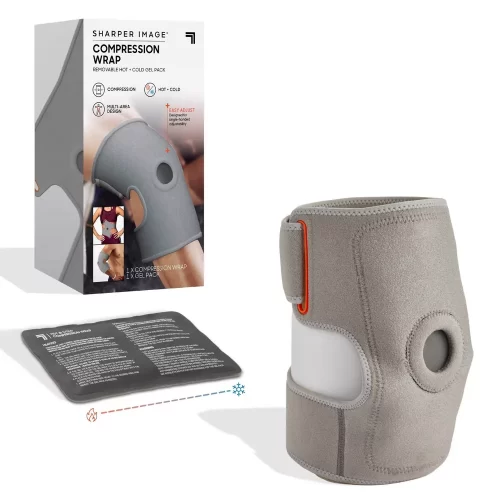 A gel insert in the Sharper Image Compression Wrap can be removed, warmed in the microwave for comforting heat, or frozen in the freezer for pain relief and swelling reduction. The wrap is made to be applied to various body parts. With its special straps, you can use it on your elbows, knees, back, and a variety of other body parts. Your joints and muscles are covered in a stretchy cloth by the compression wrap, which also provides heat or cold relief.
Compression wrap to stimulate blood flow and reduce swelling
Gel insert can be microwaved or frozen for enhanced relief
Designed for use on knees, elbows, backs, and more
Easily tighten and fasten straps with single-handed adjustability
Unique design allows it to be used almost anywhere on the body
It is available at Target and Bed, Bath and Beyond for $29.99
Each one of these Sharper Image products will help your muscles recovery from a long hard fitness workout.
Set more manageable, confidence-boosting goals that are doable sooner within your overall fitness vision. Once you have your goals set remember to add these two Sharper Image products to help you with your joints and muscles.
You can grab your own personal Sharper Image Products from Target | Bed, Bath and Beyond |Walmart and Costco
Disclosure: I was not compensated for this post. However, I did receive a product from the company, and I am disclosing this in accordance with the FTC guidelines.