Truffol Luxury Aluminum Leather iPhone 5 Case that protect your phone!
I was compensated for this post for review from Truffol, however all opinions expressed in this post are 100% my own.
Everyone knows that keeping any cell phone protected is a must. I have damaged so many of my cell phones that my poor husband swears that he will not purchase me another if I do not keep mine protected.
So this time when Truffol reached out to me to allow me to review one of their Truffol Luxury Aluminum/Leather iPhone Cases retail value ($75) I was happy.
The Truffol Luxury Aluminum/Leather iPhone Case arrived in two separate boxes.
For a minute I thought they had sent me two cases. You can see that the company took great thought in providing their customers with a well designed luxury box to house your iPhone 5 case.
They sent me the Truffol Luxury Aluminum Leather iPhone 5 blue case. It is very nice, sturdy and made with machine-milled aluminum, Italian leather, and meticulous craftsmanship, the Truffol signature Case for the iPhone 5 is very impressive.
The case was very easy to install, the whole process only took a few minutes to get the iPhone 5 nestled in the frame.
Truffol's signature steel frame comes in brushed blue and silver.  It has a vibrate switch cover, you will find it nestled in foam in the packaging.You must make sure that your iPhone is locked in place completely or it will fall out.
I did notice the volume  and the sleep/wake buttons are covered by the case which makes it hard for you to use those buttons.
In that area there is a click button that allows you to click the volume/sleep/wake button, I found that button to be a little hard at times and I wasn't for sure if I had clicked the volume or not. But the Truffol Co. made sure you wouldn't have to worry about that. Inside the Truffol box is a separate mute button for your benefit. Actually there are a total of 3 buttons, two taped to your case already and 1 you have to install.
It serves as part of your case so you won't have to reach through the little cutout holes.
The main openings for my iPhone 5 appeared to be covered just a little. Each opening for all the required cables that are needed to charge phone or listen with ear phones  need to have a  little more space.I found myself adding just a little pressure when inserting my charger cord.
The leather blue backplate is very simple. Just 0.4mm thick and is not bulky at all when added to your iPhone. Each case represent man hours of great craftsmanship that made sure each case has a wrinkle free finish. The iPhone 5 case is smooth with a nice gloss finish.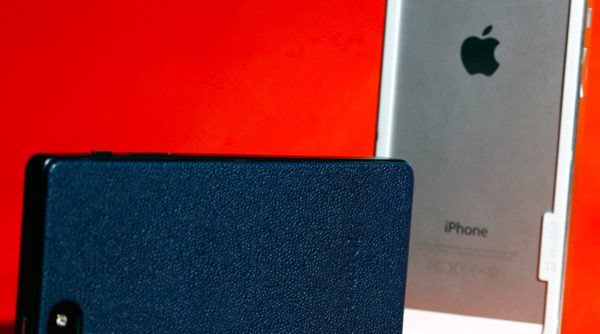 The frame has six plastic clips that help to secure the back and front plates, just slide them together to lock into place. Tuffol do however warn every user of their Truffol Luxury Aluminum Leather iPhone 5 case to be gentle with the plastic clips.
Well overall I really like the Truffol Luxury Aluminum Leather iPhone 5 case. I find it to be very sturdy, it will add that classy look to any iPhone 5, appears to protect my iPhone 5 from scratches and gives it more protection with the stainless steel frame. I think purchasing an Truffol iPhone 5 Case is a good investment for protecting your iPhone 5. Everyone knows iPhones 5's  are very expensive so making an investment that will give you the protection you need should be a must for us all.
Truffol Story:Truffol emerged from a rich background in the manufacturing of luxury timepieces. We have years of combined experience with sophisticated assembly processes and a wide array of precision technology. Through countless years of collaborations with luxury brands, we have mastered the art in creating fine luxury. With mobile devices rapidly becoming a new personal necessity, we seize this opportunity to extend our unique expertise into the field. We are committed to redefining luxury for the mobile accessory sector, one creation at a time.
I was compensated for this post for review from Truffol, however all opinions expressed in this post are 100% my own.