Tips To Plan A Wonderful Holiday In Hawaii
Planning a trip to Hawaii is definitely exciting. There are so many interesting options that are available and it is a certainty that you can have a wonderful time. This is why so many want to spend at least two weeks there. Not many destinations from around the world attract so many people. Tourism is huge in Hawaii so you can expect many interesting things. Hawaiian luxury travel is among the best in the entire world and you can definitely have a great adventure there. However, in order to do this, you need to plan as much as possible. With this in mind, here are some tips to help you have a better holiday in Hawaii.
Pick An Island
The very first thing you need to do is to choose where you want to go. Research as much as you can about the islands that you want to visit. Every single island has unique landscapes, experiences and flavor. A unique selling point exists for every single island. Learn about the islands so you can choose the one that is the best for you. The top options to consider are:
O'ahu – Where People Gather
O'ahu is Hawaii's classic island, where you find the North Shore, Pearl Harbor, Waikiki and Lanikai Beach, together with numerous great hikes. This island is seen as Hawaii's heart, offering many different hotels, sights and beaches. It is the really popular island and you can easily end up faced with countless people all around you. 85% of Hawaii's state population lives in O'ahu.
Maui is great when you do not want to spend a lot of time traveling from one location to the next. It is often seen as "honeymooner's island" so you can easily expect to see weddings during afternoons on a remote beach. In Maui there are many beautiful golf resorts, the Molokini Crater and incredible beach resorts.
This is what is referred to as the Big Island, it is twice as big as the other islands when put together. At the same time, this is where most of the volcanic activity happens. That is why you can find the Hawaii Volcanoes National Park, which is quite exquisite. This is an impressive island that features different climate zones. It has unique geology and can easily enjoy numerous landscapes from rolling pastures to black sand beaches.
In the past few years the popularity of Kaua'I grew. Many tourists now want to visit it and think it is the prettiest Hawaiian island. It has a true laidback vibe, with the main interest points being Na Pali Coast, Hanalei Bay and Waimea Canyon. It is also a cheap vacation spot when compared to the other islands, all while offering great activities like snorkeling, diving and beaches.
Visit More Hawaiian Islands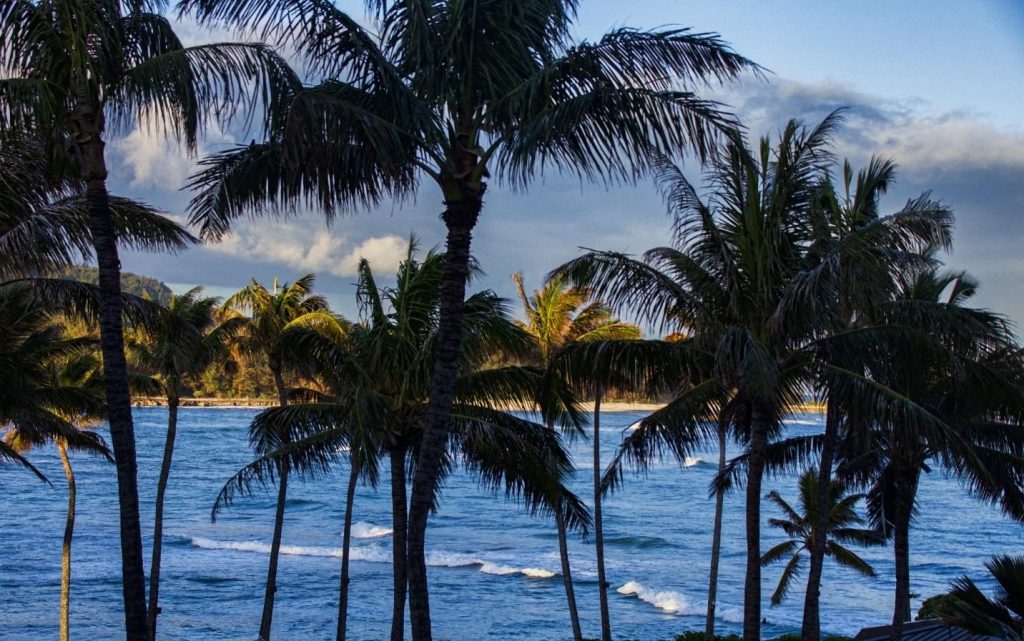 Instead of being focused on just a single island, you can always visit more islands. For this, you need more time. However, since there are no ferries that can be taken between these islands, you will need to fly. Prices are affordable but you can easily end up spending a lot of money if you frequently hop from an island to the next. This is why you need to be sure that you plan and that you do not go over budget. Just make sure that you spend a minimum of 3 days on every single island.
The Best Time To Visit Hawaii
Generally, Hawaii is quite busy. It has a renowned reputation and is perfectly located right in the middle of the Pacific Ocean. This is why it often draws in countless visitors from Australia, Asia and the US. Its high season is normally between November and April. This is where the holidays are at a peak. You can easily expect to spend a lot on airfare, rental cars and accommodation during these months. The main draw in this case is the fact that people get rid of the coldness of the Northern Hemisphere.
During the top season, you can expect cooler temperature and more rain. However, this is when surfing is wonderful. Then, we also have summer months as it is when people take summer holidays. If you are interested in visiting during Hawaii's shoulder season, great deals can be found during the months of October, September, May and April. September is usually the month that is the most recommended by travel agents with great climate and very good deals.
In the event you want to visit during a busier time, space and solace are still available. You just need to stay away from the hugely popular resorts and points of interest. For instance, in July, Kauai is quite quiet. Just stay away from Oahu since it is busy every single day of the year.
Buy A Guidebook
This might be the best tip that anyone would offer. When you want to just go for a short getaway during the weekend, there are countless things that you can do. As soon as you land or even before you leave, be sure that you buy a guidebook. This is something that will help you so much more than what you initially think since it offers a lot of valuable information.
Planning a Hawaii experience is not at all difficult if you have the information that you need. Pick accommodation as ahead of time as possible and you will quickly manage to plan a perfect experience that you will remember.