Tips for Selling a House After Divorce Agreement
Divorces do not only take a toll on the family dynamics, but it also disrupts the household finances. It affects both mental and physical health, and now you're dealing with yet another issue. 
Despite already being overburdened, one more important decision the separated spouses must take is deciding what to do with the house.
Since the divorced couples must agree on dividing the marital assets, the home is no exception.  Because the house is likely to be the most valuable asset you acquired throughout your marriage, you must both agree on the conditions of its sale to fulfil your divorce settlement agreement.
Below are some tips to consider when selling a house after a divorce agreement 
Consider Your State's Property Division Laws
During a court-ordered sale of a house in divorce, California, or other states, it's necessary to have an excellent awareness of the state's property distribution regulations in a divorce agreement. Only seven states in the US follow "community property laws," whereas most states follow "equitable distribution rules."
Equal distribution rules aim to share property between couples fairly and equitably. Courts in states with community distribution rules distribute assets 50/50.
Property distributions can be painful for divorced couples who can't agree on how to divide their assets. In those circumstances, the judge will use your state's property distribution regulations in deciding the final agreement, which will be included in the divorce decree.
Divorce settlements are evaluated on a case-by-case basis for those in a state with equitable distribution rules. On the other hand, divorce settlement agreements in community property states consider property and equity earned during the marriage. 
You can research all the necessary information when selling a house after a divorce in California.
When selling the house after an agreement, you may decide to do it on your own or hire a real estate agent. The primary benefit is that you do not have to pay any commissions to the real estate agent. Remember that your divorce is a legally binding agreement, and you both will have to decide whether to hire an agent or not. 
Hiring a real estate agent with whom you both agree will assist in alleviating any suspicions of dishonesty. The real estate agents will help list your house on the Multiple Listing Service (MLS), a database that buyers may access.
Many attorneys specialize in multiple fields. They specialize in negotiating divorce agreements and guiding you through tax, accounting, and mortgage rules. As a result, it's better to hire a lawyer who specializes in those three fields.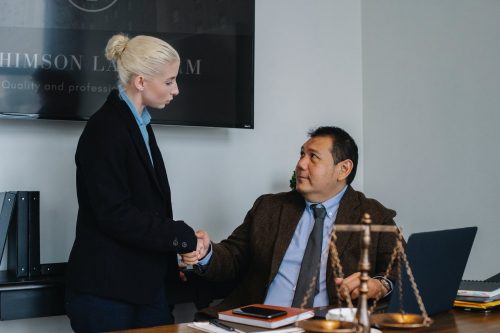 A professional attorney can help you with legal advice on how to go about California, divorce abandoned property in the case of abandonment by one spouse.
Determine an Asking Price

 
When it comes to home selling, there are lots of unwritten laws when assigning value to the home. Every seller wants to get the best possible price for their house. 
On the other hand, buyers pay less than the value attached, maybe as little as 10% less than your asking price. 
Your county assessor's office is a fantastic place to start when determining the worth of your house. After that, you may speak with a realtor who is knowledgeable about current market conditions and the financial health of the local housing market.
Consider Getting a Home Inspection Before Listing
You may spend a few hundred dollars on a pre-sale inspection, but it will be money well spent. The reason is that it might prevent purchasers from requesting large sums of money for repairs during negotiations. 
A professional home inspector examines all accessible sections of a house to assess its condition and detect any potential health and safety hazards. After the inspection, you'll receive a full report describing what works and what doesn't, as well as maintenance and repair suggestions.
Stage Your House for the Market
After inspecting the home and ensuring that everything is in good working order, it's time to stage and display its best features. It's essential to prepare the house for viewing before putting it on the MLS. 
This staging is necessary because it wouldn't be ideal for listing an unorganized home or littered with dirt everywhere. Keep things simple and don't cram everything into one closet. 
Below are some of the ways to stage your home before listing:
Repaint any room with fading paints
Always favors neutral colors because most buyers prefer them.
Declutter both the indoor and outdoor areas of the home. Such regions include the closets, the basement, verandah, and the garage. 
Also, reduce the amount of furnishings and other gadgets in each room. This way, buyers will have a good flow perception.
Ensure that the entire home is neat and fresh-smelling.
There are home staging agencies that can help you make the necessary improvements if you cannot do them yourself. They often handle it for a fee. 
Reviewing Offers, Escrow, Closing
Agree on the earnest money with your realtor. Earnest money ensures that the buyer adheres to the terms of the contract agreed by both parties. 
A title firm will open and handle an escrow account until the transaction is completed. Most contracts have conditions, such as "keeping the earnest money in escrow until closing," and usually include a deadline.
Many house inspections go smoothly, but issues can develop, which the seller must either remedy or risk losing the buyer's earnest money.
The title firm collects property taxes and homeowner insurance fees at the closing, paid into the escrow account. The mortgage company then creates an escrow account for paying annual taxes and homeowners' insurance to secure their property interest.
Final Thoughts
Couples have a great deal to consider when dissolving their marriage, including whether or not to sell their house. Selling a house after a divorce agreement requires total approval from both divorcing couples on how to share the proceeds.
However, the sale of rental property after divorce requires following several steps, which include hiring an attorney, real estate agents, setting a price, and related moves.