Therafit Summer Women's Fabric Slingback Sport Sandal, comfortable and stylish!
Yayyyy,  Spring has finally hit and before you know it summer will be here bringing in all that nice hot weather…right!  I can't tell you how much I enjoy both of these seasons and of course summer is by far my favorite season.
You see I get to bring out all my cool clothing and footwear. Now this summer I will be sporting a new pair of Therafit sandals and I'm excited!
Before I show you my new sandals let me tell you about this wonderful company. Therafit Sandals/Gym shoes were created by Dr. Lisa Masters from 'The Doctors' award winning series. I watch their show faithfully and I adore Dr. Lisa and her colleagues.
Dr. Lisa sought out to create Therafit for women like you and I who constantly stand on our feet, whether its for our jobs, running or just our daily lifestyle. As a physician she knew just what us women needed by not only creating fashionable shoes but comfort to relieve the stress that most of our feet endure. To be honest I think she exceeded her goal by creating what she called the 12hr shoe for the 12hr day. Dr. Lisa's Therafit shoes as she states gives us women a solid foundation for work or play all while being attractive, comfortable, stylish and I would agree with her totally. Take note that Therafit shoes are Endorsed by the National Posture Institute, our patented technology provides cushioning and support helping to reduce the aches and pains that come from the stress of everyday activities.
Now let me share with you the pair I selected which are the Summer Women's Fabric Slingback Sport .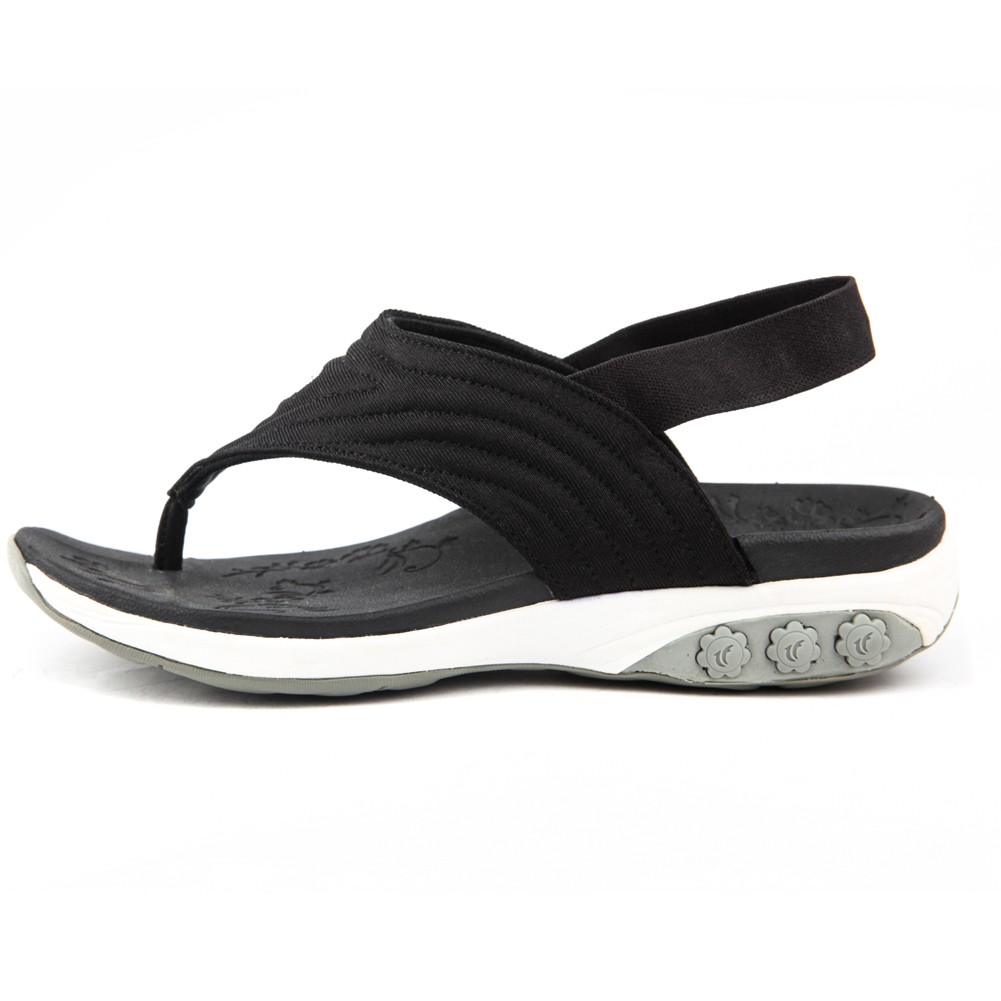 Summer is Therafit's new everyday sandal. Featuring bold fabric uppers, this sandal will bring casual comfort to your everyday wear. With contoured footbeds, superior arch supports, and deep heel-cups, the Summer will stabilize and support your foot during those daytime outings and evening strolls.
I like how this sandal has a sling back support for around your ankle, but most of all I'm in love with the comfort, protection and relief from arch pain, heel pain, and plantar fasciitis, pronation support. You see, I suffer from a chronic back injury and I have to have shoes that support every area of my feet daily.
I need sandals that can help me withstand my daily walks and help me feel comfortable all day, the Summer Women's Fabric Slingback Sport Sandal is definitely that shoe!
The Summer Women's Fabric Slingback Sport Sandal has Soft fabric uppers with a cushioned lining for additional comfort
Patented Comfort System with 3 removable PCS adapters in the heel of the shoe for personalized adjustment
Contour Footbed that hugs the natural curves of your foot
Aegis Microbe Shield treatment on lining material to help prevent mold and bacteria
Shock absorbing midsoles featuring superior arch support and deep heel-cups for stability and comfort
Durable rubber outsole
Approved by the American Podiatric Medical Association
1.5″ heel height
6.9 oz. ounce weight
Vegan friendly
The Summer Women's Fabric Slingback Sport Sandal shoes retails for $89.95 and are available in Black, Blue, and Pink!
Therafit is offering a 10% off coupon just use BLOG17, valid until May 15th, 2017.
Visit here today to purchase your pair, but hold on to your feet….Therafit has offered one of our readers a chance to receive a pair of their Therafit Sandals. Therafit is also offering a 10% off coupon on your purchase of Therafit sandals, just use code BLOG17 valid until May 15th, 2017.
Don't forget to connect with Therafit via Facebook | Twitter |Pinterest |ShopTherafit| to keep up with the latest.
 Howdy everyone, I just wanted to inform you that I was not compensated for this post. However, I did receive a product from the company below and the opinions expressed in this post are 100% my own. I am disclosing this in accordance with the FTC guidelines. All prize fulfillment will be provided by Sponsors.